printer friendly version
High-current SMT fuses
31 January 2018
Circuit & System Protection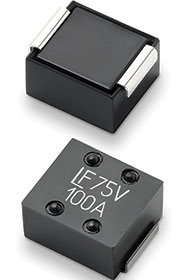 Littelfuse introduced a series of UL approved high-current, surface mount fuses designed for applications that require both a compact footprint and protection from ultra-high currents.
The Nano2 881 series high-current SMD fuses offer a single fuse solution up to 75 V d.c. and are available in current ratings from 60 A to 100 A. These high current ratings eliminate the need to parallel multiple lower-rated fuses and to use larger, over-spec industrial type fuses – common ways circuit designers typically address applications that require fuses with high current ratings. The series includes the first 100 A SMD fuse available on the market.
The 881 series has minimal voltage drop and low temperature rise, which enhances power efficiency by optimising thermal performance and minimising power loss. With an operating range from -55°C to 100°C, the fuses are suitable for use in existing operating environments. Their robust design enhances reliability and reduces susceptibility to temperature cycling and vibration effects.
Typical applications for the 881 series in the data centre market include blade servers, server chassis, backplane boards and line cards. Additional applications in the power system market include uninterruptible power supplies (UPS), base station power supplies, high-power battery systems and power factor correction (PFC) in high-wattage power supplies.
Measuring 12,5 x 10 mm, the fuses have a high interrupting rating of 1500 A @ 75 V d.c., and feature a fast opening time of 60 seconds at 200% load current to ensure protection against overload and short circuit events.
Credit(s)
Further reading:
Durable connectors for harsh conditions
25 November 2020, TRX Electronics , Interconnection
When the going gets tough, you need rugged, reliable and ready connections to see the job done right and through to completion. From industrial and heavy equipment to defence applications, only the best 
...
Read more...
---
High power-density TVS diodes
25 November 2020, Hi-Q Electronics , Circuit & System Protection
Today's modern high power-density electronics are more vulnerable to electrical stresses than ever due to component miniaturisation. High-demand, scalable electronics such as smart meters require highly 
...
Read more...
---
Power conversion components eBook
25 November 2020, TRX Electronics , Technical Literature
Mouser Electronics has collaborated with Bourns to produce a new eBook exploring best practices for working with power conversion components. Entitled 'Achieving Enhanced Performance and Reliability', 
...
Read more...
---
Mouser revamps technical resource centre
30 September 2020, TRX Electronics , News
Mouser Electronics has redesigned its Technical Resource Centre, which contains the global distributor's ever-expanding collection of technical articles, blogs, eBooks, and Methods technology and solutions 
...
Read more...
---
Expanding the horizons with horizontal connectors
28 October 2020, TRX Electronics , Interconnection
Harwin Gecko-SL horizontal connectors bring the additional option of a male through-board connector at right angles to the PCB, i.e. horizontal. The existing Gecko-SL range already offers a miniature 
...
Read more...
---
AEC-Q200 compliant line filters
28 October 2020, Electrocomp , Circuit & System Protection
Bourns Magnetics Product Line is introducing the Model DR334A line filter series. These filters are constructed with a ferrite toroid core delivering compact size and high impedance over a broad frequency 
...
Read more...
---
TRX welcomes Hannes Taute as new MD
28 October 2020, TRX Electronics , Editor's Choice, News
We delve into his background, what his plans for TRX Electronics are, and how he envisions what the future of the local electronics industry will look like.
Read more...
---
Capacitors for fast-switching semiconductors
30 September 2020, TRX Electronics , Passive Components
KEMET's KC-LINK surface mount capacitors are designed to meet the growing demand for fast switching wide bandgap (WBG) semiconductors that operate at higher voltages, temperatures, and frequencies. These 
...
Read more...
---
High-speed protectors for automotive circuits
30 September 2020, Electrocomp , Circuit & System Protection
Bourns announced the release of the AEC-Q101 compliant Model TBU-CA-Q High-Speed Protector series. These products are low-capacitance, single bidirectional high-speed protection components, constructed 
...
Read more...
---
Grounding jumpers for management of high-power busbars
31 August 2020, RS Components (SA) , Circuit & System Protection
RS Components (RS) has introduced Molex's Triton grounding jumpers for the safe management of high-power busbars. Unique to the industry, the range is UL-certified to deliver quality, safety and reliability.  
...
Read more...
---