printer friendly version
PFC and offline switching ICs
21 February 2018
Power Electronics / Power Management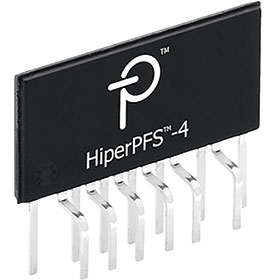 RS Components has announced availability of two new ranges of power semiconductors from Power Integrations. Delivering high energy efficiency with integrated protection features, the new offering from RS includes the LinkSwitch-TN2 family of offline switcher ICs and the HiperPFS-4 family of power factor correction (PFC) ICs.
The LinkSwitch-TN2 AC-DC converter devices offer excellent load and line regulation and deliver high flexibility with support for buck, boost and flyback topologies. This makes them ideal for engineers designing non-isolated offline switching power supplies for a range of markets including appliances, metering and smart LED drivers, as well as IoT and home and building automation applications.
LinkSwitch-TN2 ICs offer a selectable device current limit for design flexibility. Family protection features include auto-restart for short circuit and open loop faults, which limits power delivery to 3% of maximum, in addition to output over-voltage protection (OVP), input over-voltage protection and over-temperature protection (OTP).
The HiperPFS-4 family of PFC controller chips is optimised for a high power factor and high efficiency across various load ranges. Eliminating the need for external current-sense resistors and their associated power loss, the family offers high levels of integration and includes a 600 V rated MOSFET to deliver a very small PFC stage form factor.
Targeting a wide selection of applications including appliances, high-power adaptors and high-power LED lighting, plus consumer and computing devices, key features of the HiperPFS-4 family include greater than 95% efficiency from 10% to 100% load; less than 60 mW no-load consumption at 230 V a.c.; a power factor of greater than 0,95, achievable at 20% load; and EN61000-3-2 Class C and D compliance. Protection features include over-voltage, under-voltage lockout, OTP, and cycle-by-cycle current and power limits for overload protection.
Credit(s)
Further reading:
Miniature 4,4 A boost converter
28 October 2020, iCorp Technologies , Power Electronics / Power Management
The SGM6623 from SG Micro is a general-purpose, miniature boost DC-DC switching regulator with high efficiency for battery backup and standby power systems. The acceptable input voltage range is between 
...
Read more...
---
Maintaining backup battery systems for maximum usage and reliability
30 September 2020, Comtest , Power Electronics / Power Management
Standby battery backup systems play a critical role in keeping essential operations functional in the event of a utility outage. Facilities like data centres, hospitals, airports, utilities, oil and gas 
...
Read more...
---
Double the power output from new Tadiran battery
30 September 2020, Altron Arrow , Power Electronics / Power Management
Tadiran has developed the latest in its PulsesPlus HLC battery range, doubling the power output of its previous offering. Recently the company launched the C-type HLC which represented a huge improvement 
...
Read more...
---
Follow this engineering journey of a 3D-printed boat
30 September 2020, RS Components (SA) , News
RS Components is releasing a 10-episode documentary series – titled SeaQuest – featuring members of its DesignSpark engineering community who embarked on a first-of-its-kind challenge to design, test 
...
Read more...
---
SABS addresses dangers of power adaptors to consumers
28 October 2020 , Power Electronics / Power Management
The increased use of devices and appliances has resulted in the increased use of adaptors as well as adaptors-on-adaptors in South Africa. This creates a risk of fires, short circuiting and damage or 
...
Read more...
---
Just Batteries develops Li-ion battery pack for drones
28 October 2020, Just Batteries , Power Electronics / Power Management
The commercial market for drones is ever growing, ranging from delivering your pizza or shoes to supplying medical equipment to rural and inaccessible areas. Just Batteries' design, development and 
...
Read more...
---
1200 V SiC MOSFETs
28 October 2020, RS Components (SA) , Power Electronics / Power Management
RS Components now stocks ON Semiconductor's latest 1200 V-rated MOSFETs. Based on silicon-carbide (SiC) technology, these power discretes are able to push the performance envelope. The new N-channel 
...
Read more...
---
LTO batteries in mining applications
28 October 2020 , Power Electronics / Power Management
The mining industry in Africa provides numerous jobs and essential raw materials for the Fourth Industrial Revolution, critical to rebuilding economies and industry after the Covid-19 epidemic. However, 
...
Read more...
---
Low insertion force SMT connectors
28 October 2020, RS Components (SA) , Interconnection
RS Components is now stocking a new range of SMT, low insertion force (LIF) connectors from Würth Elektronik. Leveraging low-profile, lightweight, and secure and removable connection, they are made to 
...
Read more...
---
Bidirectional DC power supply for lab testing
30 September 2020, Conical Technologies , Power Electronics / Power Management
The new IT-M3400 bidirectional DC power supply from ITECH integrates the features of a bidirectional power supply and a regenerative load. It inherits the advantages of high power density and modular 
...
Read more...
---