printer friendly version
Offline flyback switchers
21 February 2018
Power Electronics / Power Management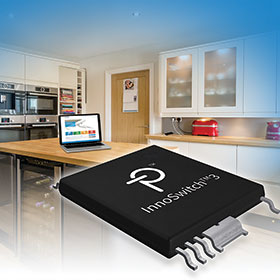 Power Integrations released its InnoSwitch3 family of offline CV/CC (constant voltage/constant current) flyback switcher ICs. The new devices achieve up to 94% efficiency across line and load conditions, slashing power supply losses by a further 25% and enabling the development of compact power supplies up to 65 W without heatsinks. InnoSwitch3 devices are ideal for power supplies with challenging energy consumption, footprint or thermal constraints, particularly those targeting mandatory Total Energy Consumption (TEC) specifications.
The InnoSwitch3 IC family is optimised into three application-specific series:
• CE: Current External. Includes accurate CC/CV regulation with external output current sense for optimum design flexibility. Targets compact single-voltage chargers, adaptors, IoT and building automation.
• CP: Constant Power. Ideal for USB Power Delivery (PD), rapid charging and other applications where a dynamic output voltage is required.
• EP: Embedded Power. Features the family's highest-rated MOSFET (725 V) and provides full line and load protection with excellent multi-output cross-regulation for demanding industrial applications and appliances.
These newest flyback switcher ICs employ Power Integrations' FluxLink isolated digital communications technology, plus synchronous rectification, quasi-resonant switching and a precise secondary-side feedback sensing and control circuit. This results in highly efficient, accurate, reliable power supply circuits without the need for optocouplers.
InnoSwitch3 devices are CCC, UL and VDE safety certified to bridge the isolation barrier, and the InSOP-24 package provides a low-profile, thermally efficient solution with extended 11,5 mm creepage and clearance between primary and secondary sides for high reliability, surge and ESD robustness.
The new devices also incorporate a host of protection features, including lossless line over-voltage and under-voltage, output over-voltage, over-power, over-current and over-temperature protection, as well as output rectifier short-circuit protection.
Device sub-families are provided with either latching or auto-recovery capability, according to the typical demands of each target application space. All InnoSwitch3 ICs feature onboard high-voltage MOSFETs (rated at 650 V for the CP and CE series and 725 V for the EP series).
Credit(s)
Further reading:
Wide-input DC/DC converters in 1/32nd bricks
Brabek Power Electronics / Power Management
RECOM now offers through-hole, 1/32nd brick-footprint, non-isolated DC/DC converters – the RPMA-4.5 and RPMA-8.0 – with 4,5 A and 8 A output ratings respectively. Each part has a wide 9-53 V input and 
...
Read more...
---
Auto-ranging benchtop and rackmount power supplies
Vepac Electronics Power Electronics / Power Management
The programmable DC power supply family from Elektro-Automatik (EA) ranges in power from 80 W benchtop devices up to 30 kW in a single chassis. High power density units can be easily paralleled for up 
...
Read more...
---
Step-down converter with nano quiescent current
Altron Arrow Power Electronics / Power Management
The ST1PS03 is a nano-quiescent miniaturised synchronous step-down converter which is able to provide up to 400 mA output current with an input voltage ranging from 1,8 V to 5,5 V. This STMicroelectronics 
...
Read more...
---
Convection cooled 150 W and 300 W power supplies
Vepac Electronics Power Electronics / Power Management
Cosel announced the addition of 150 W and 300 W free air convection cooled power supplies, the LHP150F and the LHP300F. Designed for industrial applications requiring high levels of safety, they are certified 
...
Read more...
---
Power supplies for embedded applications from 15 to 320 W
Vepac Electronics Power Electronics / Power Management
XP Power's LCW series of regulated-output, encased AC-DC power supplies is ideal for embedded industrial electronics, technology and equipment requiring household approvals. The nine new series (LCW15, 
...
Read more...
---
Microchip further expands GaN RF power offering
EBV Electrolink Power Electronics / Power Management
A significant expansion has been made to Microchip Technology's gallium nitride (GaN) RF power device portfolio with new MMICs and discrete transistors that cover frequencies up to 20 GHz. The devices 
...
Read more...
---
Buck/boost converter with ultra-low IQ and supercapacitor charging
Power Electronics / Power Management
A new bidirectional buck/boost converter with an ultra-low quiescent current (I
Q
) of 60 nA has been introduced by Texas Instruments. The TPS61094 integrates a buck mode for supercapacitor charging and 
...
Read more...
---
Motor/PFC controller with gate driver and voltage regulator
EBV Electrolink Power Electronics / Power Management
Infineon Technologies' iMOTION IMD110-6 is a series of highly integrated ICs for the control of three-phase motors. The devices integrate the motor controller with a high-voltage, three-phase gate driver 
...
Read more...
---
Open-frame 80 W DC/DC converter
Vepac Electronics Power Electronics / Power Management
A new 80 W DC/DC converter has been added to Cosel's value-added STMGF platform. Available in two versions, the STMGFS80 covers all industrial voltages from 9 V to 76 V. Using Cosel's efficient MGFS80 
...
Read more...
---
Power stack reference design leverages Microchip SiC devices
Future Electronics Power Electronics / Power Management
E-mobility and renewable energy systems require power management solutions that drive performance and cost efficiencies in addition to speeding up development time. To keep pace with these requirements, 
...
Read more...
---