printer friendly version
New capabilities at Omnigo
21 March 2018
Manufacturing / Production Technology, Hardware & Services
Omnigo has grown tremendously of late, and to address this rapid growth the company had to make some astute equipment investment decisions. The specific niche market in the electronics contract manufacturer (ECM) industry that Omnigo serves, calls for high-quality product manufacturing, strong technical support and on-time delivery.
Since Omnigo has always been renowned for supplying high-quality manufacturing services, this was a key ingredient in the capital expenditure decisions the company had to make.
High-quality manufacturing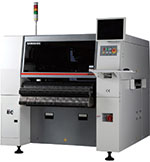 Samsung SM471 chip shooter.
It is a fact of modern day society that technology is changing at a rapid rate – sometimes too fast for companies to adapt. Omnigo improved its surface mount technology (SMT) capabilities by adding three high-quality items to its manufacturing plant.
Two new Samsung pick-and-place machines were procured. The SM471 is a chip shooter capable of 75 000 component placements per hour to accurately and smoothly place 0402 sized components. The SM482, on the other hand, was acquired with flexibility in mind. Capable of placing odd sized components up to 55 mm ICs, the SM482 complements its almost twin brother well to ensure a fast and efficient lineup that can handle most challenges an ECM faces in modern times.
Speed and precision of placement are not the only important elements of a successful SMT line. The reflow oven is often a critical element in a SMT production line – mistakes here can be disastrous. The addition of a Vitronics Soltec Centurion CT720VP to the new production line was essential, as with its 7-zone preheat capability it eases the management of the reflow process with accurate profile prediction.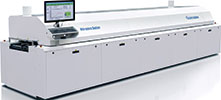 Vitronics Soltec Centurion CT720VP reflow oven.
On the conventional manufacturing side, Omnigo procured an ERSA Versaflow 4/55 selective soldering machine. As is often the case with very complex PCB layouts, especially in the military market, flow soldering is impossible. This has an effect on throughput as well as repeatability of quality results. A selective soldering machine bridges the gap between hand soldering and wave soldering. Precise machine soldering nozzles that can accurately and consistently solder difficult items like military circular connectors ensure that a quality product is delivered within an acceptable time scale and cost.
Technical support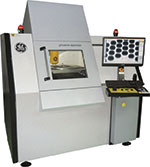 GE Phoenix X|aminer X-ray machine.
Omnigo invested in a GE Phoenix X|aminer X-ray machine during 2017. The rationale behind the procurement of this machine was from a quality assurance point of view as well as the ability to provide strong technical support to the company's clients.
From a quality assurance point of view, an X-ray machine provides the opportunity to see concealed defects on manufactured PCB assemblies as well as blank PCBs and components. This includes the capability to inspect the quality of solder joints on bottom termination components, BGAs as well as flow through on through-hole components. The integrity to detect counterfeit components is enhanced through inspection of internal wire bonding of IC devices.
From a process point of view this enhances the ability to improve processes by identifying quality issues in-house; often these types of defects would only become apparent after a period of time. From a technical support perspective the X-ray machine assists in detecting flaws that might not be easily identified through testing equipment and visual inspection. The X-ray machine also allows the company to assist where clients encounter such problems, and help in analysing the X-ray images to identify issues on the PCB assembly to be repaired.
Omnigo also developed its own testing equipment in-house, using LabView platforms to do functional testing for its various clients' products. This equipment can easily be adapted and duplicated to ensure sufficient throughput for higher quantities. Omnigo also provides this support to clients to assist with development of test equipment where the client might not have such capabilities themselves.
On-time delivery
The benefits of an ERP system are obvious to anyone, yet the importance of choosing the correct system and the implementation of such a system is key.
To maintain and improve further on the standard of service delivery Omnigo's clients have grown accustomed, the company invested in SAP Business One as its ERP system.
This system, coupled with some specific add-ons, has ensured that Omnigo can continue to provide quality service to its clients through improved information availability. This system also enables Omnigo to track clients' products through the various stages of production. The increased availability of information allows for improved production planning and allocation of resources to critical projects.
All these enhancements further Omnigo's focus on providing high-quality manufacturing services to clients by "doing it right the first time."
For more information contact Pieter de Nysschen, Omnigo, +27 (0)12 803 8218, pieterd@omnigo.co.za, www.omnigo.co.za
Credit(s)
Further reading:
Thermal wire strippers
30 September 2020, Vepac Electronics , Manufacturing / Production Technology, Hardware & Services
Hakko's FT-802 thermal wire strippers satisfy the demands of the military, medical and aerospace industries. The new model ensures the precise, clean-cut removal of wire insulation, even through highly 
...
Read more...
---
Ask your PCB supplier about reliability, not just capability
28 October 2020, Elmatica , Editor's Choice, Manufacturing / Production Technology, Hardware & Services
Make sure to discuss combinations and how your solution affects risk of failure with the multiple heat cycles required to assemble the product, and the risk of failure in the final application.
Read more...
---
Europlacer garners SMT pick-and-place honours
28 October 2020, Truth Electronic Manufacturing , Manufacturing / Production Technology, Hardware & Services
Industry analyst firm Frost & Sullivan (F&S) has confirmed that Europlacer took the accolade of Global Company of the Year in the SMT pick-and-place sector for 2020. This marks Europlacer's sixth Frost 
...
Read more...
---
How you can help your EMS partner
28 October 2020, Jemstech , Editor's Choice, Manufacturing / Production Technology, Hardware & Services
If you want a good quality, reasonably priced product in a quick turnaround time, always communicate your assembly requirements effectively with your EMS partner.
Read more...
---
Practical experience with PCB robotic soldering processes
28 October 2020 , Editor's Choice, Manufacturing / Production Technology, Hardware & Services
Over the past few years there has been a lot of discussion over the need for higher temperature materials and expanding the use and knowledge of high temperature assembly techniques.
Read more...
---
Indium announces new high-reliability alloy
28 October 2020, Techmet , Manufacturing / Production Technology, Hardware & Services
Indium has released a new high-reliability alloy with enhanced thermal cycling performance specially formulated for harsh environments. Indalloy292 is an innovative alloy engineered to provide advanced 
...
Read more...
---
Compact X-ray inspection system
28 October 2020, Techmet , Manufacturing / Production Technology, Hardware & Services
Nordson DAGE announced the launch of the Nordson DAGE Explorer one compact X-ray inspection system. Designed specifically for the electronics industry with Nordson DAGE's unique integrated imaging technology, 
...
Read more...
---
Automating material handling through robotics
28 October 2020, MyKay Tronics , Manufacturing / Production Technology, Hardware & Services
Stock accuracy, traceability, and timely delivery of parts are key aspects of a material handling system. Today, most factories still rely on manual handling of electronic components, in the best case 
...
Read more...
---
Stability in turbulent times
28 October 2020, Omnigo , Editor's Choice
Omnigo's Pieter de Nysschen discusses the importance of staying positive and motivated during these hard times when the whole world seems to have been turned upside down.
Read more...
---
Data sciences harness full value of factory floor data
30 September 2020, Omron Electronics , Manufacturing / Production Technology, Hardware & Services
Data is easily collected and stored, but in most cases the data pipeline stops here and there is hardly any value extracted from the data. The data pipeline is often not completed in a proper way so that 
...
Read more...
---