printer friendly version
New capabilities at Omnigo
21 March 2018
Manufacturing / Production Technology, Hardware & Services
Omnigo has grown tremendously of late, and to address this rapid growth the company had to make some astute equipment investment decisions. The specific niche market in the electronics contract manufacturer (ECM) industry that Omnigo serves, calls for high-quality product manufacturing, strong technical support and on-time delivery.
Since Omnigo has always been renowned for supplying high-quality manufacturing services, this was a key ingredient in the capital expenditure decisions the company had to make.
High-quality manufacturing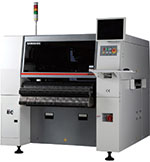 Samsung SM471 chip shooter.
It is a fact of modern day society that technology is changing at a rapid rate – sometimes too fast for companies to adapt. Omnigo improved its surface mount technology (SMT) capabilities by adding three high-quality items to its manufacturing plant.
Two new Samsung pick-and-place machines were procured. The SM471 is a chip shooter capable of 75 000 component placements per hour to accurately and smoothly place 0402 sized components. The SM482, on the other hand, was acquired with flexibility in mind. Capable of placing odd sized components up to 55 mm ICs, the SM482 complements its almost twin brother well to ensure a fast and efficient lineup that can handle most challenges an ECM faces in modern times.
Speed and precision of placement are not the only important elements of a successful SMT line. The reflow oven is often a critical element in a SMT production line – mistakes here can be disastrous. The addition of a Vitronics Soltec Centurion CT720VP to the new production line was essential, as with its 7-zone preheat capability it eases the management of the reflow process with accurate profile prediction.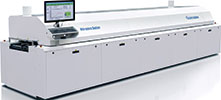 Vitronics Soltec Centurion CT720VP reflow oven.
On the conventional manufacturing side, Omnigo procured an ERSA Versaflow 4/55 selective soldering machine. As is often the case with very complex PCB layouts, especially in the military market, flow soldering is impossible. This has an effect on throughput as well as repeatability of quality results. A selective soldering machine bridges the gap between hand soldering and wave soldering. Precise machine soldering nozzles that can accurately and consistently solder difficult items like military circular connectors ensure that a quality product is delivered within an acceptable time scale and cost.
Technical support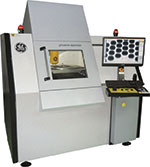 GE Phoenix X|aminer X-ray machine.
Omnigo invested in a GE Phoenix X|aminer X-ray machine during 2017. The rationale behind the procurement of this machine was from a quality assurance point of view as well as the ability to provide strong technical support to the company's clients.
From a quality assurance point of view, an X-ray machine provides the opportunity to see concealed defects on manufactured PCB assemblies as well as blank PCBs and components. This includes the capability to inspect the quality of solder joints on bottom termination components, BGAs as well as flow through on through-hole components. The integrity to detect counterfeit components is enhanced through inspection of internal wire bonding of IC devices.
From a process point of view this enhances the ability to improve processes by identifying quality issues in-house; often these types of defects would only become apparent after a period of time. From a technical support perspective the X-ray machine assists in detecting flaws that might not be easily identified through testing equipment and visual inspection. The X-ray machine also allows the company to assist where clients encounter such problems, and help in analysing the X-ray images to identify issues on the PCB assembly to be repaired.
Omnigo also developed its own testing equipment in-house, using LabView platforms to do functional testing for its various clients' products. This equipment can easily be adapted and duplicated to ensure sufficient throughput for higher quantities. Omnigo also provides this support to clients to assist with development of test equipment where the client might not have such capabilities themselves.
On-time delivery
The benefits of an ERP system are obvious to anyone, yet the importance of choosing the correct system and the implementation of such a system is key.
To maintain and improve further on the standard of service delivery Omnigo's clients have grown accustomed, the company invested in SAP Business One as its ERP system.
This system, coupled with some specific add-ons, has ensured that Omnigo can continue to provide quality service to its clients through improved information availability. This system also enables Omnigo to track clients' products through the various stages of production. The increased availability of information allows for improved production planning and allocation of resources to critical projects.
All these enhancements further Omnigo's focus on providing high-quality manufacturing services to clients by "doing it right the first time."
For more information contact Pieter de Nysschen, Omnigo, +27 (0)12 803 8218, pieterd@omnigo.co.za, www.omnigo.co.za
Credit(s)
Further reading:
Short pulse fibre laser marker
ElectroMechanica Manufacturing / Production Technology, Hardware & Services
Panasonic's LP-ZV series is a 3D short pulse laser marker that offers high speed and precision, making it ideal for a wide range of metal or plastic marking applications.
Read more...
---
High-speed pick-and-place platform
MyKay Tronics Manufacturing / Production Technology, Hardware & Services
Mycronic introduced its next-generation MYPro A40 pick-and-place solution, equipped with an all-new MX7 high-speed mounthead technology at Productronica 2023 in Munich.
Read more...
---
SKEG: transforming ideas into reality
Manufacturing / Production Technology, Hardware & Services
SKEG operates at the forefront of DeepTech product innovation and development, and operates through delivering product development services, innovation capital services, and its manufacturing and operations services.
Read more...
---
Sign and label printer
Manufacturing / Production Technology, Hardware & Services
The new S3700 sign and label printer from Brady is a multi-colour industrial label printer that delivers both safety and efficiency for a business operation.
Read more...
---
Boosting productivity with automated troubleshooting tools
Truth Electronic Manufacturing Manufacturing / Production Technology, Hardware & Services
New surface-mount assembly analytics tools minimise stoppage time and raise production-line efficiency by identifying the causes of defects and recommending corrective actions.
Read more...
---
Yamaha powers surface-mount production upgrade
Truth Electronic Manufacturing Manufacturing / Production Technology, Hardware & Services
Yamaha's latest Sigma premium mounters and YRi-V 3D AOI were chosen to boost future productivity and quality at building-automation innovator Vimar.
Read more...
---
Benchtop single-point selective soldering system
MyKay Tronics Manufacturing / Production Technology, Hardware & Services
The all-new low-cost Pilot machine from Pillarhouse International has been designed as an entry-level, handload, benchtop machine for small- to medium-batch manufacturers.
Read more...
---
The benefit of filtration systems in hazardous environments
Allan McKinnon & Associates Manufacturing / Production Technology, Hardware & Services
Weller's fume extraction and filtering systems are designed to make breathable air in the workplace healthier by eliminating harmful substances from work areas.
Read more...
---
Advanced graphite embedding capability for PCB thermal management
Conical Technologies Editor's Choice Manufacturing / Production Technology, Hardware & Services
Teledyne Labtech has announced a major new capability, allowing the embedding of layers of synthetic graphite within RF and microwave PCBs. This provides weight savings for applications where size, weight, and power (SWaP) are key.
Read more...
---
IoT solder station wins design award
Techmet Manufacturing / Production Technology, Hardware & Services
The i-CON TRACE IoT soldering station from Ersa GmbH was honoured with the iF DESIGN AWARD in the 'Industry/Tools' category.
Read more...
---