printer friendly version
3D printer for rapid prototyping and manufacturing
21 March 2018
Manufacturing / Production Technology, Hardware & Services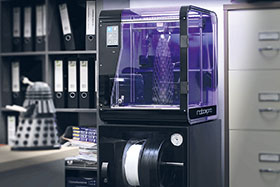 The new CEL RoboxPRO additive manufacturing 3D printer offers high-end specifications and exceptionally fast print speeds. The dual extrusion machine primarily targets professional users, including electronics and mechanical engineers involved in creating designs that require advanced rapid prototyping capabilities to quickly realise their product concepts in durable, engineering-grade materials with water-soluble support material.
A unique feature of the new RoboxPRO is the large interlocking door, designed to protect the printer's fully enclosed build chamber with HEPA and active charcoal air filtration, which prevents unnecessary disturbance or damage to print builds in progress while ensuring users are not exposed to potentially toxic fumes. This important feature makes it highly suitable for professional or industrial environments and ideal for educational establishments such as universities, colleges or schools.
Using fused filament fabrication (FFF) 3D printing technology, a key differentiator of RoboxPRO is its patented needle-valve technology, which CEL claims makes the 3D printer the fastest and most efficient dual extrusion machine available. The dual-nozzle printing capability means the unit can print two different colours, two different materials or with a dedicated material supporting the main part, including water-soluble or breakaway.
Like the previous generation Robox 3D printers, RoboxPRO print heads are easily replaceable and can be upgraded to deliver extended and enhanced capabilities in the future, such as paste extrusion. The machine is designed for 1,75 mm filaments and is capable of printing a wide range of materials including PLA, ABS, PETG, TPU, PC and nylon.
RoboxPRO is also the first 3D printer to include an Olsson Ruby nozzle in the box. This is one of the most unique FFF extrusion nozzles currently available on the market, designed to print highly abrasive materials while retaining the excellent heat conductivity of brass. Its tip is made from ruby, which means that the nozzle is much more durable when compared to other nozzles. It can print with demanding, high-performance materials including Kevlar or tungsten-filled ABS and glass or carbon-filled nylons for a lot longer before it starts to wear away. In many cases, the ruby tip can also lead to an improved surface finish.
Other key specifications are the build volume of 210 x 300 x 400 mm and a wide choice of layer resolutions from 0,5 mm for ultra-fast printing, down to layers as small as 0,05 mm (50 microns). RoboxPRO uses onboard controls with an integrated, full-colour 5" touchscreen display interface to enable users to change print settings, make build-plate calibrations and manage its connectivity options, which include Wi-Fi, Ethernet and USB.
Other features of RoboxPRO include a climate-controlled build chamber, which features a HEPA filter and active charcoal air-purification system; adaptive bed levelling with no manual calibrations; an interchangeable, hassle-free build plate with no glue or tape required; and the Robox SmartReel material recognition system, which greatly simplifies the printing process with automatic print settings and job costings. RoboxPRO is compatible with other brands of filament, however, including Verbatim.
Compatible with Windows, Apple and Linux operating systems, RoboxPRO is also supplied with the intuitive Robox AutoMaker software.
Credit(s)
Further reading:
Antennas from Linx available from RS
25 November 2020, RS Components (SA) , Telecoms, Datacoms, Wireless, IoT
RS Components is now stocking a comprehensive range of antennas from wireless technology specialist, Linx Technologies. Linx, headquartered in Oregon, USA, produces antennas that enable design engineers 
...
Read more...
---
High-power grounding jumpers
25 November 2020, RS Components (SA) , Interconnection
Molex's Triton grounding jumpers provide for the safe management of high-power busbars. Unique to the industry, the range is UL certified to deliver quality, safety and reliability. The jumpers are 
...
Read more...
---
Thermal wire strippers
30 September 2020, Vepac Electronics , Manufacturing / Production Technology, Hardware & Services
Hakko's FT-802 thermal wire strippers satisfy the demands of the military, medical and aerospace industries. The new model ensures the precise, clean-cut removal of wire insulation, even through highly 
...
Read more...
---
Follow this engineering journey of a 3D-printed boat
30 September 2020, RS Components (SA) , News
RS Components is releasing a 10-episode documentary series – titled SeaQuest – featuring members of its DesignSpark engineering community who embarked on a first-of-its-kind challenge to design, test 
...
Read more...
---
Ask your PCB supplier about reliability, not just capability
28 October 2020, Elmatica , Editor's Choice, Manufacturing / Production Technology, Hardware & Services
Make sure to discuss combinations and how your solution affects risk of failure with the multiple heat cycles required to assemble the product, and the risk of failure in the final application.
Read more...
---
Europlacer garners SMT pick-and-place honours
28 October 2020, Truth Electronic Manufacturing , Manufacturing / Production Technology, Hardware & Services
Industry analyst firm Frost & Sullivan (F&S) has confirmed that Europlacer took the accolade of Global Company of the Year in the SMT pick-and-place sector for 2020. This marks Europlacer's sixth Frost 
...
Read more...
---
How you can help your EMS partner
28 October 2020, Jemstech , Editor's Choice, Manufacturing / Production Technology, Hardware & Services
If you want a good quality, reasonably priced product in a quick turnaround time, always communicate your assembly requirements effectively with your EMS partner.
Read more...
---
Practical experience with PCB robotic soldering processes
28 October 2020 , Editor's Choice, Manufacturing / Production Technology, Hardware & Services
Over the past few years there has been a lot of discussion over the need for higher temperature materials and expanding the use and knowledge of high temperature assembly techniques.
Read more...
---
Indium announces new high-reliability alloy
28 October 2020, Techmet , Manufacturing / Production Technology, Hardware & Services
Indium has released a new high-reliability alloy with enhanced thermal cycling performance specially formulated for harsh environments. Indalloy292 is an innovative alloy engineered to provide advanced 
...
Read more...
---
Compact X-ray inspection system
28 October 2020, Techmet , Manufacturing / Production Technology, Hardware & Services
Nordson DAGE announced the launch of the Nordson DAGE Explorer one compact X-ray inspection system. Designed specifically for the electronics industry with Nordson DAGE's unique integrated imaging technology, 
...
Read more...
---