It is a morbid but inescapable fact that, throughout recorded history, one of the strongest forces driving technological change is warfare. Famous names from the past, like Leonardo da Vinci, earned a living inventing machines of war. While he might not have been personally inclined to violence, the war economy made that a career well suited to someone of his talents.
Another sobering thought is that even technologies developed for the purpose of war can end up benefiting society in the long run when adapted for the consumer sector. Naturally, this cross-dissemination works both ways – a topic explored by Mouser Electronics' Mark Patrick in his article on 'How the aerospace and defence sector is shaping the modern world'.
Exploring these two aspects of modern electronics technology, and the middle ground between them, is something of a theme in this issue. On the consumer side, the Molex article on 'Evolution of home technology from connected to proactive' looks at the evolution of the smart home, which will undoubtedly be one of the mega trends in the consumer market in the coming years and decades. As the article notes, this market will be driven by two of the biggest current technological trends: the Internet of Things (IoT) and Artificial Intelligence (AI).
On the other end of the spectrum, we feature electronic warfare in 'An invisible war waged over electromagnetic spectrum', with two South African experts on the subject helping to demystify what exactly electronic warfare is, why it is so important in this day and age, and delving into the technologies and weapons behind it.
Straddling the two extremes, the Sierra Wireless article on 'Navigating a way through GNSS' gives insight into global navigational satellite systems (GNSS) and the expanding options available to developers. Of course, the best known and earliest GNSS constellation, GPS, was initially developed by the US military and subsequently opened up to the consumer market. Indeed GPS, GLONASS (Russia) and BeiDou (China) are all run by military agencies and made available for civilian use through government consent.
One of the best examples of the cross-fertilisation between aerospace/defence and consumer sectors is unmanned aerial vehicles (UAV), more commonly known as drones. From a base of close to zero just a decade ago, the global market for commercial drones exploded into an $8,5 billion colossus by 2016, and is estimated to surpass $12 billion in 2021.
Not all of the headlines have been positive, though. For starters, there are major concerns over privacy when someone can fly a drone, equipped with high-definition camera over your yard and spy on you or your kids. There have also been cases of drones interfering with and distracting pilots of passenger aeroplanes, and even some collisions.
Then there are the more creative use of drones, of which I am sure there are many, but two criminal applications in particular caught my attention. The first involved drugs, weapons and phones being hand-delivered by drone to inmates in British prisons by criminals on the outside. The widespread problem prompted at least one prison to install a very expensive electronic 'fence' to disrupt drones' control signals and prevent them from crossing into prison grounds.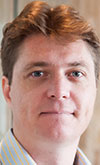 The second case involved an FBI raid on a criminal gang who unleashed a swarm of drones to disrupt the operation by obscuring the view of agents coordinating the raid from an elevated observation post. Not only did they serve as a distraction, but the cameras fitted to the drones provided the gang with a real-time view of the action from overhead. The camera feed was live-streamed to YouTube and accessed by members of the gang with cellular access, to help them coordinate their own actions.
All of which is not to suggest that drones, or any other technology for that matter, are necessarily good or bad in and of themselves, but it goes to show that there is more than one way for technology to be 'disruptive'.
Brett van den Bosch
Editor