printer friendly version
Wireless power development system
16 May 2018 Power Electronics / Power Management Telecoms, Datacoms, Wireless, IoT
Under the name 760308EMP-WPT-200W, Würth Elektronik eiSos and Infineon Technologies are offering a 200 Watt development system for wireless power transfer.
What makes the development kit special is that the link between the transmitter and receiver coils can be used to transfer not only power but also data.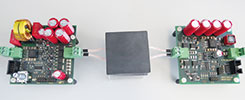 Expected to be available from the third quarter of 2018, the development kit comprises a power supply, a transmitter unit and a receiver unit. The transmitter side consists of a full bridge and a resonant circuit made up of the WPT coil and the resonant capacitors connected in series. Due to the phase shift between voltage and current in the resonant circuit, the system operates in zero voltage switching (ZVS) mode. The result is a very high level of efficiency for the overall system.
On the receiver side, there is a synchronous rectifier with downstream filtering and sieving. Thanks to the AM modulation of the alternating field between transmitter and receiver, any data can be sent from the receiver side to the transmitter side. A sample application would be a mobile device that sends sensor data to a base station during the charging process. All the data needed to implement this kind of proprietary system is offered for free download.
According to Cem Som, division manager for wireless power transfer at Würth Elektronik eiSos, "Customers have been asking us for years how they can operate their applications with power ratings that exceed the Qi standard. The circuit can be scaled from 10 Watts to several kilowatts. The currents through the resonant circuit are sinusoidal, which favours the excellent EMC properties.
"Changing the switching frequency allows the output voltage to be altered and data to be transmitted from the receiver to the transmitter. We want to address applications with an output of 200 Watts, outside the Qi standard. These are typically applications in the fields of medical technology, Industry 4.0, IoT, and all areas with harsh environmental conditions."
For more information contact Jason Page, Würth Elektronik eiSos, +27 (0)71 259 9381, jason.page@we-online.com, www.we-online.com
Further reading:
Miniature 4,4 A boost converter
28 October 2020, iCorp Technologies , Power Electronics / Power Management
The SGM6623 from SG Micro is a general-purpose, miniature boost DC-DC switching regulator with high efficiency for battery backup and standby power systems. The acceptable input voltage range is between 
...
Read more...
---
Maintaining backup battery systems for maximum usage and reliability
30 September 2020, Comtest , Power Electronics / Power Management
Standby battery backup systems play a critical role in keeping essential operations functional in the event of a utility outage. Facilities like data centres, hospitals, airports, utilities, oil and gas 
...
Read more...
---
Double the power output from new Tadiran battery
30 September 2020, Altron Arrow , Power Electronics / Power Management
Tadiran has developed the latest in its PulsesPlus HLC battery range, doubling the power output of its previous offering. Recently the company launched the C-type HLC which represented a huge improvement 
...
Read more...
---
SABS addresses dangers of power adaptors to consumers
28 October 2020 , Power Electronics / Power Management
The increased use of devices and appliances has resulted in the increased use of adaptors as well as adaptors-on-adaptors in South Africa. This creates a risk of fires, short circuiting and damage or 
...
Read more...
---
Just Batteries develops Li-ion battery pack for drones
28 October 2020, Just Batteries , Power Electronics / Power Management
The commercial market for drones is ever growing, ranging from delivering your pizza or shoes to supplying medical equipment to rural and inaccessible areas. Just Batteries' design, development and 
...
Read more...
---
1200 V SiC MOSFETs
28 October 2020, RS Components (SA) , Power Electronics / Power Management
RS Components now stocks ON Semiconductor's latest 1200 V-rated MOSFETs. Based on silicon-carbide (SiC) technology, these power discretes are able to push the performance envelope. The new N-channel 
...
Read more...
---
LTO batteries in mining applications
28 October 2020 , Power Electronics / Power Management
The mining industry in Africa provides numerous jobs and essential raw materials for the Fourth Industrial Revolution, critical to rebuilding economies and industry after the Covid-19 epidemic. However, 
...
Read more...
---
Bidirectional DC power supply for lab testing
30 September 2020, Conical Technologies , Power Electronics / Power Management
The new IT-M3400 bidirectional DC power supply from ITECH integrates the features of a bidirectional power supply and a regenerative load. It inherits the advantages of high power density and modular 
...
Read more...
---
Global analysis of the solid-state battery market
30 September 2020 , Power Electronics / Power Management
The rapid growth of the electric vehicle market has driven the development, manufacture and sales of batteries, especially lithium-ion batteries. In the meantime, market research firm IDTechEx has identified 
...
Read more...
---
Solar lithium storage system
30 September 2020, Vepac Electronics , Power Electronics / Power Management
The US2000 Plus is a latest-generation lithium storage unit. Combining enhanced safety with a long service life – even when at low levels of charge on a regular basis – it meets the demanding requirements 
...
Read more...
---