printer friendly version
PWM controllers for LED lighting
16 May 2018
Power Electronics / Power Management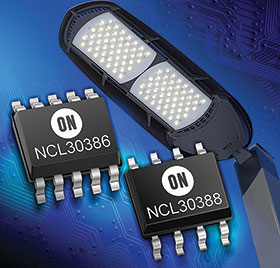 ON Semiconductor has announced two new QR PSR PWM controllers for LED lighting with power factor control (PFC) function. The dimmable NCL30386 and the non-dimmable NCL30388 provide options for designers of LED lighting units such as luminaires used in office and industrial building applications.
Both devices are high power factor, single stage, constant current and constant voltage, primary side regulated pulse width modulation controllers for flyback, buck-boost or Sepic power topologies. They operate in quasi-resonant mode to achieve efficiency levels that exceed those stipulated in power standards such as the EU's Ecodesign as well as ENERGY STAR and the NEMA SSL regulations.
The integrated digital PFC algorithm ensures a power factor of greater than 0,95 and total harmonic distortion (THD) of less than 10% across a universal input voltage range. Integrated high-voltage startup current source ensures fast startup, low standby power and wide-range operation at the output. Current and voltage are regulated via a digital primary side regulated CC/CV loop control, typically achieving in the region of ±2%, to give highly uniform lighting brightness under all conditions.
The devices are simple to use and operate from a wide Vcc range of 9,2 - 26 V d.c., with valley lock-out and frequency foldback ensuring high efficiency across the entire voltage range. Design is further simplified by the inclusion of safety features such as brown-out and over-voltage protection, plus the ability to detect short circuits in the output, winding and diode.
Neither the NCL30386 nor the NCL30388 require many external components to complete the design. Additionally, the NCL30386 offers dimming features, including the option for either linear or quadratic dimming curves. The wide analog dimming range is controlled by two dedicated analog / PWM control pins that allow for precise dimming with a 0,5% minimum dimming ratio and no audible noise present.
For more information contact EBV Electrolink, +27 (0)21 402 1940, capetown@ebv.com, www.ebv.com
Credit(s)
Further reading:
Miniature 4,4 A boost converter
28 October 2020, iCorp Technologies , Power Electronics / Power Management
The SGM6623 from SG Micro is a general-purpose, miniature boost DC-DC switching regulator with high efficiency for battery backup and standby power systems. The acceptable input voltage range is between 
...
Read more...
---
Maintaining backup battery systems for maximum usage and reliability
30 September 2020, Comtest , Power Electronics / Power Management
Standby battery backup systems play a critical role in keeping essential operations functional in the event of a utility outage. Facilities like data centres, hospitals, airports, utilities, oil and gas 
...
Read more...
---
Double the power output from new Tadiran battery
30 September 2020, Altron Arrow , Power Electronics / Power Management
Tadiran has developed the latest in its PulsesPlus HLC battery range, doubling the power output of its previous offering. Recently the company launched the C-type HLC which represented a huge improvement 
...
Read more...
---
SABS addresses dangers of power adaptors to consumers
28 October 2020 , Power Electronics / Power Management
The increased use of devices and appliances has resulted in the increased use of adaptors as well as adaptors-on-adaptors in South Africa. This creates a risk of fires, short circuiting and damage or 
...
Read more...
---
Just Batteries develops Li-ion battery pack for drones
28 October 2020, Just Batteries , Power Electronics / Power Management
The commercial market for drones is ever growing, ranging from delivering your pizza or shoes to supplying medical equipment to rural and inaccessible areas. Just Batteries' design, development and 
...
Read more...
---
1200 V SiC MOSFETs
28 October 2020, RS Components (SA) , Power Electronics / Power Management
RS Components now stocks ON Semiconductor's latest 1200 V-rated MOSFETs. Based on silicon-carbide (SiC) technology, these power discretes are able to push the performance envelope. The new N-channel 
...
Read more...
---
LTO batteries in mining applications
28 October 2020 , Power Electronics / Power Management
The mining industry in Africa provides numerous jobs and essential raw materials for the Fourth Industrial Revolution, critical to rebuilding economies and industry after the Covid-19 epidemic. However, 
...
Read more...
---
Global shutter image sensor for machine vision
28 October 2020, EBV Electrolink , Opto-Electronics
ON Semiconductor has introduced the AR0234CS 2,3 megapixel CMOS image sensor with global shutter technology. The high-performance sensor is designed for a variety of applications including machine vision 
...
Read more...
---
Bidirectional DC power supply for lab testing
30 September 2020, Conical Technologies , Power Electronics / Power Management
The new IT-M3400 bidirectional DC power supply from ITECH integrates the features of a bidirectional power supply and a regenerative load. It inherits the advantages of high power density and modular 
...
Read more...
---
Global analysis of the solid-state battery market
30 September 2020 , Power Electronics / Power Management
The rapid growth of the electric vehicle market has driven the development, manufacture and sales of batteries, especially lithium-ion batteries. In the meantime, market research firm IDTechEx has identified 
...
Read more...
---