printer friendly version
Why do old Li-ion batteries take so long to charge?
13 June 2018 Editor's Choice Power Electronics / Power Management
Battery users often ask: "Why does an old Li-ion lake so long to charge?" Indeed, when Li-ion gets older, the battery takes its time to charge even if there is little to fill. We call this the 'old-man syndrome.' Figure 1 illustrates the charge time of a new Li-ion battery with a capacity of 100% versus an aged pack delivering only 82%. Both take roughly 150 minutes to charge.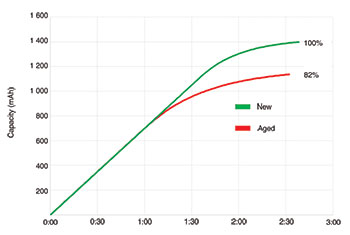 Figure 1. New and aged Li-ion batteries are charged.
When charging Li-ion, the voltage shoots up, similar to lifting a weight with a rubber band. The new pack as demonstrated in Figure 2 is 'hungrier' and can take on more 'food' before reaching the 4,20 V/cell voltage limit compared to the aged Li-ion that hits V Limit in stage 1 after only about 60 minutes. In terms of a rubber band analogy, the new battery has less slack than the aged pack and can accept charge longer before going into saturation.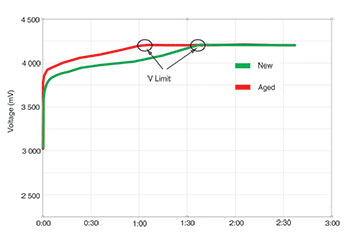 Figure 2. Observing charge times of a new and aged Li-ion battery in stage 1.
Figure 3 demonstrates the different saturation times in stage 2 as the current trails from the fully regulated current before triggering ready mode. The trailing on a good battery is short and is prolonged on an aged pack. This explains the longer charge time of an older Li-ion with less capacity. An analogy is a young athlete running a sprint with little or no slow-down towards the end, while the old man gets out of breath and begins walking, prolonging the time to reach the goal.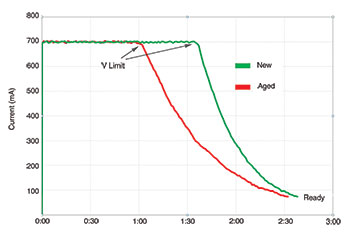 Figure 3. Observing saturation times of new and aged Li-ion battery in stage 2 before switching to ready.
A common ageing effect of Li-ion is loss of charge transfer capability. This is caused by the formation of passive materials on the electrodes, which inhibits the flow of free electrons. This reduces the porosity on the electrodes, decreases the surface area, lowers the lower ionic conductivity and raises migration resistance. The ageing phenomenon is permanent and cannot be reversed.
The health of a battery is based on these three fundamental attributes:
• Capacity, the ability to store energy. Capacity is the leading health indicator of a battery.
• Internal resistance, the ability to deliver current.
• Self-discharge, indicator of the mechanical integrity.
The charge signature reveals valuable health indicators of Li-ion. A good battery absorbs most of the charge in stage 1 before reaching 4,20 V/cell and the trailing in stage 2 is short. 'Lack of hunger' on a Li-ion can be attributed to a battery being partially charged; exceptionally long trailing times relate to a battery with low capacity, high internal resistance and/or elevated self-discharge.
For more information contact Michael Rogers, Uniross Batteries, +27 11 466 1156, michael.rogers@uniross.co.za, www.uniross.co.za
Credit(s)
Further reading:
Why you don't take 'touch' for granted
30 September 2020 , Editor's Choice
The key criteria for choosing the right sensor control IC
         Touch has become an incredibly intuitive way for people to interact with high-tech devices. In just a few short years after the first 
...
Read more...
---
Ask your PCB supplier about reliability, not just capability
28 October 2020, Elmatica , Editor's Choice, Manufacturing / Production Technology, Hardware & Services
Make sure to discuss combinations and how your solution affects risk of failure with the multiple heat cycles required to assemble the product, and the risk of failure in the final application.
Read more...
---
How you can help your EMS partner
28 October 2020, Jemstech , Editor's Choice, Manufacturing / Production Technology, Hardware & Services
If you want a good quality, reasonably priced product in a quick turnaround time, always communicate your assembly requirements effectively with your EMS partner.
Read more...
---
Practical experience with PCB robotic soldering processes
28 October 2020 , Editor's Choice, Manufacturing / Production Technology, Hardware & Services
Over the past few years there has been a lot of discussion over the need for higher temperature materials and expanding the use and knowledge of high temperature assembly techniques.
Read more...
---
TRX welcomes Hannes Taute as new MD
28 October 2020, TRX Electronics , Editor's Choice, News
We delve into his background, what his plans for TRX Electronics are, and how he envisions what the future of the local electronics industry will look like.
Read more...
---
Personality profile: Hosia Matlou
28 October 2020 , Editor's Choice
"To make a success in the very niche electronics manufacturing market, I believe it's important to have experience in both engineering and business management."
Read more...
---
Stability in turbulent times
28 October 2020, Omnigo , Editor's Choice
Omnigo's Pieter de Nysschen discusses the importance of staying positive and motivated during these hard times when the whole world seems to have been turned upside down.
Read more...
---
Women taking the lead in engineering
31 August 2020 , Editor's Choice, News
Alaris Antennas is an engineering company specialising in the design and production of (often) customised antennas for electronic warfare. This is not an industry that typically attracts women to steer 
...
Read more...
---
Smoke detection matters
30 September 2020, Altron Arrow , Editor's Choice, Analogue, Mixed Signal, LSI
Smoke detection regulations are critically important when the value proposition is as basic as human life itself.
Read more...
---
Personality profile: Mervyn Stocks
30 September 2020, Denver Technical Products , Editor's Choice
Mervyn Stocks, the founder and MD of Denver Technical Products, started his career as a learner technician, worked at some well-known companies in the industry before setting out on his own.
Read more...
---