printer friendly version
EMI filters for Hi-Rel applications
13 June 2018
Circuit & System Protection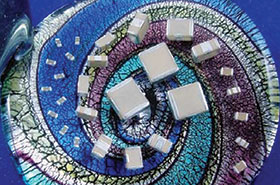 Manufacturers of electronic equipment for Hi-Rel applications often struggle to meet stringent EMC and safety standards. Knowles Precision Devices (KPD) has a range of EMI components, under the Syfer brand, that particularly appeal to designers in the medical implantable and space sectors as well as industrial, automotive, aerospace and telecom applications.
The increasing use of SMD filters over conventional panel mounted filters has simplified assembly methods, reduced production costs and enabled smaller volumetric efficiencies to be gained, giving a greater choice of options to the designer – particularly shorter lead times for development samples.
KPD continues to refine existing ranges, explore new ones and bring on board new materials, like lead-free dielectrics.
For example, the Syfer E01 and E07 ranges of feed-through MLCC 'C' filters now have extended working voltages from 25 V d.c. to 200 V d.c., and in certain case sizes up to 500 V d.c. These surface-mount, three-terminal EMI filter chip devices are designed to offer reduced inductance compared to conventional MLCCs when used in signal line filtering. The filtered signal passes through the chip's internal electrodes with the 'noise' filtered to the grounded side contacts, resulting in reduced length noise transmission paths. They are available in C0G/NP0 and X7R dielectrics, in case sizes 0805 to 1812, and with current ratings of 300 mA to 3 A.
Particularly effective in replacing conventional array filters in medical implantable devices is the Syfer E03 (X2Y) range. Available in case sizes from 0805 to 2220, these are integrated passive devices featuring both common and differential mode capacitors in a single MLCC chip. C0G and X7R dielectric versions are both available options. X7R dielectric versions are available with KPDs proven FlexiCap termination which is strongly recommended for new designs.
Ideal for both signal and power lines, and ensuring impressive EMI filtering performance, is the Syfer SBSP range of surface mount pi-filters. With a size of only a 1206 chip they offer a beneficial combination of size and performance. Ideal for telecoms, power supplies and industrial electronic equipment, their operating temperature range of -55°C to 125°C ensures they are also suitable for military/aerospace applications. The use of X7R and C0G ceramic dielectrics sees capacitance values from 22 pF to 150 nF with a 1 A current rating, and they have working voltages up to 100 V d.c.
FlexiCap termination is used throughout the range and all versions are available with either tin or tin/lead finishes.
For more information contact Andrew Hutton, RF Design, +27 21 555 8400, andrew@rfdesign.co.za, www.rdesign.co.za
Credit(s)
Further reading:
AEC-Q200 compliant line filters
28 October 2020, Electrocomp , Circuit & System Protection
Bourns Magnetics Product Line is introducing the Model DR334A line filter series. These filters are constructed with a ferrite toroid core delivering compact size and high impedance over a broad frequency 
...
Read more...
---
Bluetooth module for advanced applications
28 October 2020, RF Design , Telecoms, Datacoms, Wireless, IoT
u-blox announced the NORA-B1 Bluetooth module, the newest member of its short-range radio portfolio. Based on Nordic Semiconductor's latest nRF5340 Bluetooth low energy chipset – the first to host a powerful 
...
Read more...
---
Scalable end-to-end security platform for LPWA IoT
28 October 2020, RF Design , Telecoms, Datacoms, Wireless, IoT
u-blox has announced the commercial launch of its IoT Security-as-a-Service offering. Available on both the u-blox SARA-R4 and SARA-R5 series of LTE-M cellular IoT modules, this innovative solution makes 
...
Read more...
---
V2X transceiver modules
30 September 2020, RF Design , Telecoms, Datacoms, Wireless, IoT
The VERA-P3 Series from u-blox are automotive grade 802.11p V2X (vehicle-to-everything) transceiver modules that operate in the 5,9 GHz frequency band. These automotive-grade modules are based on the 
...
Read more...
---
Permanent mounting MIMO antenna for Wi-Fi
30 September 2020, RF Design , Telecoms, Datacoms, Wireless, IoT
The Ultima MA530 MIMO antenna from Taoglas is a low-profile, heavy-duty, fully IP67 waterproof external M2M antenna for use in transportation and remote monitoring applications. It provides high efficiency 
...
Read more...
---
Applications for RF electromechanical relay switches
30 September 2020, RF Design , Telecoms, Datacoms, Wireless, IoT
RF electromechanical switches are a key active device in many signal chains, including time-domain duplex communications and pulsed radar applications. Such switches can be as simple as a 3-port toggle 
...
Read more...
---
High-speed protectors for automotive circuits
30 September 2020, Electrocomp , Circuit & System Protection
Bourns announced the release of the AEC-Q101 compliant Model TBU-CA-Q High-Speed Protector series. These products are low-capacitance, single bidirectional high-speed protection components, constructed 
...
Read more...
---
Diplexer for GNSS L1 and L2
31 August 2020, RF Design , Telecoms, Datacoms, Wireless, IoT
The Taoglas DXP.01.A is a diplexer for GNSS L1 and L2. This advanced compact SAW diplexer is for use in any navigation system application using the GPS/GALILEO L1, GLONASS L2 and BeiDou B2 bands. The 
...
Read more...
---
Miniature SMT noise sources
31 August 2020, RF Design , Test & Measurement
Pasternack has released a new series of miniature SMT packaged noise sources that are ideal for built-in test equipment, dithering for increased dynamic range of A/D converters and as a source for bit 
...
Read more...
---
Grounding jumpers for management of high-power busbars
31 August 2020, RS Components (SA) , Circuit & System Protection
RS Components (RS) has introduced Molex's Triton grounding jumpers for the safe management of high-power busbars. Unique to the industry, the range is UL-certified to deliver quality, safety and reliability.  
...
Read more...
---