printer friendly version
Electronics news digest
1 May 2013
News
Overseas
Business
TSMC (Taiwan Semiconductor Manufacturing Co.) announced net sales for March 2013 of approximately NT$44,13 billion, an increase of 7,2% from February 2013 and an increase of 18,9% over March 2012. Revenues for the first quarter of 2013 totalled NT$132,76 billion, an increase of 25,7% compared to the same period in 2012.
Companies
Tektronix announced that it will enter the power analyser instrument market and introduce a full new product line in the coming months. To facilitate this move, it has implemented a technology transfer agreement which includes power analyser intellectual property, patents and product designs from its partner Voltech, which will exit the power analyser segment of its business.
Plextek RF Integration, a UK-based company that designs and develops RFICs, MMICs and microwave/millimetre-wave modules, has selected Agilent Technologies software to simulate its new high-frequency circuit and MMIC designs. After a thorough evaluation of available 3D planar electromagnetic software tools, Plextek chose Agilent's Momentum simulator for its performance and flexibility.
Altera has agreed to acquire TPACK, a wholly-owned subsidiary of Applied Micro Circuits Corporation, for an undisclosed amount. TPACK delivers complete FPGA-based OTN (optical transport network) products targeting packet and optical networking equipment suppliers. The acquisition enables Altera to accelerate and expand its OTN solutions roadmap to support the increasing pipeline of customer designs resulting from Altera's successful acquisition in 2010 of Avalon Microelectronics, a leading OTN IP provider.
Industry
Total worldwide semiconductor revenue reached $299,9 billion in 2012, down 2,6% from 2011, according to Gartner. With the overall semiconductor market decline, the number of vendors that declined among the top 25 outnumbered those that grew. Gartner said the top 25 semiconductor vendors' revenue declined slightly faster, at 2,8%, than the industry as a whole and accounted for almost the same portion of the industry's total revenue – 68,9% in 2012, compared with 69,0% in 2011.
According to analysis by Semicast Research, Infineon Technologies was the leading vendor of semiconductors to the industrial sector in 2012, although its lead over second placed Texas Instruments was cut to just a few tenths of a percentage point.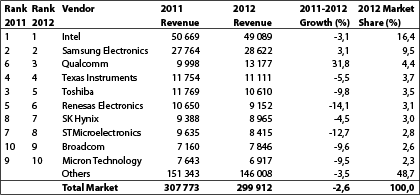 Top 10 Semiconductor Vendors by Revenue, Worldwide, 2012 (Millions of Dollars).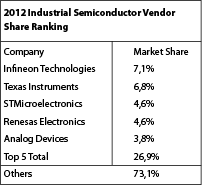 Source: Semicast Research
Both companies maintained a clear lead over the next largest vendors, STMicroelectronics and Renesas Electronics, with Analog Devices completing the top five. Semicast calculates that revenues for industrial semiconductors totalled $32,3 billion in 2012, unchanged from 2011.
Technology
Chemists at The Ohio State University have developed the technology for making a one-atom-thick sheet of germanium, and found that it conducts electrons more than 10 times faster than silicon and five times faster than conventional germanium. Dubbed Germanane, the material's structure is closely related to that of graphene – a much-touted two-dimensional material comprised of single layers of carbon atoms – but promises to be easier to fabricate.
Developing the technology for practical three-dimensional stacking of chips has been a big push for the semiconductor manufacturing industry for the last few years as it is seen as being an essential step towards delivering the demanding performance, power, size and bandwidth requirements of tomorrow's electronic devices. GLOBALFOUNDRIES has reached a key milestone in its 3D stacking technology roadmap by demonstrating its first functional 20 nm silicon wafers with integrated through-silicon vias (TSVs).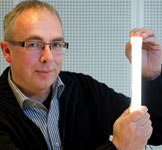 Researchers at Royal Philips Electronics have developed a tube lighting replacement TLED prototype that produces a record 200 lumens per watt, making it the world's most energy efficient warm white light source that is suitable for general lighting. The 200 lm/W TLED lamp is expected to hit the market in 2015 for office and industry applications before ultimately being used in the home.
Further reading:
Obituary: Steven James Meyer
January 1957 - January 2022
Technews Publishing News
It is with deep sadness and shock that we announce the sudden death of SA Instrumentation & Control Editor, Steven Meyer. Steven joined Technews in October 2007 in the position of Deputy Editor. His 
...
Read more...
---
ICASA doles out provisional RF spectrum
News
The Independent Communications Authority of South Africa (ICASA) has concluded its analysis of applications for provisional assignment of radio frequency spectrum under the new ICT Covid-19 National State 
...
Read more...
---
productronica's hybrid format a success despite restrictions
News
Following its tried and trusted biennial scheduling, productronica 2021 was held on the fairgrounds of Messe München on 16-19 November. Strict hygiene rules were observed in accordance with Covid-19 protocols, 
...
Read more...
---
Report evaluates market for Li-ion battery recycling
News
In the past, the lack of end-of-life batteries meant that the Li-ion (lithium-ion) recycling market had little opportunity to prosper. The transition to electric vehicles (EVs) is changing this. Recycling 
...
Read more...
---
RFID market research explores 2021 and what to expect for the future
News
Despite a 5% drop in the global RFID market in 2020 compared to 2019 due to the impact of Covid-19, the market has recovered well in 2021. According to the newly released RFID market research report from 
...
Read more...
---
SABS launches local content verification scheme
News
A new certification and grading scheme launched by the South African Bureau of Standards (SABS) intends to harmonise local content and local production for producers and manufacturers, levelling the playing 
...
Read more...
---
DesignSpark to host new activist engineering programme
RS Components (SA) News
RS Components has launched its DesignSpark #ActivistEngineering programme, further strengthening the company's commitment to engage and inspire design engineers across the globe to 'make amazing happen 
...
Read more...
---
October semiconductor sales up 24% over 2020
News
Global sales of semiconductors were $48,8 billion in October 2021, an increase of 24,0% from the October 2020 total of $39,4 billion and 1,1% more than the September 2021 total of $48,3 billion. Announced 
...
Read more...
---
CSIR Learning Factory supports skills development and innovation in 4IR
News
The CSIR has established a Learning Factory to support South African industries in acquiring the skills needed to maximise the benefits of the Fourth Industrial Revolution (4IR). The first online course 
...
Read more...
---
RS Components SA partners with Engineers Without Borders
RS Components (SA) News
The annual Engineering for People Design Challenge as well as the Inspiring and Building Community Leaders programmes kicked off earlier this year. The competition, now in its 10th year, is a year-long 
...
Read more...
---