printer friendly version
8-bit MCUs for closed-loop control
13 June 2018 DSP, Micros & Memory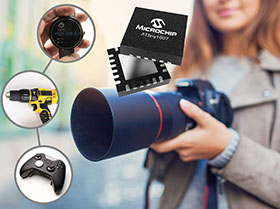 New from Microchip are the PIC18 Q10 and ATtiny1607 families of 8-bit microcontrollers (MCUs), featuring multiple intelligent core independent peripherals (CIPs) that simplify development and enable a quick response time to system events.
Advancements in the architecture of PIC and AVR MCUs have optimised these devices for implementing closed-loop control, enabling systems to offload the central processing unit (CPU) to manage more tasks and save power. Both families have features for functional safety and operate up to 5 V, increasing noise immunity and providing compatibility with the majority of analog output and digital sensors.
Offered in a compact 3 x 3 mm 20-pin QFN package, the new ATtiny1607 family is optimised for space-constrained closed-loop control systems such as handheld power tools and remote controls. In addition to the integrated high-speed analog-to-digital converter (ADC) that provides faster conversion of analog signals resulting in deterministic system response, the devices provide improved oscillator accuracy, allowing designers to reduce external components and save costs.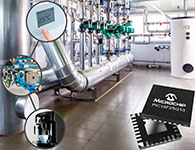 Among the CIPs in the PIC18 Q10 family are the complementary waveform generator (CWG), which simplifies complex switching designs, and an integrated analog-to-digital converter with computation (ADC²) that performs advanced calculations and filtering of data in hardware without any intervention from the core. CIPs such as these allow the CPU to execute more complex tasks, such as human machine interface (HMI) controls, and remain in a low-power mode to conserve power until processing is required.
All PIC18 Q10 products are supported by MPLAB Code Configurator (MCC), a free software plug-in that provides a graphical interface to easily configure peripherals and functions. MCC is incorporated into Microchip's downloadable MPLAB X integrated development environment (IDE) and the cloud-based MPLAB Xpress IDE which eliminates the need to download software. The Curiosity High Pin Count (HPC) development board (DM164136) can also be used to start development with these MCUs.
Rapid prototyping with the ATtiny1607 family is supported by the ATmega4809 Xplained Pro (ATmega4809-XPRO) evaluation kit. The USB-powered kit features touch buttons, LEDs and extension headers for quick setup, as well as an on-board programmer/debugger that seamlessly integrates with the Atmel Studio 7 IDE and Atmel START, a free online tool to configure peripherals and software that accelerates development.
Credit(s)
Further reading:
Automotive motion sensor with embedded ML core
Altron Arrow DSP, Micros & Memory
The ASM330LHHX, a six-axis inertial module with embedded machine learning core and dual operating modes, ensures the lowest power consumption and in-sensor event detection.
Read more...
---
SolidRun releases a SoM solution based on a Renesas SoC
EBV Electrolink DSP, Micros & Memory
In partnership with Renesas, SolidRun has released a SoM solution based on the powerful RZ/G2 family of SoCs, which are engineered for AI-enhanced HMI applications.
Read more...
---
ST develops new serial EEPROM class
Altron Arrow DSP, Micros & Memory
This new class of serial EEPROM is a 32-Mbit page-erasable memory that is less expensive than FRAM while offering a lower power consumption.
Read more...
---
New Espressif MCU embeds Wi-Fi 6
iCorp Technologies DSP, Micros & Memory
Espressif Systems has introduced the ESP32-C5, their first dual-band 2,4 and 5 GHz Wi-Fi 6 and Bluetooth 5 low-energy microcontroller unit.
Read more...
---
New chip from ST ideal for use in a 3-phase motor controller
Altron Arrow DSP, Micros & Memory
STMicroelectronics' new STSPIN32G4 is an integrated and flexible motor controller for driving three-phase brushless motors, helping designers choose the most suitable driving mode and at the same time 
...
Read more...
---
An entire chain of trust for system platforms
RS Components (SA) DSP, Micros & Memory
Microchip's CEC1736 Trust Shield family spans silicon, software, tools, a development board and provisioning capabilities that drive the end-to-end platform firmware protection that customers need.
Read more...
---
EFM32PG23 Microcontroller for IoT applications
RS Components (SA) DSP, Micros & Memory
Silicon Labs' EFM32PG23 microcontroller is the ideal combination of excellent low-power performance, precision analog capabilities and security in a small package.
Read more...
---
MG24 Wireless Development Kit
RS Components (SA) DSP, Micros & Memory
Silicon Labs' MG24 development kit is a high-performing wireless SoC with an AI/ML accelerator for battery-powered IoT end devices.
Read more...
---
Mastering the MicroBlaze processor
EBV Electrolink DSP, Micros & Memory
AMD-Xilinx and Adiuvo will present a hands-on workshop on using the MicroBlaze processor on the Spartan-7 evaluation kit to create, develop and deploy an FPGA solution.
Read more...
---
Tiny standalone probe with a USB-C port
Altron Arrow DSP, Micros & Memory
STLINK-V3MINIE from STMicroelectronics is an upgrade on the renowned ST-LINK/V2 family of in-circuit debuggers/programmers with a faster interface speed and USB-C connectivity.
Read more...
---