printer friendly version
8-bit MCUs for closed-loop control
13 June 2018 DSP, Micros & Memory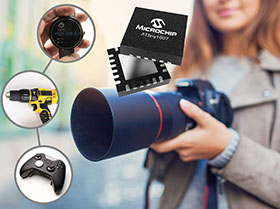 New from Microchip are the PIC18 Q10 and ATtiny1607 families of 8-bit microcontrollers (MCUs), featuring multiple intelligent core independent peripherals (CIPs) that simplify development and enable a quick response time to system events.
Advancements in the architecture of PIC and AVR MCUs have optimised these devices for implementing closed-loop control, enabling systems to offload the central processing unit (CPU) to manage more tasks and save power. Both families have features for functional safety and operate up to 5 V, increasing noise immunity and providing compatibility with the majority of analog output and digital sensors.
Offered in a compact 3 x 3 mm 20-pin QFN package, the new ATtiny1607 family is optimised for space-constrained closed-loop control systems such as handheld power tools and remote controls. In addition to the integrated high-speed analog-to-digital converter (ADC) that provides faster conversion of analog signals resulting in deterministic system response, the devices provide improved oscillator accuracy, allowing designers to reduce external components and save costs.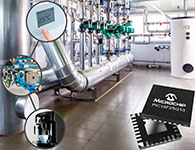 Among the CIPs in the PIC18 Q10 family are the complementary waveform generator (CWG), which simplifies complex switching designs, and an integrated analog-to-digital converter with computation (ADC²) that performs advanced calculations and filtering of data in hardware without any intervention from the core. CIPs such as these allow the CPU to execute more complex tasks, such as human machine interface (HMI) controls, and remain in a low-power mode to conserve power until processing is required.
All PIC18 Q10 products are supported by MPLAB Code Configurator (MCC), a free software plug-in that provides a graphical interface to easily configure peripherals and functions. MCC is incorporated into Microchip's downloadable MPLAB X integrated development environment (IDE) and the cloud-based MPLAB Xpress IDE which eliminates the need to download software. The Curiosity High Pin Count (HPC) development board (DM164136) can also be used to start development with these MCUs.
Rapid prototyping with the ATtiny1607 family is supported by the ATmega4809 Xplained Pro (ATmega4809-XPRO) evaluation kit. The USB-powered kit features touch buttons, LEDs and extension headers for quick setup, as well as an on-board programmer/debugger that seamlessly integrates with the Atmel Studio 7 IDE and Atmel START, a free online tool to configure peripherals and software that accelerates development.
Credit(s)
Further reading:
NXP releases real-time processors for automotive platforms
EBV Electrolink DSP, Micros & Memory
NXP has introduced real-time microcontrollers for automotive electronic control units as part of its S32 range of controllers.
Read more...
---
Embedded voice control via the STM32Cube
EBV Electrolink DSP, Micros & Memory
STMicroelectronics and Sensory collaborate to enable mass-market adoption of embedded voice control through the STM32Cube software ecosystem.
Read more...
---
Microchip simplifies automotive designs
Altron Arrow DSP, Micros & Memory
The new dsPIC33C DSCs add support for AUTOSAR, OS, MCAL drivers and functional safety, enabling robust and secure automotive solutions.
Read more...
---
Curiosity Nano development platform
EBV Electrolink DSP, Micros & Memory
Microchip Curiosity Nano (MC Nano) is a development platform which may be used to develop applications equipped with some of the 32-bit products from the PIC32 and SAM families.
Read more...
---
8-bit MCU development board provides onboard 5G
Altron Arrow DSP, Micros & Memory
The AVR-IoT Cellular Mini development board is the latest from Microchip and gives developers an easy blueprint for building IoT devices that connect via 5G.
Read more...
---
Microchip releases secure Arm Cortex-M23 microcontroller
Altron Arrow DSP, Micros & Memory
The microcontroller is integrated with a robust secure subsystem and contains Arm TrustZone technology to isolate security critical components.
Read more...
---
AWS IoT reference example for ESP32-C3
iCorp Technologies DSP, Micros & Memory
Espressif has released the ESP-AWS-IoT library on GitHub which provides a reference framework for development on the ESP32-C3 core.
Read more...
---
Single-core MPU with MIPI CSI-2 camera interface
Altron Arrow DSP, Micros & Memory
The 1 GHz SAMA7G54 is Microchip's first single-core MPU with MIPI CSI-2 camera interface and advanced audio features.
Read more...
---
Complex, reliable sensor processing in one cost-effective MCU
Altron Arrow DSP, Micros & Memory
Multiple high-speed peripherals, such as 3,4 MHz I2C, 50 MHz SPI and UART, are included to maximise communication bandwidth.
Read more...
---
64 Mbit SuperFlash memory for space systems
Altron Arrow DSP, Micros & Memory
Designers of spaceflight-qualified systems have a great need to reduce development time, cost and risk in their systems. Microchip Technology proposed the concept of starting with commercial off-the-shelf 
...
Read more...
---