Battery Guys specialises in the design and manufacture of battery packs and offers turnkey solutions to its customers in the electronics market. The company has been supplying battery solutions since 2008 and its team has extensive experience within the battery industry, with a focus on delivering high-quality products and professional service to all its customers.
Battery Guys has a national presence, with its head office in Johannesburg and sales offices in Cape Town and Durban. With experienced staff and a large range of stock in each office, it is able to assist customers throughout the country with all battery solutions.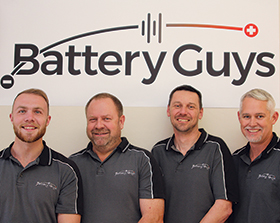 The Battery Guys sales team. From left to right: Jason Kruger, Nigel Hulleman, Troy Browne, Aaron Parkhouse.
"To ensure we offer the best solutions we have aligned ourselves with premium quality brands, such as Forbatt, Sanyo, Saft, Dyno and Energizer to name but a few," explains Troy Browne, national sales manager. "Our technical knowledge and capabilities across all chemistries ensures the correct solutions are supplied based on customers' requirements."
Battery Guys has been distributing Forbatt sealed lead-acid (SLA) batteries for the past 10 years and Browne says the company considers itself proud to be associated with one of the leading lead-acid brands in South Africa. Battery Guys supplies Forbatt batteries into a variety of markets, such as electronics, security, tracking, monitoring, medical, military, solar and UPS amongst others.
Forbatt offers a comprehensive range of SLA batteries to suit most applications, including recent additions to the 12 V range in the form of 9 Ah, 26 Ah and 65 Ah models. "The Forbatt battery has proven to be dependable in multiple fields and surpassed many of our customers' expectations. The quality and reliability of the Forbatt SLA is one of the key factors why Battery Guys has aligned itself with the Forbatt brand," Browne concludes.