printer friendly version
Enabling the LPWAN transition
15 August 2018
Telecoms, Datacoms, Wireless, IoT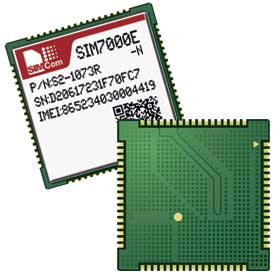 The Internet of Things (IoT) industry in South Africa has matured over the past few years and as a result we have noticed new Low Power Wide Area Network (LPWAN) service providers gaining significant prominence in the telecommunications industry. Over the past 18 months we have seen the global LPWAN provider Sigfox entering our local market through a local service provider, and they have succeeded in deploying their network to over 85% of the population in South Africa. Conversely, a competing service provider has implemented the largest open architecture LPWAN in Africa based off the LoRaWAN networking protocol. The question is, how have the traditional telco operators in South Africa catered for the new generation of IoT applications?
The two common network technologies that telco operators around the world are deploying for IoT applications are LTE CAT M1 and NB-IoT. These two network technologies offer very similar performance with regards to signal range and power consumption but the LTE CAT M1 technology supports higher network speeds in comparison to NB-IoT.
MTN has recently announced that they have conducted tests with Ericsson based on LTE CAT M1, raising speculation that they will implement such a network commercially. They have partnered with Cisco Jasper to offer a control centre for IoT which will enable advanced device management across various cellular and LPWAN technologies, as well as provide the ability for creating custom business rules and automation procedures. One can only conclude that this recent partnership should pave the way for an accelerated IoT network launch by MTN in the near future.
Vodacom has opted to deploy an NB-IoT network which will operate on the 900 MHz frequency band. Vodacom currently has select live NB-IoT cell towers enabled and offers a test facility at Vodaworld to evaluate module compatibility with their network.
Earlier this year SIMCom's SIM7000E module's registration and UDP client connection methods were successfully tested at Vodaworld ahead of us promoting the device to the end user market. The module has subsequently received the local regulatory approval by ICASA and is currently being evaluated for metering applications by a prominent supplier to the industry, as well as several design houses in other, unrelated applications.
The increased demand by telco operators on ICASA for spectrum availability has been one of the motivating factors for deploying NB-IoT as a means of upgrading GPRS based systems. There has been no mention of discontinuing the GPRS networks in South Africa at this stage, however one should bear in mind that the GPRS network in the US and Australian regions have been disabled and a rise in NB-IoT usage may result in a similar future for GPRS networks in South Africa.
One of the most critical features of the SIM7000E module is that not only does it support LTE CAT M1 and NB-IoT, but it also supports the traditional GPRS network services which are currently being used in a multitude of industrial communication applications. This functionality allows for traditional GPRS device and application designers to begin their transition towards the new low-power, low-speed LTE CAT M1/ NB-IoT network technologies while maintaining a 'fall back' ability to the tried and tested GPRS network which they are familiar with.
Credit(s)
Further reading:
RF fixed chip attenuators
29 January 2020, RF Design , Telecoms, Datacoms, Wireless, IoT
The TT5 Series from Smiths Interconnect are Q-band chip attenuators that operate from DC to 18 GHz. The broadband attenuators are available in attenuation values from 0 to 20 dB in 0,5 dB increments and 
...
Read more...
---
RF variable attenuator
29 January 2020, RF Design , Telecoms, Datacoms, Wireless, IoT
The 4209-30-63-1 from API Technologies - Weinschel is a solid-state programmable attenuator that operates from 0,1 to 30 GHz. It has an attenuation range from 0 to 63 dB with a step size of 0,5 dB and 
...
Read more...
---
Thingstream extends LoRaWAN support
29 January 2020, Altron Arrow , Telecoms, Datacoms, Wireless, IoT
It is now possible to add LoRaWAN gateways and LoRaWAN devices to Thingstream, giving developers quick, easy on-boarding, and the full power of Thingstream's MQTT broker, and Data Flow Manager. This new 
...
Read more...
---
Wi-Fi 6 front-end module
29 January 2020, Hi-Q Electronics , Telecoms, Datacoms, Wireless, IoT
Skyworks has introduced the SKY85772-11, a new addition to its family of front-end modules (FEMs) that are designed for growing retail, carrier and enterprise Wi-Fi 6 applications. The 5 GHz FEM offers 
...
Read more...
---
RF power amplifier for 18 - 26 GHz
29 January 2020, RFiber Solutions , Telecoms, Datacoms, Wireless, IoT
The MAAP-118260 is a packaged linear power amplifier that operates over the frequency range 17,7 – 26,5 GHz. The device, manufactured by MACOM, provides 28,5 dB of gain and 37,0 dBm output third order 
...
Read more...
---
Wideband GaN power amplifier
29 January 2020, RF Design , Telecoms, Datacoms, Wireless, IoT
Qorvo introduced what it claims is the world's highest-performance wideband power amplifier (PA). Designed for electronic warfare, radar and test instrumentation applications, the TGA2962 boasts 10 W 
...
Read more...
---
GaN is breaking barriers for RF power amplifiers
29 January 2020, Altron Arrow , Telecoms, Datacoms, Wireless, IoT
The increasing demand for higher data rates in telecommunications and higher resolution in industrial systems is pushing the frequency of operation higher for the electronics that support them. Many of 
...
Read more...
---
V2X: The future of vehicle communications
29 January 2020, Avnet South Africa , Editor's Choice, Telecoms, Datacoms, Wireless, IoT
A recent report by Juniper Research forecasts that more than 62 million vehicles will be capable of vehicle-to-vehicle communication by 2023; up from just over 1,1 million in 2019.
Read more...
---
PCIe 2.0 packet switches
29 January 2020, Altron Arrow , Telecoms, Datacoms, Wireless, IoT
Diodes Incorporated announced the PI7C9X2G304EVQ and PI7C9X2G404EVQ PCIe 2.0 packet switches, offering 3-ports/4-lanes and 4-ports/4-lanes, respectively. The packet switches are automotive-compliant for 
...
Read more...
---
High-performance IoT SoCs with dual processors
29 January 2020, RF Design , Telecoms, Datacoms, Wireless, IoT, Editor's Choice
Nordic Semiconductor's new nRF5340 high-end multiprotocol system-on-chip (SoC) is the first member of its next generation of nRF5 Series SoCs. The nRF5340 builds on Nordic's proven and globally adopted 
...
Read more...
---