printer friendly version
High-resolution infrared cameras for R&D
10 October 2018
Manufacturing / Production Technology, Hardware & Services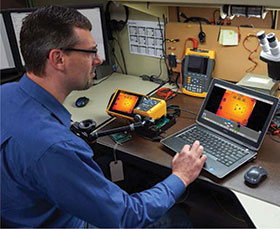 Whether designing or testing printed circuit board prototypes, developing new products or new product materials, or analysing laminar flow patterns on an aerodynamic design, thermal imaging plays a key role.
Analysing characteristics such as temperature, heat dissipation, latent heat and other heat-related material properties can reveal countless potential problems at an early stage in the development process to help ensure quality and avoid failures downstream. The technology has the potential to provide valuable insight into a wide range of applications, from materials analysis to component design to controlled chemical reactions.
Infrared cameras (also called thermal imagers) are ideal tools for both scientific research, and early and late stage development troubleshooting and analysis, because they collect thermal data without physically contacting the target and without interfering with the process.
Understanding what is really occurring in any situation often depends on the proper understanding and control of variables that may affect the material or device under test. Using a non-contact infrared camera to document and measure the performance or changes in thermodynamic properties of the object under test often eliminates variations that might be introduced by a contact temperature device such as an RTD or other contact temperature probe.
Furthermore, far more simultaneous data points can be collected with an infrared camera than physical sensors could ever possibly collect. These simultaneous data points combine to form a detailed, false-colour picture of the heat patterns at any point in time. This is invaluable to engineers and scientists, who understand the fundamentals of thermodynamics and heat flow, and have specific knowledge of the material or design under test.
Get the detail and accuracy you need
R&D infrared inspection and analysis covers a wide range of applications, from identifying thermal anomalies in circuit board components, to tracking phase changes in injection mould manufacturing, to analysing non-destructive testing of multilayer composites or carbon fibre components. While the specifics of those applications vary tremendously, all benefit from infrared cameras with a high degree of accuracy, excellent spatial and measurement resolution, high thermal sensitivity and responsive performance.
Fluke offers infrared cameras that provide all of these capabilities with a versatile set of features that are indispensable for many types of R&D applications. High resolution, coupled with optional macro lenses, can provide for up-close imaging capabilities that produce highly detailed and informative images, with apparent temperature calculations for each pixel.
Individual images can provide a wealth of data on their own. Capturing multiple images, or streaming radiometric data, means that the mountain of data increases exponentially. All who take on the task of research and development will therefore appreciate useable, accurate and analysable data.
Users can easily access this data from the included SmartView software and then often export it and apply their own analysis and algorithms. The extremely high thermal sensitivity of these infrared cameras, combined with their spatial resolution, allows for radiant analysis not possible with most commercially-available products. This allows for a more thorough and accurate analysis of various material properties.
When it comes to analysing printed circuit boards specifically, these thermal cameras can aid in performing the following functions:
Finding localised over-temperature issues. Design engineers have to combine heat intensive solid-state, high power transformers, high speed microprocessors, and analog-to-digital or digital-to-analog signal converters into a very small package.
Establishing cycle times. By setting the infrared camera to record thermal measurements as a solder point cools, cycle times for automated systems can be determined. Key points can be annotated with voice and text for quick review.
Analysing assembly impact. Quality review can be performed at various stages of the development and manufacturing processes to ensure that any issues are captured early to avoid costly component failures down the road.
Validating thermal modelling. Using thermal modelling software provides a good estimate of what will occur when a board is populated, but it's still only a simulation. Designers can easily validate those results by comparing their thermal CAD model to what they're actually getting with the camera as they populate the board and power-up components. Then the finished, powered-up prototype can be scanned and the results compared to the model to see how close it is.
Assessing collateral damage. Sometimes heat from the circuit board can affect the performance of other components in the system, such as making an LCD run too hot or interfering with mechanical operation. To avoid that one can assess how much heat dissipates from the entire package and how that heat may affect other parts of the system.
A designer can start by capturing an image of the powered-up unit with the cover on; that image shows the temperatures of all the components under power. Then the cover can be removed and a radiometric video recording performed of the temperature decay curve. A group of maximum temperature points can then be exported into spreadsheet software and used to backward-extrapolate the resulting curve to time zero, to see what the temperature of the component was before the cover was taken off.
Credit(s)
Further reading:
Thermal wire strippers
30 September 2020, Vepac Electronics , Manufacturing / Production Technology, Hardware & Services
Hakko's FT-802 thermal wire strippers satisfy the demands of the military, medical and aerospace industries. The new model ensures the precise, clean-cut removal of wire insulation, even through highly 
...
Read more...
---
Maintaining backup battery systems for maximum usage and reliability
30 September 2020, Comtest , Power Electronics / Power Management
Standby battery backup systems play a critical role in keeping essential operations functional in the event of a utility outage. Facilities like data centres, hospitals, airports, utilities, oil and gas 
...
Read more...
---
Real-time dashboards for remote test data access
30 September 2020, Comtest , Test & Measurement
Tektronix announced the availability of a native integration between the Keithley DAQ6510 and DMM6500 instruments with Initial State, an loT dashboard for data streaming and visualisation for world-class, 
...
Read more...
---
Data sciences harness full value of factory floor data
30 September 2020, Omron Electronics , Manufacturing / Production Technology, Hardware & Services
Data is easily collected and stored, but in most cases the data pipeline stops here and there is hardly any value extracted from the data. The data pipeline is often not completed in a proper way so that 
...
Read more...
---
Oven control system supports IPC CFX
30 September 2020, MyKay Tronics , Manufacturing / Production Technology, Hardware & Services
BTU International, a leading supplier of advanced thermal processing equipment for the electronics manufacturing market, announced that its new Wincon 7.2 supports IPC CFX (Connected Factory Exchange) 
...
Read more...
---
Solder paste inspection system
30 September 2020, Techmet , Manufacturing / Production Technology, Hardware & Services
Solder paste is applied during the printing process and is necessary to attach the components to a circuit board to assure the proper electrical connection. The printing process has become extremely complex 
...
Read more...
---
Electrolube helps smart homes become even smarter
31 August 2020, Vepac Electronics , Manufacturing / Production Technology, Hardware & Services
The Internet of Things (IoT) is a platform enabling embedded devices connected to the Internet to collect and exchange data with each other. Devices can begin to interact and work with each other, even 
...
Read more...
---
Protective lacquer for electronic circuitry
31 August 2020, Vepac Electronics , Manufacturing / Production Technology, Hardware & Services
APL Acrylic Protective Lacquer is a flexible, fast-drying acrylic conformal coating used for the protection of electronic circuitry. It has been formulated for professional use only and meets the requirements 
...
Read more...
---
Game over for lead?
31 August 2020, Techmet , Manufacturing / Production Technology, Hardware & Services
Lead is a unique material and is used in a wide range of applications. It has a high density making it ideal for ballast, is relatively ductile and easy to shape and has a low melting point which reduces 
...
Read more...
---
Free software for vibration feeder boosts robot flexibility
30 September 2020, Truth Electronic Manufacturing , Manufacturing / Production Technology, Hardware & Services
Yamaha Motor Europe's Factory Automation section is giving customers extra power to boost the pick-and-place flexibility and productivity of their SCARA and cartesian robots by providing a free software 
...
Read more...
---