Würth Elektronik eiSos has expanded its portfolio of AEC-Q-qualified products with a high-current inductor. The patented ferrite core design of the new power choke has an air gap optimally centred to ensure a precisely defined saturation current. The WE-CHSA can be used in the extended temperature range of -55°C up to +150°C.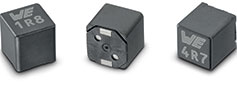 The patented product design with air gap enables extremely high saturation currents up to 54 A. The magnetically shielded package of the WE-CHSA assures a low stray field and the embedded solder pads offer optimal co-planarity while allowing good automatic optical inspection capability. The rated current of the power choke extends to 28 A.
The product is available in package sizes of 8 x 8 x 9 mm, 10 x 10 x 11 mm and 12 x 12 x 12 mm. For the rapid development phase, the complete series is available in a design kit. The WE-CHSA is particularly suitable for applications in the automotive industry, such as in powertrain control devices, in infotainment systems or in high-current applications for eMobility.
For more information contact Jason Page, Würth Elektronik eiSos, +27 71 259 9381, jason.page@we-online.com, www.we-online.com