Itech announced the release of the latest addition to its electronic load range, the IT8615. This e-Load has a compact height of only 3U for an 1800 Watt load, with an AC frequency adjustable from 45 Hz to 450 Hz. The IT8615 has a unique oscilloscope display function providing an insight into the voltage and current input waveform.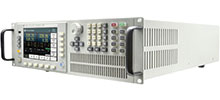 The unit is equipped with a number of measurement modes to test different parameters such as Vrms, Vpk, Vdc, Irms, Ipk, Idc, W, VA, VAR, CF, PF and frequency, but including voltage harmonics analysis as high as the 50th order to verify the harmonic interference of equipment like UPS and generators.
The product is equipped with standard RS-232, GPIB, LAN and USB communication interfaces for reliable and fast control. The IT8615 provides parallel and three-phase functions for high power and three-phase applications, and can be connected in star or delta configurations.
The e-Load is ideal for testing UPS, inverters, AC power supplies and relevant AC electronic components.
For more information contact Conical Technologies, +27 66 231 1900, daniel.haywood@conical.co.za, www.conical.co.za