Silicon Labs has expanded its Wi-Fi portfolio of modules and transceivers. Designed for the specific needs of IoT applications, the Wireless Gecko portfolio boasts low power consumption for power-sensitive connected products, including battery-operated IP security cameras, point-of-sale scanners, asset trackers and personal medical devices.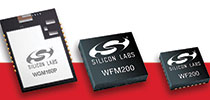 The combination of low transmit current (138 mA), receive current (48 mA) and sleep current (less than 40 μA) enables significant power savings for all IoT use cases. High throughput and fewer retransmissions further help minimise power consumption by using less channel capacity.
The Wi-Fi portfolio offers an array of built-in security features to protect IoT products from online and physical hacking, including secure boot with anti-rollback, secure link, and efficient implementations of industry-standard encryption such as WPA3.
Gecko OS, an optional, feature-packed IoT operating system, eases design complexity, allowing developers to focus on their Wi-Fi applications. Developers can get started in minutes using comprehensive development tools and a wireless starter kit with embedded and Linux host drivers. The Wi-Fi modules are pre-certified for worldwide operation.
The devices' effective RF selectivity blocks out adjacent channel noise and maintains throughput and connectivity in crowded RF environments, such as smart homes, with numerous connected devices. Silicon Labs' Wi-Fi portfolio includes three device types:
The WGM160P module – the portfolio's latest addition – expands design possibilities and offers an easier way to create cloud-connected IoT products by combining an onboard Gecko ­microcontroller, host support, integrated antenna, precertification, large memory (2 MB Flash and 512 KB RAM), and extensive peripheral capabilities including Ethernet and capacitive touch.
The WFM200 module is the smallest pre-certified Wi-Fi system-in-package (SiP) device with an integrated antenna, making it a perfect fit for space-constrained designs. The module also opens up new industrial and outdoor ­applications with 105°C temperature support.
The WF200 transceiver IC provides a cost-effective way to add Wi-Fi to existing high-volume designs, works well with a variety of hosts (ranging from 8-bit to Linux-class processors), and supports antenna diversity.
For more information contact NuVision Electronics, +27 11 608 0144, gdeklerk@nuvisionelec.co.z, www.nuvisionelec.com