printer friendly version
MCUs powered by Arm Cortex-M23
30 January 2019 DSP, Micros & Memory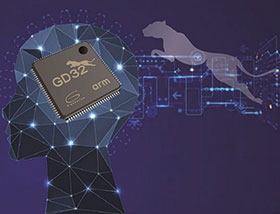 GigaDevice Semiconductor released the GD32E230 series of Arm Cortex-M23 based MCUs (microcontrollers), which support security extension requirements to run the latest embedded application solutions. The product family comprises 18 product types, including package options of LQFP48, LQFP32, QFN32, QFN28, TSSOP20 and QFN20 with a chip dimension from 7 x 7 mm to 3 x 3 mm.
As the first series of the GD32 MCU family based on the latest Cortex-M23 core, the GD32E230 series is manufactured using 55 nm low-power technology, focusing on ultra-low cost applications. With its small size and power efficiency, it can compete with traditional 8-bit and 16-bit product solutions while delivering improved performance and power efficiency over the Arm Cortex-M0/M0+.
Arm Cortex-M23 is the successor of the Cortex-M0 and Cortex-M0+, and is based on the latest Armv8-M architecture of embedded microprocessor cores. It adopts a Von Neumann two-stage pipelined structure and supports the complete Armv8-M reference instruction set while maximising code compactness. Moreover, it is compatible with all Armv6-M instructions, allowing engineers to easily transfer code from Cortex-M0/M0+ processors to the Cortex-M23.
Additionally, the new core is equipped with independent resources such as single-cycle hardware multipliers, hardware dividers, hardware frequency dividers, nested vectored interrupt controllers (NVICs), enhancing debug error correction and traceability for easier development. Subsequent products can also benefit from TrustZone technology designed to support trusted and non-trusted software isolation and protection in hardware, and to meet multiple security requirements.
GD32E230 series products have a system frequency of up to 72 MHz and are equipped with 16 KB to 64 KB of embedded Flash memory and 4 KB to 8 KB of SRAM. While running under the highest frequency, they can achieve a working performance of 55 DMIPS and their CoreMark test score can reach up to 154 points. Compared to the same frequency on similar Cortex-M0 and Cortex-M0+ products, the code execution efficiency of the Cortex-M23 is 40% higher and 30% higher, respectively.
The MCUs also provide flexible interfaces to enhance connectivity, with up to five 16-bit general-purpose timers, a 16-bit basic timer and a multi-channel controller, while the universal interface includes two USARTs, two SPIs, two I²Cs and an I²S. In addition, there is a 16-bit advanced timer that supports three-phase pulse width modulation PWM output and a Hall acquisition interface.
For signal conditioning, a high-speed, rail-to-rail input/output analog voltage comparator and a 12-bit, 2,6 MSPS sampling rate analog-to-digital converter (ADC) with multi-channel high-speed data acquisition support mixed-signal processing for motor control and industrial application requirements.
The GD32E230 is powered by a 1,8-3,6 V supply voltage and the I/O ports are 5 V tolerant. The maximum operating current is only 118 A/MHz with all peripherals enabled at full-speed operation mode. While in deep-sleep mode, the current is reduced by 86% and the standby current is only 0,7 A when the battery is used to power the real-time clock (RTC).
With its 6 kV ESD protection and electromagnetic compatibility (EMC) capabilities, it is suitable for industrial automation, motor control, LED display, household appliances and electronic toys, smart cities and smart homes, electronic payments, electric vehicles, drones, robots and other applications.
Credit(s)
Further reading:
Fujitsu FRAM and ReRAM now available from Mouser
TRX Electronics DSP, Micros & Memory
Fujitsu Semiconductor Memory Solution's ferroelectric random access memory (FRAM) and large-density resistive random access memory (ReRAM) products are now being distributed by Mouser Electronics. Fujitsu 
...
Read more...
---
Functional safety packages for Microchip MCUs and DSCs
EBV Electrolink DSP, Micros & Memory
Safety is a primary concern in automotive applications to ensure reliable operation and end users' wellbeing. Microchip Technology is offering newly certified functional safety packages to enable engineers 
...
Read more...
---
MCU with enhanced security and innovative sensing features
EBV Electrolink DSP, Micros & Memory
Enabled with Bluetooth Low Energy wireless connectivity, onsemi's new low-power RSL15 microcontroller (MCU) addresses the growing demand of connected industrial applications for security without sacrificing 
...
Read more...
---
Discovery kit for IoT nodes using STM32U5 MCU
Altron Arrow DSP, Micros & Memory
The B-U585I-IOT02A Discovery kit provides a complete demonstration and development platform for STMicroelectronics' STM32U585AI microcontroller, featuring an Arm Cortex-M33 core with Arm TrustZone and 
...
Read more...
---
200 MHz MCUs backed by TrustZone security
Hi-Q Electronics DSP, Micros & Memory
Renesas Electronics now offers a 200 MHz RA6E1 microcontroller (MCU) which uses a high-performance Arm Cortex M33 core and TrustZone. The device is built on a highly efficient 40 nm process and supported 
...
Read more...
---
32-bit MCU for IoT edge applications
NuVision Electronics DSP, Micros & Memory
Silicon Labs launched the EFM32PG22 (PG22) 32-bit microcontroller (MCU), a low-cost, high-performance solution with an optimised combination of energy efficiency, performance and security. With easy-to-use, 
...
Read more...
---
Crossover MCU with 3D camera
EBV Electrolink DSP, Micros & Memory
NXP Semiconductors has announced the expansion of its NXP EdgeReady solution portfolio, adding a solution for secure face recognition that leverages a high-performance 3D structured light module (SLM) 
...
Read more...
---
MCUs for secure and connected automotive gateways
Altron Arrow DSP, Micros & Memory
The SPC58 Chorus H Line is part of STMicroelectronics' portfolio of general-purpose automotive power architecture microcontrollers (MCUs). It is designed for high-end body, networking and security applications 
...
Read more...
---
Low-power multiprotocol wireless MCU
Altron Arrow DSP, Micros & Memory
The STM32WB15CC multiprotocol wireless microcontroller (MCU) embeds a powerful and ultra-low-power radio compliant with the Bluetooth Low Energy SIG specification 5.2. It contains a dedicated Arm Cortex-M0+ 
...
Read more...
---
MCU evaluation and development kits
RS Components (SA) DSP, Micros & Memory
RS Components announced availability of a new range of evaluation and development kits for Infineon Technologies' AURIX family of microcontrollers (MC), which are based on the manufacturer's 32-bit TriCore 
...
Read more...
---