Accutronics is a name familiar to readers of Dataweek and the South African electronics industry at large, having offered a range of products to the industry since 1973. The company was founded with a focus on the communications industry, specifically where quality and reliability are of great importance.
As such, the company started by offering RF and microwave components and systems to the broadcast and defence industries. Over the years, with diversification in mind while maintaining its core value of high quality and reliability, the company expanded its product offering to now also offer RF over fibre systems, EMF monitoring equipment, transducers and power supplies.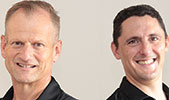 Accutronics' owner, Tobie Muller (left), and sales manager, Allan Ridley (right).
This expansion focused on partnerships with manufacturers that share Accutronics' core values of quality and reliability. It is through these shared values that the relationship between Accutronics and TDK-Lambda was born. We asked Accutronics' owner, Tobie Muller, and sales manager, Allan Ridley, to tell us more about the TDK-Lambda brand and what it stands for.
Where does TDK-Lambda come from?
The TDK-Lambda Corporation is headquartered in Japan and was formed in 2008 when TDK merged Densei-Lambda and TDK Power Systems Business Group. The company can trace its roots all the way back to 1948 when Lambda Electronics was formed in Queens, New York.
All TDK-Lambda products are manufactured with the Japanese approach and philosophy of 'constantly seeking perfection' in mind and, through this, customers are assured of very reliable products. The company has manufacturing facilities around the globe, including Japan, Germany, UK, USA, Malaysia and Israel.
What markets do TDK-Lambda's products serve?
TDK-Lambda is recognised as the market leader for industrial, Mil-COTS and medical power supplies. The range of TDK-Lambda power supplies is extensive.
The XMS500 series is a 500 W supply with medical approval and single output from 12 – 48 V. The QM series can have up to 1 – 18 outputs from 2,8 – 61,6 V and total output power of 1500 W, also with medical approval. The QS series has three outputs, medical approval, a 7-year warranty and optional PMBus communication. The CM4 series models are also configurable with 1-5 outputs, remote programming of the voltage and current, and are MIL-STD-461F compliant.
The TPS3000 series is a 3 kW three-phase supply with adjustable outputs. The RWS-B series is general purpose and has output power ranging from 50 W to 1500 W. The CUS-LD series is single-output with a low profile specifically designed to be used in panels. The CUS-M series features a high operating temperature range of up to 85°C, and an altitude of 5000 m above sea level.
The DRB range of DIN rail mount supplies are general purpose with power output from 15 – 480 W. If more power is required, the DRF series offers up to 960 W of power and efficiency of up to 94%, with remote programming and remote on/off. The DRL series is low-profile for wall-mount cabinets and offers from 10 – 88 W of output power.
In isolated DC-DC converters, the CCG and GQA series offer 15 – 120 W, and up to a 5-year warranty. In non-isolated DC-DC converters, the iJx series offers very high power densities, and up to 100 A of output current at 0,6 – 1,5 V, while the i3A and i6A series are up to 98% efficient, and offer wide output adjustment in either 1/32 or 1/16 of a brick.
In the programmable series, the new Genesys+ range is worthy of mention, with 5 kW in a 1U chassis, as well as a new 1,7 kW unit in the same family. The units can also be combined to provide up to 20 kW of output power in a 4U power supply, as well as arbitrary waveform generation and remote control through a variety of interfaces. LAN comes as a standard interface. For other laboratory or test-and-measurement applications, the Z+ family offers rack or bench mount in a 2U chassis from 200 to 800 W.
With all the options available, TDK-Lambda have developed a Quick Product Finder on their website that makes it very simple to find the right power supply for your needs. All you need to input are the number of outputs, whether it's an AC or DC input, and the required output voltage and current. There are also optional fields if you require specific cooling, mounting options, three- or single-phase input or medical approval.
What is the value proposition?
Quality is of the utmost importance at TDK-Lambda. This means a continuous process beginning at the development of a power supply, not just a final inspection.
Extensive R&D activities, field proven topologies, components and validation and test methodologies, coupled with the extraordinary process reliability and high production quality, leads to the renowned TDK-Lambda quality. This is backed up by the warranty periods which vary from three to seven years for the RWS-B, QM and QS series, while all the programmable power supplies come with a five-year warranty.
While the focus is on quality, its products are offered at competitive prices. TDK-Lambda strives to offer the lowest cost of ownership, excellent warranties and reactive customer service.
How do TDK-Lambda products stand out from the crowd?
Besides the quality you'd expect from a brand like TDK-Lambda, the company is also renowned for its excellent sales and technical support, where support is offered from design-in assistance, EMC standards and safety certifications through to mass production and long-term backup. Responsive local sales and technical support is offered through Accutronics.
As a member of the TDK Group, TDK-Lambda is a global player. It can use this to its advantage through preferred component procurement, as well as a network of strategically located warehouses, offering a wide range of logistic services. Accutronics, as the South African representative, also carries local stock of some of the most popular TDK-Lambda products.
TDK-Lambda's position as a highly experienced, leading global supplier means it can capitalise on its extensive advanced technology research and over 700 patents to provide the next generation of innovative, leading edge power solutions. Its highly motivated R&D teams located in design facilities worldwide have knowledge of the key attributes of many different applications gained from many years' experience.
TDK-Lambda's key focus is not only ensuring the long-term reliability of its products, but also being reliable in all aspects of its business to deliver high-quality products and services. As well as satisfying your technical requirements, TDK-Lambda will always offer you the best all-round solution considering cost, time to market and reliability.
For more information contact Tobie Muller, Accutronics, +27 11 782 8728, tmuller@accutronics.co.za, www.accutronics.co.za