There is a common perception that engineers are all purely analytical creatures without a sense of creativity. In truth, I think this boils down to a general tendency to conflate the ideas of 'creativity' and 'art'. Yes, it is the architect rather than the civil engineer who performs the artistry of designing a beautiful building, but that doesn't mean the engineer is not required to think creatively to solve the challenges of bringing that design to life.
Now I don't look at a transistor or capacitor as a work of art, but as an engineer of the electronics discipline I can appreciate the creativity of a particularly elegant circuit design, or an especially cleverly written piece of code. The mind-set inherent to engineering certainly means that a design must be broken down into the sum of its parts, but it's the way those parts are put together where the creativity lies.
The purpose of engineering can be described as the application of science to solve real-world problems. This regularly requires thinking 'outside the box'. Perhaps the discipline that most clearly brings art and science together is Industrial Design (ID), a field that spans the realms of applied art and applied science by marrying a product's usability with its aesthetics.
A sculptor by the name of Theo Kamecke took a literal approach to combining art and printed circuit boards in the 1980s. He started collecting vintage circuit boards, which in those days were often handmade and therefore unique and interesting to him.
The creations Kamecke made from those unconventional building blocks range from the quirky to the truly astonishing, combining the archaic with the modern to create artworks with titles such as 'Quetzalcoatl', 'Icarus' and 'Eye of Horus'. Although he died in 2017, his website, www.thoekamecke.com, is still active and shows a large volume of his work. Other artists have followed in his footsteps, and an eclectic collection of their works can be found at https://insteading.com/blog/circuit-board-art/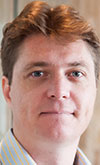 In my experience, most engineers do have an appreciation for artistic endeavours, and in many cases actively pursue them, particularly in music. There are several famous people who started a career in engineering before turning to music, acting or other artforms, such as Rowan Atkinson, Ashton Kutcher and Scott Adams, the creator of the Dilbert cartoons.
If you're still not convinced that an engineer can also be an artist, go and look up the name Leonardo da Vinci.
Brett van den Bosch
Editor