printer friendly version
From the editor's desk: Engineering as art
27 March 2019
News
There is a common perception that engineers are all purely analytical creatures without a sense of creativity. In truth, I think this boils down to a general tendency to conflate the ideas of 'creativity' and 'art'. Yes, it is the architect rather than the civil engineer who performs the artistry of designing a beautiful building, but that doesn't mean the engineer is not required to think creatively to solve the challenges of bringing that design to life.
Now I don't look at a transistor or capacitor as a work of art, but as an engineer of the electronics discipline I can appreciate the creativity of a particularly elegant circuit design, or an especially cleverly written piece of code. The mind-set inherent to engineering certainly means that a design must be broken down into the sum of its parts, but it's the way those parts are put together where the creativity lies.
The purpose of engineering can be described as the application of science to solve real-world problems. This regularly requires thinking 'outside the box'. Perhaps the discipline that most clearly brings art and science together is Industrial Design (ID), a field that spans the realms of applied art and applied science by marrying a product's usability with its aesthetics.
A sculptor by the name of Theo Kamecke took a literal approach to combining art and printed circuit boards in the 1980s. He started collecting vintage circuit boards, which in those days were often handmade and therefore unique and interesting to him.
The creations Kamecke made from those unconventional building blocks range from the quirky to the truly astonishing, combining the archaic with the modern to create artworks with titles such as 'Quetzalcoatl', 'Icarus' and 'Eye of Horus'. Although he died in 2017, his website, www.thoekamecke.com, is still active and shows a large volume of his work. Other artists have followed in his footsteps, and an eclectic collection of their works can be found at https://insteading.com/blog/circuit-board-art/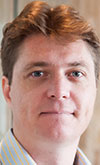 In my experience, most engineers do have an appreciation for artistic endeavours, and in many cases actively pursue them, particularly in music. There are several famous people who started a career in engineering before turning to music, acting or other artforms, such as Rowan Atkinson, Ashton Kutcher and Scott Adams, the creator of the Dilbert cartoons.
If you're still not convinced that an engineer can also be an artist, go and look up the name Leonardo da Vinci.
Brett van den Bosch
Editor
Credit(s)
Further reading:
Buy a Fluke, get one free
28 October 2020, Comtest , News
Comtest, Fluke's official South African importer, is offering one free Fluke for every Fluke purchased from any South African-based, authorised Fluke dealer. Fluke is a world leader in the manufacture, 
...
Read more...
---
Online Ohm's law calculator from Mouser
28 October 2020 , News
The famous Ohm's law states that the current flowing through a circuit is proportional to the voltage applied across both points. Mouser Electronics' online Ohm's law calculator saves engineers time by 
...
Read more...
---
Clearing the Static
28 October 2020, Actum Group , News
ESD training and compliance
According to Desco Industries, electrostatic discharge (ESD) can change the electrical characteristics of a semiconductor device, degrading or destroying it entirely. ESD 
...
Read more...
---
Coalition calls on European Commission to postpone SCIP deadline
30 September 2020 , News
A coalition of 40 industry organisations has written a letter to European Commission President Ursula von der Leyen calling for decisive action to solve implementation issues within the EU Waste Framework 
...
Read more...
---
Follow this engineering journey of a 3D-printed boat
30 September 2020, RS Components (SA) , News
RS Components is releasing a 10-episode documentary series – titled SeaQuest – featuring members of its DesignSpark engineering community who embarked on a first-of-its-kind challenge to design, test 
...
Read more...
---
Mouser revamps technical resource centre
30 September 2020, TRX Electronics , News
Mouser Electronics has redesigned its Technical Resource Centre, which contains the global distributor's ever-expanding collection of technical articles, blogs, eBooks, and Methods technology and solutions 
...
Read more...
---
From the editor's desk: Electric and autonomous vehicles driving full-speed ahead
28 October 2020, Technews Publishing , News
I still can't stop myself from doing a double-take when I hear that Tesla is rolling out a software update to add some sort of new functionality to its cars. Some of those updates are pointless show-off 
...
Read more...
---
Electronics news digest
28 October 2020 , News
South Africa
• The Department of Defence (DoD) has appointed a special team, called 'Save Denel' to investigate Denel's financial struggles, and the impact they might have on SA National Defence Force 
...
Read more...
---
Clearing the Static
28 October 2020, Actum Group , News
The Importance of ESD audits
An ESD audit is the first step in establishing an effective static control programme. Before you invest money in new ESD equipment, an ESD audit will help you identify vulnerable 
...
Read more...
---
TRX welcomes Hannes Taute as new MD
28 October 2020, TRX Electronics , Editor's Choice, News
We delve into his background, what his plans for TRX Electronics are, and how he envisions what the future of the local electronics industry will look like.
Read more...
---