printer friendly version
From the editor's desk: US-China trade war hits chip makers
29 May 2019
News
The escalating trade war between the US and China has the global economy on high alert, and unless things normalise soon it is going to have massive ramifications on many industries.
Following US president Donald Trump's decision to raise tariffs on $200 billion worth of Chinese goods, China responded in kind by announcing it would raise tariffs on $60 billion of American products. Rather than spurring intensified negotiations and some sort of back-down, the Trump administration unsurprisingly responded to this by ratcheting up the tensions, saying it is considering raising tariffs on all of China's remaining imports, amounting to about $300 billion worth of products.
The economic realities are that US citizens will bear the brunt of the increased cost of imported Chinese goods, and many would argue that Trump is more interested in picking a fight than the welfare of his people. But the fact remains that China has an abysmal record when it comes to protecting (and appropriating) intellectual property of foreign companies, and it was inevitable that the problem would come to a head sooner or later.
One of the biggest companies in the eye of the storm is Huawei. The Chinese telecommunications giant has come under intense scrutiny for its cybersecurity practices, by the US and other countries. The US became the first country to put the company on an official blacklist, when Trump signed an executive order giving the federal government the power to block US companies from buying foreign-made telecommunications equipment deemed a national security risk.
The argument from the American side is the concern that the Chinese government could force companies like Huawei to deliberately build backdoors into its products to spy on American networks. Huawei's CEO has repeatedly denied this is happening or would ever be countenanced, but depending on your mind set you might think "well, he would say that, wouldn't he?"
As a Huawei smartphone user, I'm relieved that all the cybersecurity concerns revolve around its telecommunications infrastructure equipment rather than its consumer products. What is worrying in the context of the larger trade war, though, is the fact that Google has announced it will comply with the executive order by blocking support to Huawei for US software, so while a Huawei phone will continue to function it may not receive updates to the Android platform, or to services such as Gmail, Chrome and Google Maps.
Semiconductor chip manufacturers were immediately impacted by these developments, with both Infineon Technologies and STMicroelectronics' stock prices suffering. Other chip makers, including Intel, Qualcomm, Xilinx and Broadcom were also reported to have instructed employees not to supply Huawei until further notice, and if true, those companies' revenues will inevitably also take a hit as a result.
On an unrelated note, communications minister Stella Ndabeni-Abrahams went on SABC's Morning Live TV programme recently to say that one of the reasons for the delay in implementing digital terrestrial television (DTT) migration is the fact that so few people have registered to receive the free set-top boxes stockpiled by the government. "We have lots of boxes in our warehouse, we've been calling upon South Africans, the deserving ones, those that have household income of less than R3 200, to go and register in their post offices, so that we can have the database and they can access the boxes. There's been a low uptake of the boxes."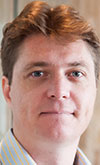 The problem with that argument is that the delay in switching on DTT signals has been one of the central issues around the hold-up all along. So if more people had registered for free boxes, rather than alleviating the problem, surely there would just be more disappointed people waiting for something to watch?
Brett van den Bosch
Editor
Credit(s)
Further reading:
Locked down but not knocked out
25 March 2020, ExecuKit , News
As a business, we are facing extremely hard times with the current worldwide pandemic and isolation. We are all maintaining social distancing and must learn how to do business with an enforced lockdown 
...
Read more...
---
From the editor's desk: A new era – after mourning comes rebuilding
29 April 2020, Technews Publishing , News
When I sit down to write these columns once a month, even if the topic I decide to write about is not all sunshine and roses, I always try and look for a silver lining. I'm simply not able to do that 
...
Read more...
---
Personality profile: Chris Viveiros
29 April 2020, Otto Wireless , News
The operations director of Otto Wireless Solutions shares his background, experience, advice and thoughts on the future.
Read more...
---
Locked down but not knocked out
29 April 2020, ExecuKit , News
We as a company salute the component suppliers who have supported us and are there to assist during this time even if the requests we pose are not always realistic.
Read more...
---
Electronics industry tackling the coronavirus
29 April 2020 , News
2020 has been a crazy year already. From Australian bushfires to climate emergencies to US trade tariffs, the start of the decade hasn't been very positive. Not only this, within the last few months there 
...
Read more...
---
SqwidNet becomes first Sigfox-accredited lab in southern hemisphere
29 April 2020, iSERT , News
iSERT (Safety, EMC, RF, Testing), a leader in the provision of turnkey testing solutions for EMC, RF and safety testing, has collaborated with SqwidNet, the only licenced Sigfox operator in South Africa, 
...
Read more...
---
Clearing the Static: ESD cleaning and hygiene products
29 April 2020, Altico Static Control Solutions , News
In light of the current COVID-19 pandemic, Actum Group would like to remind electronics manufacturers of our range of antistatic cleaning agents, cleanroom materials and PPE.      
Cleanroom garments and 
...
Read more...
---
Jemstech continuing its growth path
29 April 2020, Jemstech , News
Since its inception in 2005 and especially during the past five years, Jemstech has grown from a medium-sized electronic manufacturing services (EMS) provider into one of the major players for electronics 
...
Read more...
---
Company profile: Phoenix Contact
29 April 2020, Phoenix Contact , News
Phoenix Contact was founded in 1923 in Essen, Germany, by Hugo Knümann. It entered the South African market in 1969 through a local distributor, and was later established as a wholly owned subsidiary 
...
Read more...
---
What place is there for electronics in horticulture/agriculture?
29 April 2020, Technews Publishing, OSRAM Opto Semiconductor SA, Altron Arrow , Editor's Choice
Dataweek takes a look at what place there is for electronics in horticulture and agriculture, what roles they are serving and what their uptake is in the South African market.
Read more...
---