printer friendly version
RGB LEDs for decorative lighting
26 June 2019
Opto-Electronics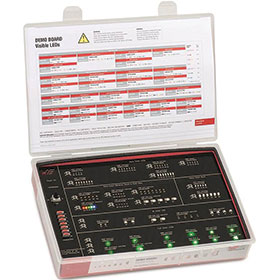 Würth Elektronik's new WL-SFTW and WL-SFTD series of RGB LEDs are targeted at accent and decorative lighting, optical displays as well as industrial applications. Thanks to their PLCC contacting design, the two series of individually controllable LEDs are well suited for SMT assembly and reflow soldering.
The WL-SFTW series offers three standard packaging designs: 3528 with four pins, and 3528 and 5050, each with six pins. The WL-SFTD series, in the 3535 package, may be of particular relevance to lighting designers as it is characterised by its IPX6 protection class.
RGB LEDs can be used to create any colour by additive colour mixing, which is appealing for a variety of decorative applications. With the WL-SFTW series LEDs, Würth offers compact components with high light intensity. The 5050 package, in particular, is ideal for applications in areas with bright ambient light.
The IPX6 protection class of the WL-SFTD series makes it suitable for outdoor applications and insensitivity to water. The encapsulation resin of the RGB LED with diffuse lens also contains UV inhibitors to minimise the effects of long-term exposure to direct sunlight. This supports stable light yield throughout the service life of the LED. A wide beam angle and high intensities make these LEDs ideal for outdoor and indoor full-colour displays.
For more information contact Jason Page, Würth Elektronik eiSos, +27 71 259 9381, jason.page@we-online.com, www.we-online.com
Credit(s)
Further reading:
Industrial power module
25 March 2020, Würth Elektronik eiSos , Power Electronics / Power Management
The components in a SIP-3 package represent cost-effective solutions to meet the requirements for the transient capability of a 24 V industrial voltage network. The new modules operate from 6 to 36 V 
...
Read more...
---
Customisable industrial display
25 March 2020, Vepac Electronics , Opto-Electronics
Topcon Positioning Group announces a pre-series release of its new OPUS B-Series display available for the developer, systems integrator and manufacturer market for user-interface design and implementation 
...
Read more...
---
915 MHz radio module
26 February 2020, Würth Elektronik eiSos , Telecoms, Datacoms, Wireless, IoT
Würth Elektronik's new Themisto-I radio module features high output power and can attain ranges of up to 10 km. Proprietary network solutions for IIoT/M2M applications can be implemented in a short 
...
Read more...
---
Automotive LED drivers and controllers
29 January 2020, Future Electronics , Opto-Electronics
ON Semiconductor has launched a new family of four devices that facilitate the high levels of performance and innovative functionality that vehicle manufacturers and consumers now expect from automotive 
...
Read more...
---
Photocouplers for industrial equipment and solar inverters
29 January 2020, Hi-Q Electronics , Opto-Electronics
Renesas Electronics announced five new 8,2 mm creepage photocouplers that are the world's smallest isolation devices for industrial automation equipment and solar inverters. With a package width of 2,5 mm, 
...
Read more...
---
LAN interfaces transformers
29 January 2020, Würth Elektronik eiSos , Passive Components
Würth Elektronik is expanding its extensive range of signal transformers. The new series of WE-STST (Super Tiny Signal Transformer) devices for LAN interfaces features a maximum component height of just 
...
Read more...
---
Image sensor evaluation kits
25 November 2019, Future Electronics , Opto-Electronics
Ams has released the NanoVision and NanoBerry evaluation kits, which provide a ready-made platform for the development of innovative solutions based on the ams NanEyeC miniature image sensor. The NanEyeC 
...
Read more...
---
Solderable grounding seal
25 November 2019, Würth Elektronik eiSos , Interconnection
With the WE-SMGS, Würth Elektronik offers solderable seals for surface mounting. The WE-SMGS consists of a temperature resistant foam material, which combines the conductive seals with high elasticity. 
...
Read more...
---
Absolute pressure sensor
25 November 2019, Würth Elektronik eiSos , Analogue, Mixed Signal, LSI
Würth Elektronik has developed a very compact MEMS-based (micro electro-mechanical system) absolute pressure sensor: the 2,0 x 2,0 x 0,8 mm sized WSEN-PADS measures pressure in the range between 26 and 
...
Read more...
---
VentoFlex modular LED lighting system
23 October 2019, Mimic Components , Opto-Electronics
Visual Communications Company (VCC) launched its VentoFlex flexible modular lighting system. The system is made up of flexible copper clad laminate (FCCL) sheets with 90 CRI Luxeon LEDs. VentoFlex was 
...
Read more...
---