printer friendly version
Digitally controlled power supply
26 June 2019
Power Electronics / Power Management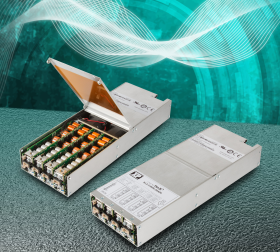 XP Power's nanofleX series of configurable, modular, digitally controlled AC-DC power supplies is constructed in a compact, low-profile 1U mechanical chassis format that suits today's space constrained designs, and can accommodate up to four single-slot plug-in output voltage modules. Designed to maximise efficiency and minimise audible fan noise, the nanofleX series can deliver up to 850 W from a universal input voltage or up to 1200 W from a high line source.
The four output module slots provide nineteen nominal output voltage options in the range +3,3 to +60 V d.c. Outputs are derived from one of four base, digitally controlled module designs offering a wide voltage adjustment range. This approach provides extensive flexibility and user adjustment to tailor the product to the end application, minimises individual inventory items and supports fast turnaround delivery of products configured to exact customer requirements in XP Power's global configuration centres.
Cooling fans are positioned in the centre of the product, further reducing audible noise and allowing users to specify the airflow direction to suit their application. The full output power rating is available regardless of airflow direction.
The nanofleX platform supports both analog and digital control. The analog signals include AC OK (global), DC OK (global and local module) in addition to remote On/Off (global and local), voltage adjustment, remote sense and current share controls. The digital functions use a subset of the industry standard PMBus command protocol that include digital equivalents of all the analog signals and controls together with over-voltage, over-temperature, over-current and fan-fail warning functions.
A graphical user interface (GUI) facilitates the control and configuration of the nanofleX via an I2C interface using the PMBus commands, allowing users to interface with the power supply from day one and further refine the nanofleX configuration during the system development phase.
nanofleX complies with the internationally recognised medical and IT safety approval standards IEC/EN/ANSI/AAMI 60601-1 and IEC/EN/UL60950-1. It provides 2 x MOPP according to the third edition of the medical safety standard, and comes with a three-year warranty.
For more information contact Vepac Electronics, +27 11 454 8053, sales@vepac.co.za
Credit(s)
Further reading:
DC-DC converters for railway applications
29 January 2020, Conical Technologies , Power Electronics / Power Management
Traco Power announced the release of the latest addition to its railway series converters. The THN 10WIR series is a family of ruggedised 10 Watt DC-DC converters for the highest reliability in harsh 
...
Read more...
---
Highly robust IGBT gate driver
29 January 2020 , Power Electronics / Power Management
Power Integrations announced the launch of its automotive-qualified SID1181KQ SCALE-iDriver gate driver for 750 V-rated IGBTs. The new part expands the company's range of auto-qualified driver ICs, following 
...
Read more...
---
Power management/UPS HAT for Raspberry Pi
29 January 2020, iCorp Technologies , Power Electronics / Power Management
This Raspberry Pi power management and UPS HAT, made by Sixfab, ensures that the device is powered up and that the user has full control over its power supply. The uninterruptible power supply automatically 
...
Read more...
---
Brushless DC motor driver
29 January 2020, NuVision Electronics , Power Electronics / Power Management
The MP6650 from Monolithic Power Systems is a single-phase, brushless DC motor driver with integrated power MOSFETs and a Hall-effect sensor. The device drives single-phase brushless DC fan motors with 
...
Read more...
---
4-switch buck-boost controller
29 January 2020, Altron Arrow , Power Electronics / Power Management
A common DC-DC converter problem is generating a regulated voltage when the input voltage can be above, below, or equal to the output - that is, the converter must perform both step-up and step-down functions. 
...
Read more...
---
CCM/DCM flyback ideal diode
29 January 2020, NuVision Electronics , Power Electronics / Power Management
The MP9989, made by Monolothic Power Systems, is a fast turn-off, intelligent rectifier for flyback converters that integrates a 100 V MOSFET. It can replace a diode rectifier for higher efficiency and 
...
Read more...
---
Low-noise electronic circuitry enables low-intensity light detection
29 January 2020, Vepac Electronics , Editor's Choice, Power Electronics / Power Management
When it comes to low-intensity light detection, performance requirements often lead to selecting devices with greater sensitivity than common photodiodes or even charge coupled devices (CCDs).
Read more...
---
Non-isolated buck-boost converter
29 January 2020, Brabek , Power Electronics / Power Management
The recently introduced Recom RBBA3000 buck-boost, non-isolated DC-DC converter features a maximum 3 kW output power rating in an industry standard half-brick baseplate-cooled package. Input range is 
...
Read more...
---
Isolated, regulated DC-DC modules
29 January 2020, Future Electronics , Power Electronics / Power Management
Power density, low weight and ease of use are critical considerations when designing isolated, regulated DC-DC converter systems for a broad range of robotics, UAV, rail, communications and defence/aerospace 
...
Read more...
---
Non-inverting converters for buck or boost operation
29 January 2020, Avnet South Africa , Power Electronics / Power Management
Texas Instruments introduced a family of four high-efficiency, low-quiescent-current (IQ) buck-boost converters that feature tiny packaging with minimal external components for a small solution size. 
...
Read more...
---