printer friendly version
Subrack configuration software
31 July 2019
Design Automation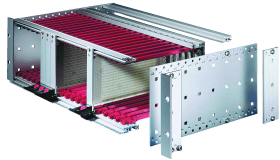 Schroff has launched the EuropacPRO Subrack Configurator, an intelligent online design tool that enables users to configure individual EuropacPRO subracks for vertically-installed applications.
This configurator forms part of nVent, which Schroff describes as its overarching digital empowerment strategy which aims to optimise and automate the customer journey, from design through to product delivery.
The configuration tool features an intuitive interface and guides the user through the necessary steps in the subrack design process. Users only need to select the necessary features from a list of options, some of which include EMC shielding, board height and depth, and board arrangement.
The online configurator converts the user's individual requirements into a compatible subrack configuration which can be further modified through easy 3D drag-and-drop visualisation. For each newly configured design, the necessary documentation, such as CAD files, 3D and 2D drawings and bill of materials files, will be available for download.
EuropacPRO Subrack Configurator is free to access (via the short URL bit.ly/2QBmsQ7), without registration or software installation.
For more information contact Actum Electronics, +27 11 608 3001, sales@actum.co.za
Credit(s)
Further reading:
Feature updates for Proteus design software
31 March 2021, Dizzy Enterprises , Design Automation
Proteus 8.12 expands on its high-speed design feature offering by adding support for pass-through components on length-matched differential pairs. Pass-through components are those which are included 
...
Read more...
---
Software development solution for Cortex-M MCUs
31 March 2021, Altron Arrow , Design Automation
Arm Keil MDK includes a leading Windows-based IDE, debugger, market leading compilers, software pack management and CMSIS. These software tools allow you to accelerate the development of your embedded 
...
Read more...
---
Miniaturised coax connectors and cable assemblies
28 April 2021, Actum Electronics , Interconnection
Rosenberger's new-generation WSMP connectors are approximately 45% smaller than standard SMP connectors and can be used for applications up to 100 GHz. Featuring a variety of coaxial connectors and cable 
...
Read more...
---
Data management for successful PCB designs
25 November 2020, EDA Technologies , Design Automation
Effective PCB data management is a crucial, yet multi-faceted, part of the design process. The following articles by two experts from Altium highlight the challenges and importance of this topic.
Read more...
---
Evaluation board for Wi-Fi microcontroller
26 February 2021, iCorp Technologies , Design Automation
The ESP32-S2-Kaluga-1 kit v1.3 is a development kit by Espressif Systems that was mainly created to demonstrate the ESP32-S2 Wi-Fi microcontroller's human-computer interaction functionalities, and to 
...
Read more...
---
Licence- and royalty-free ensemble graphics toolkit
28 October 2020, Altron Arrow , Design Automation
Graphical user interfaces (GUIs) and interactive touchscreen displays provide intuitive user experiences in applications from robotic and machine controls to medical user interfaces, automotive instrumentation 
...
Read more...
---
HMI for IoT development kit
29 July 2020, RS Components (SA) , Design Automation
Optimised for HMI development in the IoT (Internet of Things), Renesas Electronics' RX72N Envision Kit offers a highly sophisticated and integrated platform for developing applications that require a 
...
Read more...
---
Clearing the Static
31 August 2020, Actum Electronics , News
Ionisation and static control
Electronic products normally consist of conductors and insulators. Within the ESD-protected workstation, insulators can be found on products such as PCBs, onthe tools being 
...
Read more...
---
Clearing the Static: ESD wrist straps
29 July 2020, Actum Electronics , News
The human body is the primary source of electrostatic charge generation. In order to control and reduce static charge build-up and prevent electrostatic discharges (ESD), we use grounding systems to ensure 
...
Read more...
---
Clearing the Static: Curb the spread of COVID-19 with stringent floor hygiene
30 June 2020, Actum Electronics , News
According to the World Health Organisation (WHO), COVID-19 is primarily transmitted from person to person through respiratory droplets that emerge from the nose and mouth when an infected person speaks, 
...
Read more...
---