Silicon Labs has introduced new hybrid software-defined radio (SDR) tuners, expanding its portfolio to meet the growing need of automotive radio manufacturers to support all global digital radio standards with a common platform.
The new Si479x7 devices are Silicon Labs' first automotive radio tuners supporting the Digital Radio Mondiale (DRM) standard. They are an extension of the company's family of Global Eagle and Dual Eagle AM/FM receivers and digital radio tuners, providing the same field performance, and pin and package compatibility between single and dual tuners.
In addition to introducing new DRM-capable tuners, Silicon Labs is enhancing its Si4790x/5x/6x automotive tuners with 'SDR-friendly' technology that effectively transforms them into hybrid SDR tuners.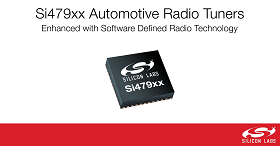 This hybrid SDR technology includes advanced DSP-based automotive features such as maximal ratio combining (MRC), digital automatic gain control (AGC), digital radio fast detect and dynamic zero-IF (ZIF) I/Q.
Silicon Labs' automotive tuner portfolio supports all broadcast radio bands including AM, FM, long wave, short wave, weather band, HD radio, DAB (band III) and DRM.
For more information contact NuVision Electronics, +27 11 608 0144, gdeklerk@nuvisionelec.co.za