printer friendly version
Bluetooth modules based on Nordic SoC
25 September 2019
Telecoms, Datacoms, Wireless, IoT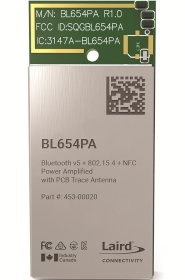 Laird Connectivity has selected Nordic Semiconductor's nRF52840 Bluetooth 5/Bluetooth Low Energy (Bluetooth LE) multiprotocol system-on-chip (SoC) to power two products in its BL654 Series: the power-amplified BL654 PA module and the BL654 USB adaptor.
The BL654 PA module comes in a 22 x 10 x 2,2 mm form factor and enables OEMs to utilise Bluetooth 5 for secure, extended range in IoT product designs. The integrated nRF52840 SoC provides full Bluetooth 5 support including 2x on-air raw data bandwidth (2 Mbps); 4x range; 8x broadcasting ability with advertising extensions that increase the advertising packet payload size to 251 Bytes; and an improved channel coexistence algorithm compared with Bluetooth 4.2.
The SoC's new radio architecture with on-chip PA provides -95 dBm receive sensitivity (at 1 Mbps in Bluetooth LE mode), a maximum output power of 8 dBm, and a total link budget of 103 dBm. In the Laird Connectivity module, the SoC's sensitivity is boosted by the Skyworks PA/LNA to -98,5 dBm (at 1 Mbps in Bluetooth LE mode) with maximum output power of +18 dBm for a link budget of 116,5 dBm. The increase in link budget further boosts the module's range.
The BL654 USB adaptor is a production packaged and fully certified version of Laird Connectivity's standard BL654 module series. It comes in an 18,39 x 50,74 x 11 mm form factor with an integrated antenna and the ability to support applications directly developed with either Nordic's nRF5 SDK or Zephyr, for true production rollouts of end-devices supporting a USB port.
The adaptor is a complete, embedded wireless solution with processing capability supported by the Nordic SoC's 64 MHz, 32-bit Arm Cortex M4F processor with a 2,4 GHz multiprotocol radio (supporting Bluetooth 5, ANT, Thread, Zigbee, IEEE 802.15.4, and proprietary RF protocol software) with 1 MB Flash memory and 256 KB RAM. It concurrently supports Bluetooth 5, Thread and IEEE 802.15.4 protocols.
Both the BL654 PA module and BL654 USB adaptor are qualified over the full industrial –40ºC to 85ºC operating temperature range and are designed to serve various applications such as IoT devices and sensors, beacons and proximity applications, secure medical peripherals, industrial monitoring, and Bluetooth mesh. They provide development flexibility and enable OEMs to maintain stable, robust Bluetooth LE connections in harsh RF environments and use cases.
Credit(s)
Further reading:
AI platform for mass-market embedded/edge deployments
31 March 2021, RF Design , Computer/Embedded Technology
NVIDIA's Jetson TX2 NX delivers the next step in AI performance for entry-level embedded and edge products. It provides up to 2,5 times the performance of Jetson Nano and shares form factor and pin compatibility 
...
Read more...
---
Dual-band GNSS RTK module
31 March 2021, Electrocomp , Telecoms, Datacoms, Wireless, IoT
The RTK-1010 is a high-performance dual-band GNSS RTK module that is designed for applications requiring centimetre-level positioning accuracy. It adopts a 12 nm manufacturing process and integrates an 
...
Read more...
---
Compact bias tees with up to 35 GHz bandwidth
31 March 2021, RF Design , Analogue, Mixed Signal, LSI
Designers can save design time and time-to-market by using a proven bias solution from the high-frequency specialist company, Marki Microwave. Its new line of surface mount bias tees, featuring up to 
...
Read more...
---
Development kit supporting Espressif's Alexa Connect Kit
31 March 2021, iCorp Technologies , Telecoms, Datacoms, Wireless, IoT
Espressif Systems announced the launch of its new development kit, the ESP32-PICO-V3-ZERO-DevKit, which uses the Alexa Connect Kit (ACK) module announced by Espressif in July 2020. Both this module and 
...
Read more...
---
Multi-constellation GNSS module
31 March 2021, Altron Arrow , Telecoms, Datacoms, Wireless, IoT
Telit's high-precision GNSS SE868SY-D is a new multi-frequency, multi-constellation positioning receiver capable of combining GPS/QZSS and Galileo in the L1/E1 and L5/E5 bands, GLONASS in the L1, BeiDou 
...
Read more...
---
S-band low-noise amplifier
31 March 2021, RFiber Solutions , Telecoms, Datacoms, Wireless, IoT
The MAAL-011138 from MACOM Technology Solutions is a high dynamic range, single-stage MMIC LNA (low-noise amplifier) designed to operate from 2,5 GHz to 3,5 GHz, and is assembled in a lead-free, 2 mm 
...
Read more...
---
Reflective SP4T RF switch
26 February 2021, RFiber Solutions , Telecoms, Datacoms, Wireless, IoT
The AM6032 is a reflective single-pole four-throw (SP4T) switch covering the DC to 26,5 GHz frequency range suited for a wide range of wireless applications. The AM6032 provides low insertion loss, flat 
...
Read more...
---
New range of double ridge waveguide components
26 February 2021, RF Design , Telecoms, Datacoms, Wireless, IoT
Pasternack has unveiled a new series of double ridge waveguide components that are ideal for satellite communication, radar, wireless communication and test and instrumentation. The new components 
...
Read more...
---
LTE Cat. 1 wireless module
26 February 2021, Otto Wireless , Telecoms, Datacoms, Wireless, IoT
SIMCom's SIM7600 series is an LTE Cat. 1 module which supports wireless communication modes LTE-TDD, LTE-FDD, HSPA+, GSM/GPRS/EDGE, and others. It supports a maximum 10 Mbps downlink rate and 5 Mbps uplink 
...
Read more...
---
Microwave amplitude control module
26 February 2021, RF Design , Telecoms, Datacoms, Wireless, IoT
The ACM2052 from Kratos General Microwave is an amplitude control module (ACM) that operates from 0,5 to 2 GHz. It provides precise control of signal amplitude and pulse modulation over a high dynamic 
...
Read more...
---