printer friendly version
EMI compliance testing vs. pre-compliance testing
25 September 2019
Circuit & System Protection
Electromagnetic interference (EMI) is caused by unintentional emissions from electronic equipment. Compared to natural sources of EMI, such as lightning and solar storms, engineers are more concerned about man-made, unintentional EMI emissions. Devices that emit these range from modern cellular communication systems and broadcasting systems to a host of electrical components, which generate burst, pulse, CW or modulated signals.
To gain global market access for their products, the manufacturers of electronic devices must comply with region- or country-specific EMC (electromagnetic compliance) directives and ensure that their devices are compliant.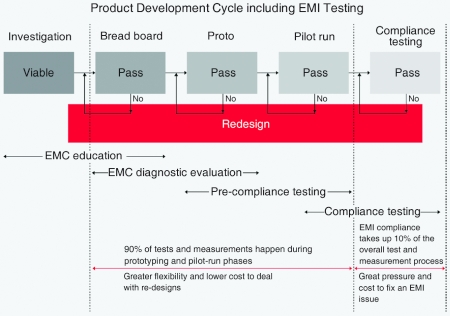 Figure 1. A typical product development cycle and where EMC testing should occur.
The value of EMI pre-compliance testing
Reduce the risk of failing EMI compliance at the end of a project
Most manufacturers prefer to have their products certified by an authorised third-party service provider that is familiar with global standards and requirements. EMI compliance testing would ensure that products are completely certified.
However, EMI compliance tests are usually conducted at the end of project.
Referring to the product development cycle chart below, you can see that 90% of tests and measurements (including EMI diagnostic tests) happen during the prototyping and pilot run phases. EMI compliance tests, on the other hand, comprise only 10% of the process and occur at the end of a project.
EMI compliance test failures can be costly for a project team, time- and money-wise. Therefore, you should take the opportunity during the early stages of a product development cycle to minimise the risk of failing an EMI compliance test by conducting EMI diagnostic tests or pre-compliance tests.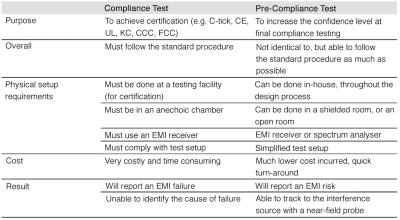 Table 1. The differences between EMI compliance and pre-compliance testing.
Identify exact EMI sources
It can be difficult to tell where EMI failures are coming from since compliance tests themselves won't tell you where exactly the source of the problem is. Radiated emissions may come from a USB port, a LAN port, the seam of a shield, a cable, a buffer, a clock or even a power cord.
You need to either troubleshoot yourself or obtain troubleshooting services from a lab or a third party. In this situation, near-field tests are the only way to locate such emission sources and are typically performed using a signal analyser and a set of near-field probes.
The functionality of an EMI receiver and a general-purpose signal analyser optimised for EMI emissions measurement applications is similar. EMI pre-compliance tests can be covered by either EMI receivers or signal analysers with basic EMI features such as CISPR 16-1-1 compliant detectors and resolution bandwidth. Signal analysers are usually less expensive than EMI receivers.
EMI compliance testing also requires conformance to a standard testing environment, which is hard for the majority of companies to achieve.
In short, EMI receivers enable you to do full compliance testing. They have been designed with all the compliance standards in mind and most organisations recommend using an EMI receiver for EMI applications.
On the other hand, general-purpose signal analysers can be used for pre-compliance testing. Signal analysers are a versatile tool and can be optimised to be used for EMI testing. If you are an RF engineer in the early R&D; product development phase, a signal analyser equipped with basic EMI features will provide just enough functionality for pre-compliance testing.
Conclusion
The advantage of running an EMI pre-compliance test with a signal analyser is that you can make a good estimation of the EMI performance of your new product and reduce the risk of failing EMI compliance at the end of a project.
Credit(s)
Further reading:
New transient voltage suppressors for automotive applications
EBV Electrolink Circuit & System Protection
The devices offer high surge capability of 3000 W and a high temperature operation up to 175°C for signal line protection.
Read more...
---
Clearing the Static: Safe storage and transportation of ESD-sensitive components
Actum Group Circuit & System Protection
During storage and transportation outside of an ESD-protected area (EPA), it is recommended that ESD-sensitive items are enclosed in packaging that provides ESD shielding. In addition to effective static 
...
Read more...
---
Power device analyser
Concilium Technologies Test & Measurement Power Electronics / Power Management
Keysight's new PD1550A is an advanced double-pulse tester that enables customers to test entire power modules quickly and easily.
Read more...
---
Clearing the Static: Three steps to a dry ESD packaging system
Actum Group Circuit & System Protection
To protect PCBs from both ESD and moisture, they should be stored in a vacuum-sealed moisture barrier bag. To complete a dry-packaging system, desiccant packs and humidity indicator cards should be 
...
Read more...
---
Sophisticated threats raise stakes in electronic warfare conflicts
Concilium Technologies Editor's Choice
While the technologies will continue to evolve and new threats emerge, one constant remains: the military force that achieves and maintains spectrum dominance will control the EW domain.
Read more...
---
Clearing the Static: Complete ESD solutions for EPAs
Actum Group Circuit & System Protection
An electrostatic protected area (EPA) is a designated area where static is controlled under strict regulations. At Actum Group, we advise that EPAs should be viewed and completed as a whole project and 
...
Read more...
---
Variety of EMI shielding products
TRX Electronics Circuit & System Protection
Laird Performance Materials offers customised, robust protection from harmful performance-draining EMI (electromagnetic interference). Its broad range of shielding products can be tailored to any application, 
...
Read more...
---
Keysight delivers easily accessible e-learning content
Concilium Technologies Test & Measurement
Recently premiered by Keysight Technologies, Keysight University is an interactive online platform for engineers to learn about test and measurement fundamentals, engineering design tips and best practices 
...
Read more...
---
Port protection IC for MCUs tailored to USB-C dual-role power
Future Electronics Circuit & System Protection
The STMicroelectronics TCPP03-M20 USB Type-C port protection IC is tailored for Dual-Role Power (DRP) applications, simplifying the design of products that can act as a power source for connected devices 
...
Read more...
---
EMC solutions for demanding applications
TRX Electronics Circuit & System Protection
Available from local TTI distributor, TRX Electronics, is Schurter's wide range of standard products ensuring electromagnetic compatibility (EMC). Products include single- and three-phase line filters 
...
Read more...
---