printer friendly version
Controllers for new PoE standard
25 September 2019
Power Electronics / Power Management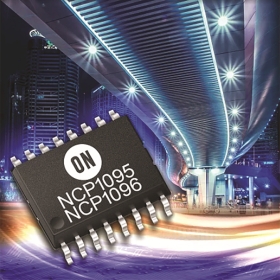 ON Semiconductor is supporting the IEEE 802.3bt standard with a growing portfolio of compliant products and technologies. Using the new IEEE 802.3bt standard, Power over Ethernet (PoE) can be used to deliver high-speed connectivity and up to 90 W of power over Local Area Network (LAN) connections.
ON Semiconductor's solutions not only support the new standard power limit, but extends it further to 100 W for systems including telecommunications and digital signage.
The IEEE 802.3bt standard has the potential to transform every vertical market touched by the IoT, by enabling more sophisticated endpoints operating across larger networks. The standard optimises energy management through the new 'Autoclass' feature, which enables Powered Devices (PDs) to communicate their specific power needs to the Power Sourcing Equipment (PSE). This in turn allows each PSE to allocate just the right amount of power to each PD, maximising both the available energy and bandwidth.
With up to 90 W of power available, compared to the 30 W provided by the IEEE 802.at standard (PoE+), IEEE 802.3bt can provide both power and connectivity to new applications that would otherwise require a dedicated and typically off-line power source. PoE will simplify network topologies and provide a more robust 'plug and play' user experience.
Forming the foundation of ON Semiconductor's PoE-PD solutions, the NCP1095 and NCP1096 interface controllers incorporate all of the features needed to implement a PoE interface, including detection, auto-classification and current limiting. The controllers employ either an external (NCP1095) or internal (NCP1096) hot-swap FET. The integrated hot-swap FET in the NCP1096 features the lowest on-resistance available in a Type 3 or Type 4 PoE controller.
The controllers are complemented by the NCP1566 DC-DC controller, the FDMC8622 single MOSFET and the FDMQ8203 and FDMQ8205A GreenBridge quad MOSFETs, which have been developed to provide a more efficient alternative to a diode bridge in PoE applications. Together, these devices enable highly efficient PoE interfaces with up to the standard limit of 90 W of power or to a proprietary 100 W solution if more power is needed.
Credit(s)
Further reading:
Maintaining backup battery systems for maximum usage and reliability
30 September 2020, Comtest , Power Electronics / Power Management
Standby battery backup systems play a critical role in keeping essential operations functional in the event of a utility outage. Facilities like data centres, hospitals, airports, utilities, oil and gas 
...
Read more...
---
Double the power output from new Tadiran battery
30 September 2020, Altron Arrow , Power Electronics / Power Management
Tadiran has developed the latest in its PulsesPlus HLC battery range, doubling the power output of its previous offering. Recently the company launched the C-type HLC which represented a huge improvement 
...
Read more...
---
SABS addresses dangers of power adaptors to consumers
28 October 2020 , Power Electronics / Power Management
The increased use of devices and appliances has resulted in the increased use of adaptors as well as adaptors-on-adaptors in South Africa. This creates a risk of fires, short circuiting and damage or 
...
Read more...
---
Just Batteries develops Li-ion battery pack for drones
28 October 2020, Just Batteries , Power Electronics / Power Management
The commercial market for drones is ever growing, ranging from delivering your pizza or shoes to supplying medical equipment to rural and inaccessible areas. Just Batteries' design, development and 
...
Read more...
---
1200 V SiC MOSFETs
28 October 2020, RS Components (SA) , Power Electronics / Power Management
RS Components now stocks ON Semiconductor's latest 1200 V-rated MOSFETs. Based on silicon-carbide (SiC) technology, these power discretes are able to push the performance envelope. The new N-channel 
...
Read more...
---
LTO batteries in mining applications
28 October 2020 , Power Electronics / Power Management
The mining industry in Africa provides numerous jobs and essential raw materials for the Fourth Industrial Revolution, critical to rebuilding economies and industry after the Covid-19 epidemic. However, 
...
Read more...
---
Global shutter image sensor for machine vision
28 October 2020, EBV Electrolink , Opto-Electronics
ON Semiconductor has introduced the AR0234CS 2,3 megapixel CMOS image sensor with global shutter technology. The high-performance sensor is designed for a variety of applications including machine vision 
...
Read more...
---
Bidirectional DC power supply for lab testing
30 September 2020, Conical Technologies , Power Electronics / Power Management
The new IT-M3400 bidirectional DC power supply from ITECH integrates the features of a bidirectional power supply and a regenerative load. It inherits the advantages of high power density and modular 
...
Read more...
---
Global analysis of the solid-state battery market
30 September 2020 , Power Electronics / Power Management
The rapid growth of the electric vehicle market has driven the development, manufacture and sales of batteries, especially lithium-ion batteries. In the meantime, market research firm IDTechEx has identified 
...
Read more...
---
Solar lithium storage system
30 September 2020, Vepac Electronics , Power Electronics / Power Management
The US2000 Plus is a latest-generation lithium storage unit. Combining enhanced safety with a long service life – even when at low levels of charge on a regular basis – it meets the demanding requirements 
...
Read more...
---