printer friendly version
Controllers for new PoE standard
25 September 2019
Power Electronics / Power Management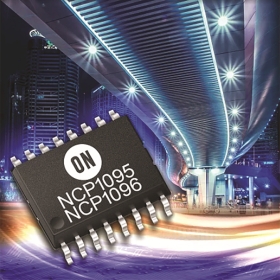 ON Semiconductor is supporting the IEEE 802.3bt standard with a growing portfolio of compliant products and technologies. Using the new IEEE 802.3bt standard, Power over Ethernet (PoE) can be used to deliver high-speed connectivity and up to 90 W of power over Local Area Network (LAN) connections.
ON Semiconductor's solutions not only support the new standard power limit, but extends it further to 100 W for systems including telecommunications and digital signage.
The IEEE 802.3bt standard has the potential to transform every vertical market touched by the IoT, by enabling more sophisticated endpoints operating across larger networks. The standard optimises energy management through the new 'Autoclass' feature, which enables Powered Devices (PDs) to communicate their specific power needs to the Power Sourcing Equipment (PSE). This in turn allows each PSE to allocate just the right amount of power to each PD, maximising both the available energy and bandwidth.
With up to 90 W of power available, compared to the 30 W provided by the IEEE 802.at standard (PoE+), IEEE 802.3bt can provide both power and connectivity to new applications that would otherwise require a dedicated and typically off-line power source. PoE will simplify network topologies and provide a more robust 'plug and play' user experience.
Forming the foundation of ON Semiconductor's PoE-PD solutions, the NCP1095 and NCP1096 interface controllers incorporate all of the features needed to implement a PoE interface, including detection, auto-classification and current limiting. The controllers employ either an external (NCP1095) or internal (NCP1096) hot-swap FET. The integrated hot-swap FET in the NCP1096 features the lowest on-resistance available in a Type 3 or Type 4 PoE controller.
The controllers are complemented by the NCP1566 DC-DC controller, the FDMC8622 single MOSFET and the FDMQ8203 and FDMQ8205A GreenBridge quad MOSFETs, which have been developed to provide a more efficient alternative to a diode bridge in PoE applications. Together, these devices enable highly efficient PoE interfaces with up to the standard limit of 90 W of power or to a proprietary 100 W solution if more power is needed.
For more information contact EBV Electrolink, +27 21 402 1940, capetown@ebv.com, www.ebv.com
Credit(s)
Further reading:
DC-DC converters for railway applications
29 January 2020, Conical Technologies , Power Electronics / Power Management
Traco Power announced the release of the latest addition to its railway series converters. The THN 10WIR series is a family of ruggedised 10 Watt DC-DC converters for the highest reliability in harsh 
...
Read more...
---
Highly robust IGBT gate driver
29 January 2020 , Power Electronics / Power Management
Power Integrations announced the launch of its automotive-qualified SID1181KQ SCALE-iDriver gate driver for 750 V-rated IGBTs. The new part expands the company's range of auto-qualified driver ICs, following 
...
Read more...
---
Power management/UPS HAT for Raspberry Pi
29 January 2020, iCorp Technologies , Power Electronics / Power Management
This Raspberry Pi power management and UPS HAT, made by Sixfab, ensures that the device is powered up and that the user has full control over its power supply. The uninterruptible power supply automatically 
...
Read more...
---
Arm Cortex-M33-based MCUs
29 January 2020, EBV Electrolink , Analogue, Mixed Signal, LSI
NXP Semiconductors announced the availability of its LPC552x/S2x microcontroller (MCU) family, further extending its efficient LPC5500 MCU series with the second of seven families planned for the series. 
...
Read more...
---
Brushless DC motor driver
29 January 2020, NuVision Electronics , Power Electronics / Power Management
The MP6650 from Monolithic Power Systems is a single-phase, brushless DC motor driver with integrated power MOSFETs and a Hall-effect sensor. The device drives single-phase brushless DC fan motors with 
...
Read more...
---
4-switch buck-boost controller
29 January 2020, Altron Arrow , Power Electronics / Power Management
A common DC-DC converter problem is generating a regulated voltage when the input voltage can be above, below, or equal to the output - that is, the converter must perform both step-up and step-down functions. 
...
Read more...
---
STMicro enhances TouchGFX software framework
29 January 2020, EBV Electrolink , Design Automation
STMicroelectronics has added new features to the TouchGFX software framework for STM32 microcontrollers (MCUs), streamlining creation of attention-grabbing user interfaces for domestic appliances, home 
...
Read more...
---
CCM/DCM flyback ideal diode
29 January 2020, NuVision Electronics , Power Electronics / Power Management
The MP9989, made by Monolothic Power Systems, is a fast turn-off, intelligent rectifier for flyback converters that integrates a 100 V MOSFET. It can replace a diode rectifier for higher efficiency and 
...
Read more...
---
Low-noise electronic circuitry enables low-intensity light detection
29 January 2020, Vepac Electronics , Editor's Choice, Power Electronics / Power Management
When it comes to low-intensity light detection, performance requirements often lead to selecting devices with greater sensitivity than common photodiodes or even charge coupled devices (CCDs).
Read more...
---
Non-isolated buck-boost converter
29 January 2020, Brabek , Power Electronics / Power Management
The recently introduced Recom RBBA3000 buck-boost, non-isolated DC-DC converter features a maximum 3 kW output power rating in an industry standard half-brick baseplate-cooled package. Input range is 
...
Read more...
---