printer friendly version
Isolated industrial drive switches
25 September 2019
Power Electronics / Power Management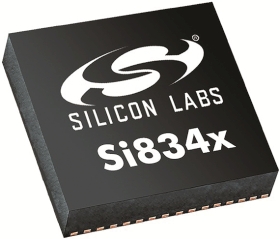 Silicon Labs has introduced a family of compact, robust isolated smart switches designed to drive any load, even in the harshest industrial environments. The new Si834x isolated switches are ideal for driving resistive and inductive loads such as solenoids, relays and lamps used in industrial control systems including programmable logic controllers (PLCs), I/O modules, relay drivers and servo motor controllers.
Each switch is galvanically isolated for safety using Silicon Labs' CMOS-based isolation technology, offering better reliability and performance than legacy optocoupler-based isolation, including high common-mode transient immunity (CMTI) of more than 100 kV/µs.
The Si834x family supports high-side and low-side switch options, low on-resistance (145 m), up to 700 mA of continuous current compliant with the IEC 61131-2 standard, comprehensive protection and diagnostic reporting, and advanced configuration, monitoring and control for industrial automation systems. The switch logic interface can be as simple as four low-power CMOS digital inputs or as rich and flexible as a full serial peripheral interface (SPI) capable of controlling up to 128 channels with four MCU (microcontroller) pins.
Sophisticated switch and load monitoring techniques combined with fast responses to changing conditions make the Si834x switches highly robust, flexible solutions for driving a wide range of loads. Each switch can detect an open-circuit condition and is protected against over-current, over-voltage from demagnetisation (inductive kick or flyback voltage) and over-temperature conditions. A multi-voltage smart clamp efficiently handles an unlimited amount of demagnetisation energy.
The switches achieve enhanced load-driving performance and safer overload protection by employing rapid manipulation of switch impedance and clamp voltage. While other solutions entering into a fault state may shut down, the Si834x switches can continue operation in a constrained but functional state with reduced channel performance, improving system uptime.
The isolated switches feature a logic interface with eight separate diagnostic reports. Diagnostics are configured, monitored and cleared through SPI or exposed on active-low, open-drain indicator pins for easy access. Diagnostic communication is independent of the switch control signals across the isolation barrier.
Credit(s)
Further reading:
Maintaining backup battery systems for maximum usage and reliability
30 September 2020, Comtest , Power Electronics / Power Management
Standby battery backup systems play a critical role in keeping essential operations functional in the event of a utility outage. Facilities like data centres, hospitals, airports, utilities, oil and gas 
...
Read more...
---
Double the power output from new Tadiran battery
30 September 2020, Altron Arrow , Power Electronics / Power Management
Tadiran has developed the latest in its PulsesPlus HLC battery range, doubling the power output of its previous offering. Recently the company launched the C-type HLC which represented a huge improvement 
...
Read more...
---
SABS addresses dangers of power adaptors to consumers
28 October 2020 , Power Electronics / Power Management
The increased use of devices and appliances has resulted in the increased use of adaptors as well as adaptors-on-adaptors in South Africa. This creates a risk of fires, short circuiting and damage or 
...
Read more...
---
Just Batteries develops Li-ion battery pack for drones
28 October 2020, Just Batteries , Power Electronics / Power Management
The commercial market for drones is ever growing, ranging from delivering your pizza or shoes to supplying medical equipment to rural and inaccessible areas. Just Batteries' design, development and 
...
Read more...
---
1200 V SiC MOSFETs
28 October 2020, RS Components (SA) , Power Electronics / Power Management
RS Components now stocks ON Semiconductor's latest 1200 V-rated MOSFETs. Based on silicon-carbide (SiC) technology, these power discretes are able to push the performance envelope. The new N-channel 
...
Read more...
---
LTO batteries in mining applications
28 October 2020 , Power Electronics / Power Management
The mining industry in Africa provides numerous jobs and essential raw materials for the Fourth Industrial Revolution, critical to rebuilding economies and industry after the Covid-19 epidemic. However, 
...
Read more...
---
Bidirectional DC power supply for lab testing
30 September 2020, Conical Technologies , Power Electronics / Power Management
The new IT-M3400 bidirectional DC power supply from ITECH integrates the features of a bidirectional power supply and a regenerative load. It inherits the advantages of high power density and modular 
...
Read more...
---
Global analysis of the solid-state battery market
30 September 2020 , Power Electronics / Power Management
The rapid growth of the electric vehicle market has driven the development, manufacture and sales of batteries, especially lithium-ion batteries. In the meantime, market research firm IDTechEx has identified 
...
Read more...
---
Solar lithium storage system
30 September 2020, Vepac Electronics , Power Electronics / Power Management
The US2000 Plus is a latest-generation lithium storage unit. Combining enhanced safety with a long service life – even when at low levels of charge on a regular basis – it meets the demanding requirements 
...
Read more...
---
Cost optimised power supplies
30 September 2020, Current Automation , Power Electronics / Power Management
The Dimension CP-Series from PULS are cost optimised power supplies without compromising quality, reliability and performance. The most noteworthy features of the CP10.241–R1/-R2 units are their high 
...
Read more...
---