printer friendly version
Isolated industrial drive switches
25 September 2019
Power Electronics / Power Management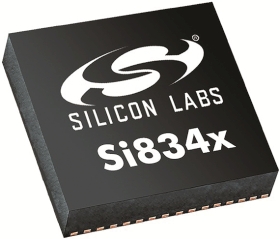 Silicon Labs has introduced a family of compact, robust isolated smart switches designed to drive any load, even in the harshest industrial environments. The new Si834x isolated switches are ideal for driving resistive and inductive loads such as solenoids, relays and lamps used in industrial control systems including programmable logic controllers (PLCs), I/O modules, relay drivers and servo motor controllers.
Each switch is galvanically isolated for safety using Silicon Labs' CMOS-based isolation technology, offering better reliability and performance than legacy optocoupler-based isolation, including high common-mode transient immunity (CMTI) of more than 100 kV/µs.
The Si834x family supports high-side and low-side switch options, low on-resistance (145 m), up to 700 mA of continuous current compliant with the IEC 61131-2 standard, comprehensive protection and diagnostic reporting, and advanced configuration, monitoring and control for industrial automation systems. The switch logic interface can be as simple as four low-power CMOS digital inputs or as rich and flexible as a full serial peripheral interface (SPI) capable of controlling up to 128 channels with four MCU (microcontroller) pins.
Sophisticated switch and load monitoring techniques combined with fast responses to changing conditions make the Si834x switches highly robust, flexible solutions for driving a wide range of loads. Each switch can detect an open-circuit condition and is protected against over-current, over-voltage from demagnetisation (inductive kick or flyback voltage) and over-temperature conditions. A multi-voltage smart clamp efficiently handles an unlimited amount of demagnetisation energy.
The switches achieve enhanced load-driving performance and safer overload protection by employing rapid manipulation of switch impedance and clamp voltage. While other solutions entering into a fault state may shut down, the Si834x switches can continue operation in a constrained but functional state with reduced channel performance, improving system uptime.
The isolated switches feature a logic interface with eight separate diagnostic reports. Diagnostics are configured, monitored and cleared through SPI or exposed on active-low, open-drain indicator pins for easy access. Diagnostic communication is independent of the switch control signals across the isolation barrier.
For more information contact NuVision Electronics, +27 11 608 0144, gdeklerk@nuvisionelec.co.za, www.nuvisionelec.com
Credit(s)
Further reading:
DC-DC converters for railway applications
29 January 2020, Conical Technologies , Power Electronics / Power Management
Traco Power announced the release of the latest addition to its railway series converters. The THN 10WIR series is a family of ruggedised 10 Watt DC-DC converters for the highest reliability in harsh 
...
Read more...
---
Highly robust IGBT gate driver
29 January 2020 , Power Electronics / Power Management
Power Integrations announced the launch of its automotive-qualified SID1181KQ SCALE-iDriver gate driver for 750 V-rated IGBTs. The new part expands the company's range of auto-qualified driver ICs, following 
...
Read more...
---
Power management/UPS HAT for Raspberry Pi
29 January 2020, iCorp Technologies , Power Electronics / Power Management
This Raspberry Pi power management and UPS HAT, made by Sixfab, ensures that the device is powered up and that the user has full control over its power supply. The uninterruptible power supply automatically 
...
Read more...
---
Brushless DC motor driver
29 January 2020, NuVision Electronics , Power Electronics / Power Management
The MP6650 from Monolithic Power Systems is a single-phase, brushless DC motor driver with integrated power MOSFETs and a Hall-effect sensor. The device drives single-phase brushless DC fan motors with 
...
Read more...
---
4-switch buck-boost controller
29 January 2020, Altron Arrow , Power Electronics / Power Management
A common DC-DC converter problem is generating a regulated voltage when the input voltage can be above, below, or equal to the output - that is, the converter must perform both step-up and step-down functions. 
...
Read more...
---
CCM/DCM flyback ideal diode
29 January 2020, NuVision Electronics , Power Electronics / Power Management
The MP9989, made by Monolothic Power Systems, is a fast turn-off, intelligent rectifier for flyback converters that integrates a 100 V MOSFET. It can replace a diode rectifier for higher efficiency and 
...
Read more...
---
Low-noise electronic circuitry enables low-intensity light detection
29 January 2020, Vepac Electronics , Editor's Choice, Power Electronics / Power Management
When it comes to low-intensity light detection, performance requirements often lead to selecting devices with greater sensitivity than common photodiodes or even charge coupled devices (CCDs).
Read more...
---
Non-isolated buck-boost converter
29 January 2020, Brabek , Power Electronics / Power Management
The recently introduced Recom RBBA3000 buck-boost, non-isolated DC-DC converter features a maximum 3 kW output power rating in an industry standard half-brick baseplate-cooled package. Input range is 
...
Read more...
---
Isolated, regulated DC-DC modules
29 January 2020, Future Electronics , Power Electronics / Power Management
Power density, low weight and ease of use are critical considerations when designing isolated, regulated DC-DC converter systems for a broad range of robotics, UAV, rail, communications and defence/aerospace 
...
Read more...
---
Non-inverting converters for buck or boost operation
29 January 2020, Avnet South Africa , Power Electronics / Power Management
Texas Instruments introduced a family of four high-efficiency, low-quiescent-current (IQ) buck-boost converters that feature tiny packaging with minimal external components for a small solution size. 
...
Read more...
---