printer friendly version
Test unit controls access to ESD protected areas
25 September 2019
Circuit & System Protection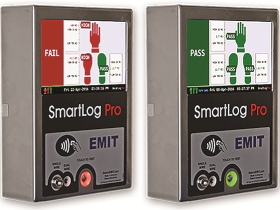 In the electronics manufacturing industry, an electrostatic discharge (ESD) can cause irreparable damage to electronic components. This micro-lightning bolt can burn holes through insulating layers and metal of microcircuits, causing it to malfunction. A discharge as miniscule as 60 V can destroy electrical components and negatively impact revenue streams.
An electrostatic protected area (EPA) is the designated space where no items or activity are able to cause ESD damage. The EPA consists of a grounding ecosystem where various conductive and dissipative materials and components work together to control static charge build-up. These components include wrist straps, grounding cords, dissipative flooring, ESD clothing and footwear, as well as testing equipment.
The SmartLog Pro is a static access control and testing unit that verifies the functionality of an operator's grounding devices to ensure it is functional and compliant before entering the EPA. If the operator fails the static compliancy test, SmartLog will not allow access into the EPA.
"This is a next-level access control unit. It not only provides ESD testing, but offers time management of personnel as well. It makes auditing much easier. It is easy to install and can form part of a turnstile, sliding door, or function as a standalone item. SmartLog can operate on biometrics and a card system with adjustable settings for different people who need to access the EPA," explains Actum Group ESD specialist, Nick Sibanda.
This testing unit features a five-inch colour touchscreen with an intuitive user interface for easy test operation and a clear indication of test results. The operator average test time is only two seconds. It can generate and e-mail automated reports to track short-term and long-term corrective actions.
Credit(s)
Further reading:
ESD protection devices for high-speed automotive interfaces
28 April 2021, EBV Electrolink , Circuit & System Protection
Nexperia has announced a new range of ESD protection devices aimed specifically at protecting the ever-increasing number of high-speed interfaces found in automotive applications, especially the in-vehicle 
...
Read more...
---
EMI filter bank for power and control lines
26 February 2021, RFiber Solutions , Circuit & System Protection
Atlanta Micro's AM35 provides six filters in a tiny 1,5 x 3 mm DFN package for filtering power and control lines necessary for spurious signal suppression for amplifiers, step attenuators, tuneable filters, 
...
Read more...
---
GDT surge protection devices
25 November 2020, Electrocomp , Circuit & System Protection
Bourns' new and improved next-generation surface mount two-electrode GDT (gas discharge tube) surge protection devices have been designed using Bourns' proprietary, advanced computer simulation techniques 
...
Read more...
---
ESD shielding bags
26 February 2021, Hot Tools , Circuit & System Protection
Available in different sizes according to requirements, ESD shielding bags supplied by Hot Tools can protect sensitive components from potential static damage. Their main use is for packaging various 
...
Read more...
---
Clearing the Static: Basic principles of static control
28 April 2021, Actum Group , Circuit & System Protection
Controlling electrostatic discharge (ESD) in the electronics manufacturing environment is a large task that has to be done correctly and safely. There are six basic principles of designing and implementing 
...
Read more...
---
Circuit protection and EMI design kits
25 November 2020, RS Components (SA) , Circuit & System Protection
RS Components now offers a wide range of design kits created by Würth Elektronik for engineers to use during prototype development. The kits include a selection of EMC components, making a perfect match 
...
Read more...
---
Littelfuse launches DC disconnect switch product line
25 November 2020, Altron Arrow , Circuit & System Protection
Littelfuse has expanded its solar product line of fuses, relays, surge protection devices, and more with its new DC disconnect switch. Trusted with over 25 million installations, Littelfuse understands 
...
Read more...
---
Help for choosing the ideal MOV surge suppressor
25 November 2020, Electrocomp , Circuit & System Protection
Almost every designer knows about metal oxide varistors (MOVs). These bidirectional and non-linear surge suppressor devices are ubiquitous in a large variety of applications to limit voltage during a 
...
Read more...
---
High power-density TVS diodes
25 November 2020, Hi-Q Electronics , Circuit & System Protection
Today's modern high power-density electronics are more vulnerable to electrical stresses than ever due to component miniaturisation. High-demand, scalable electronics such as smart meters require highly 
...
Read more...
---
AEC-Q200 compliant line filters
28 October 2020, Electrocomp , Circuit & System Protection
Bourns Magnetics Product Line is introducing the Model DR334A line filter series. These filters are constructed with a ferrite toroid core delivering compact size and high impedance over a broad frequency 
...
Read more...
---