printer friendly version
Electronic speed controller demo board
23 October 2019 Design Automation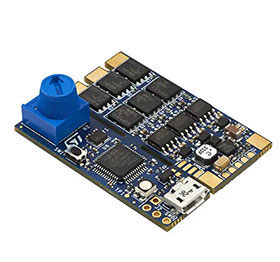 The B-G431B-ESC1 Discovery kit is based on STMicroelectronics' STM32G431CB microcontroller, the L6387 driver and STL180N6F7 power MOSFETs. It is composed of a main power board, and a daughterboard with embedded ST-LINK/V2-1.
This electronic speed controller (ESC) is designed to drive a single three-phase brushless motor (brushless DC or permanent magnet synchronous motor), performing both sensorless FOC algorithm and 6-step control with a speed regulation and active braking function algorithm.
The ST sensorless FOC algorithm ensures longer flight times and an optimal dynamic performance. This unit accepts a command signal from an external unit for driving and monitoring, for instance a flight control board or equivalent. For this purpose, several communication bus interfaces (UART, CAN, PWM channel) are present. A potentiometer and a user button are available for user application.
The daughterboard includes a 5 V battery eliminator circuit (BEC), and the main board embeds an over-current/over-voltage and thermal protection circuit. The form factor makes it suitable for small and very light radio-controlled vehicles (FPV race drone) and the motor current capability fits the power requirement of big vehicles, for instance a prosumer drone.
For more information contact Robin Scholes, Altron Arrow, +27 11 923 9600, rscholes@arrow.altech.co.za, www.altronarrow.com
Credit(s)
Further reading:
Bourns launches new mobile app
25 March 2020, Electrocomp , Design Automation
The new Bourns app is now available free to download for iOS and Android at the Apple App Store and at the Google Play Store. Mobile apps are very popular marketing tools these days with over 50 million 
...
Read more...
---
Synchronous buck converter
29 April 2020, Altron Arrow , Power Electronics / Power Management
Diodes Incorporated introduced the AP62600 synchronous DC-DC buck converter for point-of-load (POL) conversion in applications such as TVs, monitors, white goods, home appliances, consumer electronics 
...
Read more...
---
Tiny step-down regulator
29 April 2020, Altron Arrow , Power Electronics / Power Management
The LTM4657 is part of Analog Devices' family of tiny, high-efficiency, identical pin-out, step-down µModule devices. The LTM4657 is designed to operate at lower switching frequencies than the LTM4626 
...
Read more...
---
Guide for designing GUIs, for novices to experts
29 April 2020, Avnet South Africa , Design Automation
The TouchGFX team at STMicroelectronics recently published TouchGFX Documentation, a website that targets developers working on their first embedded graphical user interface (GUI) as well as those with 
...
Read more...
---
Free PADS software for students and instructors
29 April 2020 , Design Automation
As part of its ongoing investment in higher education, Mentor, a Siemens business, announced that students and instructors can download a free student edition of its premium PADS Professional Design Suite 
...
Read more...
---
Embedding a 3D STEP model in a footprint
29 April 2020, EDA Technologies , Design Automation
Integrating mechanical design workflows into electrical design tools has become a necessary component of today's successful PCB design processes. But transferring inaccurate design data back and forth 
...
Read more...
---
Cryptographic MCU protects against malware
29 April 2020, Altron Arrow , DSP, Micros & Memory
With the rapid growth of 5G including new cellular infrastructure, growing networks and data centres supporting expanding cloud computing, developers are seeking new ways to ensure operating systems remain 
...
Read more...
---
IMUs that carry machine learning burden
29 April 2020, Altron Arrow , Analogue, Mixed Signal, LSI
Designed for use in a wide variety of consumer and industrial applications, STMicroelectronics' 6-axis iNEMO inertial measurements units (IMU) feature an embedded machine learning core (MLC) to offload 
...
Read more...
---
Bipolar DC-DC supply design sources and sinks current
29 April 2020, Altron Arrow , Power Electronics / Power Management
Most electronic systems depend on power voltage rails that are either positive or negative, but a few applications require individual rails that can be both. In these situations, positive or negative 
...
Read more...
---
MCU with embedded LoRa transceiver
29 April 2020, Altron Arrow , DSP, Micros & Memory
The STM32WL is the world's first wireless microcontroller (MCU) to integrate a LoRa transceiver on its silicon die. Until now, the industry either had discrete MCUs and transceivers, or both components 
...
Read more...
---