printer friendly version
Otto Wireless launches Mipot LoRaWAN modules
23 October 2019
Telecoms, Datacoms, Wireless, IoT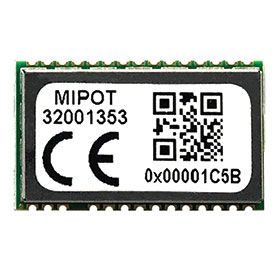 Otto Wireless Solutions has been appointed as a distributor for Mipot Spa, an Italian-based company specialising in the R&D, design, manufacture and sale of ISM-band RF wireless modules, aimed specifically at wireless automation vertical markets. Mipot's product range features a full range of high-quality RF modules developed in accordance with technical regulations and laws applicable in different markets.
Mipot Spa was established in 1973 and has continued to grow steadily by adding additional technical capabilities as they have become available. The company currently produces approximately 1 million RF modules per annum and is increasing its business in Europe and outside of Europe in markets such as USA, China, India, and others.
In addition to the long-standing business, Mipot has developed a full set of LoRaWAN RF modules to support current, as well as future customers. It has also introduced a new 2,4 GHz RF module for a worldwide band which will be available in South Africa soon (pending successful local Type-approval).
Mipot also offers a professional ODM service to customers who require integration of its RF modules into their printed circuit boards (or any other wireless technologies, such as Wi-fi, LTE, BLE, GPS, etc. Mipot is looking to this service as a strategic key point to transfer to its customers all the knowledge in this sector which it has accumulated over 40 years of experience.
The business in South Africa kicks off, via Otto Wireless Solutions, with the introduction of the competitively priced, ICASA-approved LoRaWAN module, 32001353. This attractively priced and capable module is fully LoRaWAN compliant, low-power, and operates over the full industrial temperature range from -40°C to +85°C.
Thanks to the small form factor and low current consumption, this module caters for the implementation of highly integrated low-power battery operated solutions for IoT (Internet of Things) applications, security systems, sensor networks, metering, smart buildings, agriculture, supply chain etc.
As a pre-certified solution, integration into final applications is simplified, which reduces the development time, costs and time-to-market. The embedded stack is fully compliant with LoRaWAN Class A and C specifications by LoRa Alliance.
Credit(s)
Further reading:
LoRa transceiver modules for ranging applications
28 April 2021, Avnet Silica , Telecoms, Datacoms, Wireless, IoT
Avnet Silica announced the availability of Miromico's FMLR-8x-x-STLx LoRa and LoRaWAN IoT modules. Based on Semtech's LoRa 2,4 GHz technology, Miromico partnered with danalto to enable location services. 
...
Read more...
---
Dual-band GNSS RTK module
28 April 2021, Electrocomp , Telecoms, Datacoms, Wireless, IoT
The RTK-1010 is a high-performance dual-band GNSS RTK module that is designed for applications requiring centimetre-level positioning accuracy. It adopts a 12 nm manufacturing process and integrates an 
...
Read more...
---
Electronic warfare: Vying for control of the electromagnetic spectrum
28 April 2021, Concilium Technologies , Telecoms, Datacoms, Wireless, IoT
Future systems will move from being adaptive to using new AI and machine learning capabilities to decipher constant changes in spectrum use.
Read more...
---
RAD gateways deployed in local security solution
31 March 2021, Otto Wireless , News
RAD, an industry pioneer in Industrial IoT (IIoT) and edge computing solutions which appointed Otto Wireless Solutions as its South African distributor last year, has announced that an unnamed South African 
...
Read more...
---
Development kit supporting Espressif's Alexa Connect Kit
31 March 2021, iCorp Technologies , Telecoms, Datacoms, Wireless, IoT
Espressif Systems announced the launch of its new development kit, the ESP32-PICO-V3-ZERO-DevKit, which uses the Alexa Connect Kit (ACK) module announced by Espressif in July 2020. Both this module and 
...
Read more...
---
Multi-constellation GNSS module
31 March 2021, Altron Arrow , Telecoms, Datacoms, Wireless, IoT
Telit's high-precision GNSS SE868SY-D is a new multi-frequency, multi-constellation positioning receiver capable of combining GPS/QZSS and Galileo in the L1/E1 and L5/E5 bands, GLONASS in the L1, BeiDou 
...
Read more...
---
S-band low-noise amplifier
31 March 2021, RFiber Solutions , Telecoms, Datacoms, Wireless, IoT
The MAAL-011138 from MACOM Technology Solutions is a high dynamic range, single-stage MMIC LNA (low-noise amplifier) designed to operate from 2,5 GHz to 3,5 GHz, and is assembled in a lead-free, 2 mm 
...
Read more...
---
Wireless module for integrating BLE sensors
31 March 2021, Phoenix Contact , Telecoms, Datacoms, Wireless, IoT
The compact FL BLE 1300 wireless module with integrated antenna from Phoenix Contact connects up to eight industrial Bluetooth Low Energy (BLE) sensors to industrial controllers and IoT systems. This 
...
Read more...
---
SP4T PIN diode switch
28 April 2021, RF Design , Telecoms, Datacoms, Wireless, IoT
The PE71S5006 from Pasternack is an absorptive, SP4T PIN diode switch that operates from DC to 20 GHz. It has an insertion loss of 3,8 dB, a switching speed of 17 ns and provides isolation of more than 
...
Read more...
---
UWB personnel tag for real-time location system
31 March 2021, Altron Arrow , Telecoms, Datacoms, Wireless, IoT
The Inpixon Personnel Tag is a compact, lightweight, ultra-wideband (UWB) locator tag for Inpixon's real-time location system (RTLS). It is designed to deliver 30 cm accuracy to locate employees or visitors 
...
Read more...
---