printer friendly version
Change at the top of Avnet Kopp
1 May 2013
News
Albert Kopp, long-serving leader and current CEO of Avnet Kopp, will be stepping down at the end of June, to be succeeded by Hannes Taute.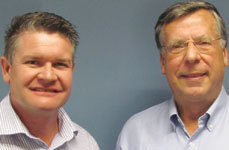 Albert Kopp (right) and his successor Hannes Taute.
After 40 years at the company, Kopp believes that at age 65, now is the right time to step down in order to spend time with his family and his favourite leisure activities.
Kopp will remain with Avnet Kopp as a consultant for the rest of this year to focus on specific projects, but will step down from any functions relating to the management of the company.
Hannes Taute, who has been with Avnet Kopp for 16 years, rose steadily through the ranks to reach his current management position. He was responsible for building the company's successful Microchip line before going on to lead the semiconductor business in 2001, and in 2006 became sales and marketing director. From July 2013 onwards, he will take over as managing director.
Commenting on his promotion, Taute stated "I'm looking forward to this next chapter in the history of Avnet Kopp. No doubt there will be challenges as well as many opportunities. Albert has been an awesome mentor and his energy and enthusiasm for the business will be missed. We wish Albert all the best for his retirement and appreciate what he has done for Avnet Kopp over the years."
"I am thrilled that Hannes will step into this leadership position," said Kopp. "He has proven himself to be most competent at all the tasks he has undertaken over the years, and he is well respected by the staff at Avnet Kopp."
Before we could let him say goodbye to the South African electronics industry in which he has been such a prominent figure, Dataweek got Albert Kopp to give us some of his thoughts on the past, present and future.
Q: What are some of the highlights and low points you have been through in your time as head of the company?
A: For me it has been a journey of building up a very small company into the sizeable distributor we are today. Some of the highlights would be starting our semiconductor business in 1980 as a separate business, then listing on the JSE in 1987, and of course the sale of Kopp Electronics and the formation of Avnet Kopp in 1996. The interaction with the many colleagues I have had in all these years – guys like Garth Brook, Brian Gainsford and Derek Walker – leave many fond memories.
As for low points, life is strange – I seem to remember much more clearly the high points. But losing a long serving staff member to cancer has certainly been a low point.
Q: In what fundamental ways have you seen the distribution game change over the years?
A: The biggest change is related to the concept of SPEED; everything now happens a lot faster than it used to, and the emergence of the Internet certainly played a big role in this. And with this came a much tougher competitive environment, and big pressure on margins.
Q: Do you see the way component distributors (and Avnet Kopp specifically) operate changing over the coming years?
A: Efficiencies and better productivity are going to be critical to distributors in the years ahead. Centralising our inventory in Avnet's European warehouses was one step in that direction. But the old rules of customer satisfaction, and servicing customers in the best way possible, will remain key to continued growth.
Q: What is your prognosis of the current health of the electronics industry?
A: The global slowdown in 2009 hit the components distribution market quite heavily and there has not been a dramatic upturn since then in SA, and now we again have a sluggish component market also in Europe. Having said that, we do at present see some positive developments in certain customer segments.
Also, the labour situation in SA has made many customers outsource their production to Asia, in some cases even opening their own production facilities there.
With the relatively small electronics industry we have in SA, local entrepreneurs will continue to focus their activities on innovative products that can compete both here and, very often, in global markets. With the top technology suppliers we represent here, we are well placed to help local manufacturers achieve success.
Q: Any closing comments?
A: 40 years in the industry has been a long time, yet I can honestly say I have loved being a part of it, and I wish Hannes Taute all the best as my successor. He has a solid background in Avnet Kopp and I have no doubt he will take the company forward with new ideas and policies to make the changes that are always a constant in business today.
Further reading:
Obituary: Steven James Meyer
January 1957 - January 2022
Technews Publishing News
It is with deep sadness and shock that we announce the sudden death of SA Instrumentation & Control Editor, Steven Meyer. Steven joined Technews in October 2007 in the position of Deputy Editor. His 
...
Read more...
---
ICASA doles out provisional RF spectrum
News
The Independent Communications Authority of South Africa (ICASA) has concluded its analysis of applications for provisional assignment of radio frequency spectrum under the new ICT Covid-19 National State 
...
Read more...
---
productronica's hybrid format a success despite restrictions
News
Following its tried and trusted biennial scheduling, productronica 2021 was held on the fairgrounds of Messe München on 16-19 November. Strict hygiene rules were observed in accordance with Covid-19 protocols, 
...
Read more...
---
Report evaluates market for Li-ion battery recycling
News
In the past, the lack of end-of-life batteries meant that the Li-ion (lithium-ion) recycling market had little opportunity to prosper. The transition to electric vehicles (EVs) is changing this. Recycling 
...
Read more...
---
RFID market research explores 2021 and what to expect for the future
News
Despite a 5% drop in the global RFID market in 2020 compared to 2019 due to the impact of Covid-19, the market has recovered well in 2021. According to the newly released RFID market research report from 
...
Read more...
---
SABS launches local content verification scheme
News
A new certification and grading scheme launched by the South African Bureau of Standards (SABS) intends to harmonise local content and local production for producers and manufacturers, levelling the playing 
...
Read more...
---
DesignSpark to host new activist engineering programme
RS Components (SA) News
RS Components has launched its DesignSpark #ActivistEngineering programme, further strengthening the company's commitment to engage and inspire design engineers across the globe to 'make amazing happen 
...
Read more...
---
October semiconductor sales up 24% over 2020
News
Global sales of semiconductors were $48,8 billion in October 2021, an increase of 24,0% from the October 2020 total of $39,4 billion and 1,1% more than the September 2021 total of $48,3 billion. Announced 
...
Read more...
---
CSIR Learning Factory supports skills development and innovation in 4IR
News
The CSIR has established a Learning Factory to support South African industries in acquiring the skills needed to maximise the benefits of the Fourth Industrial Revolution (4IR). The first online course 
...
Read more...
---
RS Components SA partners with Engineers Without Borders
RS Components (SA) News
The annual Engineering for People Design Challenge as well as the Inspiring and Building Community Leaders programmes kicked off earlier this year. The competition, now in its 10th year, is a year-long 
...
Read more...
---