printer friendly version
Q&A with Microchip's European director
1 May 2013
News
Microchip's European director, Norbert Siedhoff, recently came out to South Africa on the back of the announcement of the company's distribution partnership with Arrow Altech Distribution (AAD). Dataweek took the opportunity to conduct a brief Q&A session to get some insight into Microchip's views on the local market and product development strategies.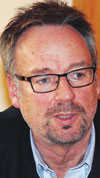 Norbert Siedhoff
Q: What opportunities do you expect your partnership with AAD to open up in the South African market?
A: Microchip signed a global distribution agreement with Arrow. We believe that Arrow provides us with global access to a very large customer base, together with excellent technical competence and understanding of their customer needs.
In South Africa, we have previously enjoyed an excellent working relationship with AAD and are looking forward to continuing the successful partnership with them. AAD is one of a few South African distributors with local inventory, which guarantees our African customers quick access to our products.
Q: What are your impressions of the South African market in a global context? Looking in as an outsider, what are some of our strengths and weaknesses?
A: The South African market is an important and large part of our global business, and Microchip's business relationship with RSA began in the late 1980s, followed by the acquisition of Nanotech, the inventor of our successful Keeloq product line.
Even today, the South African security market is still the largest globally, and many related newer developments had its roots in RSA. We can clearly see an enormous creativity and innovation in most of the South African companies we visit. The average engineer's technical expertise is definitely in line with the global standard.
Q: Your product range has been expanding further and further beyond just microcontrollers in the past few years. What is the thinking behind this and where is the company heading in the next 10 years?
A: Microchip migrated during the last few years from a pure product supplier to a solution provider. We aim to be an innovation partner for our clients in the entire field of embedded control, which is driving our entire product and technology development.
Microcontroller peripherals, standalone analog and power products, related software and reference designs are continually developed in order to offer state of the art solutions in our targeted market segments and applications, such as security, lighting, power supplies, motor control, touch and gesture, as well as connectivity in general.
Today we offer products and complete solutions/modules for almost all wired and wireless communication standards. Several acquisitions during the recent years were made in order to gain knowhow in these fields of play and speed up the development of dedicated solutions.
Q: What do you see as being the main areas in which MCU technology will advance in the coming years?
A: Today we see a clear trend/demand within our customer base for lower power, lower system cost, higher integration, smaller form factor, more connectivity, easier HMI and flexibility in general. These are the factors which are driving Microchip's innovation, where we do not see the MCU as an isolated product, but as an important part of the entire solution offering.
Q: Steve Sanghi (Microchip's president and CEO) sent an e-mail to Microchip customers in February warning of impending supply problems as the global electronics industry is looking like entering an upturn. Can you elaborate on what this may mean to your customers?
A: Microchip is well known in the market as a reliable supplier with consistent and short lead times. Because of our extremely large customer base – which is in excess of 70 000 globally – we have an excellent insight into changes in customer ordering behaviour, which is not only dependent on a few large global accounts.
Therefore, we are able to implement long-term capacity planning, which is not only based on current customer orders alone, but advanced market data. When Microchip lead-times exceed our baseline periods, Steve Sanghi considers it important as a partner to our clients to inform them about trends we see in the global market.
Microchip always has spare capacity available so it will not take longer than three months to ramp up production. However, in order to minimise any negative effect on lead times, we would ideally like to have more visibility of our customers' expected demands, ideally equating to a minimum of four months of orders on backlog.
Further reading:
RS to showcase IoT and Food Safe products at NAMPO Harvest Day
RS Components (SA) News
Following a two-year hiatus, this year's event will take place over five days as opposed to four, to accommodate Covid-19 restrictions.
Read more...
---
Mouser and Wevolver team up to expose university innovation
News
The programme aims to empower people to create and innovate by providing access to engineering knowledge through a variety of media, including blogs and podcasts.
Read more...
---
Arrow Electronics unveils new CEO
Altron Arrow News
Sean Kerins has been picked to succeed Michael Long as president and chief executive officer effective 1 June 2022.
Read more...
---
Joburg Business School launches PHD in digital transformation
News
The Fourth Industrial Revolution is no longer an abstract concept – it is happening. Leaders will do well to incorporate its emerging technologies into their organisations.
Read more...
---
Record number of national standards published in 2021
News
The SABS sees the information contained in SANS as fundamental to optimising the country's economic and industrial potential.
Read more...
---
Online dashboard for global semiconductor sales data
News
The Semiconductor Industry Association (SIA) launched a new Semiconductor Unit Sales Dashboard to provide regularly updated, publicly available sales data for a range of semiconductor products. Amid the 
...
Read more...
---
Samsung bolstering investment in SA's tech sector
News
Both globally and locally, there is clear consensus that investment in a country's technological advancement is intrinsically linked to economic growth. In recognition of this philosophy, Samsung South 
...
Read more...
---
Record-seeking sailboat uses Fischer Connectors for sensor data transmission
News Interconnection
The boat is setting out to reach a speed of 80 knots powered only by the wind, and thereby break the long-standing world sailing speed record of 65,45 knots.
Read more...
---
Mouser again sponsors FIRST Robotics Competition
News
Mouser Electronics announced its continued sponsorship of the FIRST Robotics Competition, which inspires innovation and fosters well-rounded life capabilities in tens of thousands of young people every 
...
Read more...
---
New resource site for Mouser's popular podcast series
News
A new resource site has come online, dedicated to Mouser Electronics' engaging podcast episodes. The site features all episodes from the Empowering Innovation Together podcast series, The Tech Between 
...
Read more...
---