printer friendly version
Locally made antennas to go supersonic
13 November 2013
News
South African wireless antenna specialist Poynting has been selected to design and build antennas for the Bloodhound SCC, a UK-built supersonic car that will attempt to beat the current world land-speed record in 2015 and 2016 at Hakskeenpan in the Northern Cape.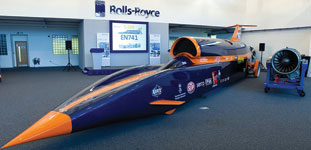 Credit: Stefan Marjoram.

Pilot Andy Green. Credit: Stefan Marjoram.
Members of the Bloodhound team have held the world land-speed record for 30 consecutive years, and have raised the American record by 22%. The first record attempts will take place in 2015, during which the car – with Royal Air Force fighter pilot Andy Green, current holder of the world land-speed record at 1227 km/h, at the helm – will make approximately 20 runs with the objective of achieving a supersonic record (1300 km/h). The team will then return at a later date to aim for the 1000 mph (1610 km/h) mark.
The hybrid (in this case hybrid means jet- and rocket-powered, not electric- and petrol-powered) vehicle is currently being built by a team of 30 engineers in a special technical centre near Bristol in the UK. Some of the Bloodhound SSC team members visited Poynting at the end of October to discuss requirements and ideas.
Poynting is certainly taking the challenge seriously, having built a project team consisting of engineering project manager Lara Viljoen, Poynting chief technical officer Dr Derek Nitch, research and development manager Mark Haarhoff and mechanical engineer Eduard Walker, as well as other Poynting staff.
"We're relishing the challenge of designing antennas that will facilitate essential communications, data sharing and monitoring between the supersonic vehicle and the base stations," says Viljoen. "A key objective of the project is inspiring the next generation of scientists and engineers by sharing this engineering adventure and engaging educators, learners and families. As well as the excitement of aiming for 1610 km/h, that is the key reason we're involved in this landmark project."
Bloodhound SCC will be a world-first live open data project where all the data on research, design, manufacturing and testing of the car is shared through up to 300 media channels, thanks to sponsor MTN and the antennas produced by Poynting. The data will be used to video stream data in real time so that the world can view the events.
The vehicle requires reliable, high-speed data communication to the MTN LTE base stations in order to stream this data. According to Viljoen, Poynting has committed to providing qualified antennas which will be mounted inside the vehicle fin and will be connected via RF cables to the User Equipment Sierra Wireless modules. The antenna development will follow Poynting's development methodologies and capabilities, which will involve a series of simulations, prototypes, tests and qualifications.
The Bloodhound SSC project is investing heavily in educational outreach and public communication. Over 40 000 South African learners in 368 schools have been introduced to date, and the target is to register 1000 schools by the end of 2014.
"Poynting will be engaging in the opportunity to be a part of the Science, Technology, Engineering and Mathematics (STEM) Corporate Ambassador Programme," says Viljoen. "We'll be visiting a number of schools to inspire learners and educators to use the project's free educational resources to make science, maths and engineering come alive in the classroom."
Bloodhound education director in South Africa, Dave Rowley, said, "The enthusiasm of the Poynting team to support the education programme is a great bonus and will enable us to reach more schools and to also develop curriculum resource materials based on the antenna research they are developing for the project. It's a great opportunity for us to show a very practical example of wireless communications being captured at very high speeds."
Credit(s)
Further reading:
SAAB Avionics approves Elmatica auditor for PCB subcontractors
29 January 2020, Elmatica , News
Expanding on its international relationship with SAAB Avionics, printed circuit board supplier Elmatica's Jan Pedersen successfully completed the Part 21, Subpart G training, regarding auditing of printed 
...
Read more...
---
Electronics news digest
29 January 2020 , News
South Africa
• More than 2400 people braved pouring rain in Gauteng to attend the 5th Science Forum South Africa (SFSA) at the CSIR International Convention Centre in December. The annual Department 
...
Read more...
---
Appointment: ExecuKit
29 January 2020, ExecuKit , News
ExecuKit has appointed Marshant Benadie in a technical support role.    His duties will include developing business with clients within the electronics distribution and manufacturing industry; managing 
...
Read more...
---
Repro installs new SMT production line
29 January 2020 , News
The company is actively seeking business for this new assembly line, which promises extensive flexibility and high accuracy, and can easily be expanded for higher production volumes.
Read more...
---
AREI's plans for 2020
29 January 2020 , Editor's Choice, News
Erich Nast, chairman of AREI, discusses what the association's plans are to tackle the challenges and opportunities that lie ahead.
Read more...
---
Check out Dataweek's new-look website
29 January 2020, Technews Publishing , Editor's Choice, News
Our technical design elves have been locked away in our basement for months, improving the visual design and functionality of the Dataweek website.
Read more...
---
From the editor's desk: A fresh start, but a sad farewell?
29 January 2020, Technews Publishing , News
A couple of years ago, not many people had heard of Yekani. The company bought a stake in the well-known East London-based satellite decoder maker, Vektronix, and subsequently acquired it in its entirety. When 
...
Read more...
---
Actum Group merges its brands under one roof
29 January 2020, Actum Electronics , News
Over the years, Actum Group has been built through partnerships, collaborations and acquisitions of leading companies with a long history and rich legacy in the industry. These companies include Actum 
...
Read more...
---
Company profile: ETION Create
EMP 2020 Electronics Manufacturing & Production Handbook, ETION Create , News
ETION Create is an original design manufacturer (ODM) that has been in operation for more than 25 years. Originally known as Parsec, the company was founded in 1993, focusing on the design, development 
...
Read more...
---
Company profile: Laser Stencil Technology
EMP 2020 Electronics Manufacturing & Production Handbook, Laser Stencil Technology , News
Since its inception in 2004, Laser Stencil Technology has grown into a prominent figure in the South African electronics manufacturing industry. Having been involved in circuit board manufacturing using 
...
Read more...
---