printer friendly version
Where two worlds collide
16 July 2014 Manufacturing / Production Technology, Hardware & Services News
There is a widespread perception that most electronic goods should be getting cheaper. Take a standard flat screen 40" TV: this used to be reserved for only the wealthy but can now be found hanging on the walls of any respectable 'tin shanty' dwelling in most informal settlements. A once elusive 60" large screen display panel is now an 80" reality and can be found in many upper-class homes in the more affluent suburbs of South Africa.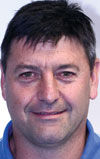 Mike Goodyer
Cellphones have continuously dropped in price even as they have evolved from being a basic communication device into something which is now capable of practically launching a satellite. I can remember the very first vehicle tracking devices produced in our factory only a few years ago: they were the size of a hungry man's lunchbox and cost a pretty penny considering the device literally had a cellphone bolted to the PCB. Processors can do more while costing less. GSM and GPS modules are being squashed into one device and getting smaller and cheaper all the time. Hence there is a very real and not unrealistic expectation that everything electronic should be getting smaller, smarter and cheaper.
I very often find myself these days in hard negotiations with my customers trying to justify small price increases and variations in end product pricing. Consumers are demanding 'the best deal' suppliers can give them to squeeze every last cent out of their margins and as a result the manufacturer also gets squeezed to the bone to produce the item at the very smallest margin or lowest cost.
I would like to think that, just like most companies around, we at Microtronix strive to provide a good service at reasonable pricing and therefore I believe that offering our customers the best price and service when making their products will keep them happy and loyal and we will maintain our customer base.
To sum up, I could say that on my right hand I have a growing customer base who are happy but are constantly expecting and pushing us for reduced pricing year on year, and we in turn are striving to meet their expectations and constantly lower costs.
Now I turn to my left hand and take a look at the overall business and what my staff is expecting. No one likes to work without a reward and it is people just like my staff who can now envisage a great big 42" LED TV hanging on their walls at home and want to own a new smartphone. They have an expectation to be able to grow within the company and be able to afford a better house, car and a better quality of life for themselves. As the owner and CEO I feel responsible to improve their quality of life and reward my staff as best I can for their hard and dedicated work.
As is the case around certain times of year the work pressure mounts and our customers are always pushing to get their work out before financial year end or Christmas and are often placing extra pressure on the factory. At Microtronix we generally run our four big lines on a 24-hour, 6 or 7 day a week basis which means that the factory is generally open all night and on weekends.
I often take the time to visit the factory during the night and on weekends and I see people sitting on the factory floor testing, checking, loading and soldering. We have many stars in our factory who are really dedicated and I can't help but wonder how tough their lives or situations must be to get to work every day and work weekends and late night shifts. Surely if they had the luxury of being at home with their families in front of the 42" TV they would be doing so?
Therefore, I surmise that somehow I have managed to motivate my staff to believe in the company and its future, and to generate enough loyalty to ask them to go above and beyond a normal day's work requirement and put in the extra effort to succeed and keep our very demanding clients happy. I can always sense a keenness and willingness to work when the workload increases and therefore it is a natural instinct to want to reward people for this effort, but rewarding people requires more money and, as I pointed out earlier, to keep our clients happy we need to charge less money.
Generally clients assume the higher the volume, the less the cost, but higher volumes require higher effort and longer hours. The effect of this is that the harder everyone works and the more units that can be produced, the lower the price expectation becomes. I now find myself caught between two large forces in direct opposition to each other: on the one hand, a forceful, demanding customer base expecting reduced pricing; and on the other a powerful human element with high expectations, demanding a better way of life, more money and a less stressful job.
We all know that South Africa needs jobs. It stands to reason that the more people who are employed the better everyone's lives will become. But how do we keep reducing costs? Should I be looking to automate my factory even further? Should we be trying to make people work harder, for longer and of course more efficiently? Or should we just be charging more and risk losing more work to China?
So I pose this question: why is manufacturing prolific in countries where labour is 'cheap'? Does this mean that to feed the insatiable appetite of the consumer, manufacturers must resort to exploiting the poor and desperate? Is it my task in life to convince and seek out desperate people who will work long into the night to feed their hungry children so that large corporate companies can offer free cellphones and free airtime and 42" TVs at the very lowest price?
Should we think about introducing conscription again but not into the army, rather a two year compulsory period in an assembly factory similar to young people in China?
I believe that the government is on the right track by requesting our industry to employ young people and offering a tax incentive. A young person can fit as many components into a PCB per hour as an older counterpart and the starter's salary rate is almost half of a person who has been with the company for many years. Therefore to remain in the race and keep our pricing moving downwards do I have to gracefully retire the hard working, loyal people who have been with the company for 18 years? Is that what is required to survive as a manufacturer? How do we possibly even entertain a 15% salary hike proposed by the trade unions at the moment on already exaggerated rates?
In the past few years our labour rates have consistently increased at a rate of 8% per annum as per the MEIBC requirements; our rent has escalated at least 6% – 8%; fuel and electricity costs have risen well over 10% consistently. All these factors have played a major factor in rising costs in the factory over the past five years and yet our labour rates and margins to our clients have decreased year on year in order to remain competitive.
What is it going to take to keep producing electronics in South Africa and growing our industry? Ultimately, at what point do our two worlds collide and at what price?
For more information contact Mike Goodyer, Microtronix, +27 (0)11 792 5322, mike@microtronix.co.za, www.microtronix.co.za
Credit(s)
Further reading:
Things are tough for electronics contract manufacturers in SA
23 October 2019, Barracuda Holdings, Leratadima Tellumat Manufacturing , Manufacturing / Production Technology, Hardware & Services
The contract manufacturing side of the South African electronics industry has been under enormous pressure for some time now, with some high-profile manufacturers having closed their doors or suffering serious financial trouble in recent years.
Read more...
---
Quality management based on quality assurance
23 October 2019, Quamba Technologies , Manufacturing / Production Technology, Hardware & Services
To ensure consistently high product quality and ultimately achieve a zero-fault production stage, it is necessary to control all process steps.
Read more...
---
3D printing and electronics manufacturing
23 October 2019, Omnigo , Manufacturing / Production Technology, Hardware & Services
"The opportunities are endless and we are excited to see what the future holds for 3D printing and the electronics manufacturing industry." – Christine Brindle, Omnigo
Read more...
---
3D printer for rapid prototyping
23 October 2019, RS Components (SA) , Manufacturing / Production Technology, Hardware & Services
RS Components is shipping the latest version of the MakerBot 3D printer – the MakerBot Method – which has been designed to bridge the gap between industrial and desktop 3D printing. The unit targets engineers 
...
Read more...
---
Versatile conformal coating applicators
23 October 2019, Techmet , Manufacturing / Production Technology, Hardware & Services
The Select Coat applicator series from Nordson Asymtek – which includes the SC-350 Select Spray and the SC-300 Multi-Mode – is a highly versatile conformal coating applicator that supports a wide range 
...
Read more...
---
High-accuracy fluid dispenser
23 October 2019, Techmet , Manufacturing / Production Technology, Hardware & Services
Nordson Asymtek recently introduced the Forte fluid dispensing system. The Forte series combines high-accuracy fluid dispensing with increased throughput and productivity in a narrow footprint to handle 
...
Read more...
---
Conformal coating cleaning agent
23 October 2019, Techmet , Manufacturing / Production Technology, Hardware & Services
Coating carriers and frames offer important advantages within the conformal coating process regarding handling, process reliability and output, but they also require very extensive cleaning afterwards.  
...
Read more...
---
Company profile: Etion Create
23 October 2019, ETION Create , Manufacturing / Production Technology, Hardware & Services
Etion Create is an original design manufacturer (ODM) that has been in operation for more than 25 years. Originally known as Parsec, the company was founded in 1993, focusing on the design, development 
...
Read more...
---
Cleaning machines and agents on show at Productronica
23 October 2019, Electronic Industry Supplies , Manufacturing / Production Technology, Hardware & Services
Using the motto 'Make the Cleaning Check', Zestron will be exhibiting a selection of state-of-the-art cleaning machines from leading international manufacturers. Visitors who are looking for a new cleaning 
...
Read more...
---
Application centres for dispensing and coating
23 October 2019, MyKay Tronics , Manufacturing / Production Technology, Hardware & Services
With a larger global installed base of MYSmart and MY700 jet printing and dispensing systems, Mycronic is taking the next step in bringing its hands-on expertise closer to customers by establishing multiple 
...
Read more...
---