printer friendly version
Applications engineering for military and aerospace
EMP Handbook 2015
Manufacturing / Production Technology, Hardware & Services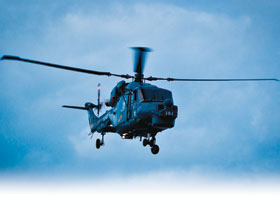 When designing printed circuit boards (PCB) for the MIL/Aero industry there are some specific, and often unique, requirements that need to be considered.
The operating environment can be harsh, with conditions and temperatures ranging from desert to arctic. Humidity levels will also be variable, and there could well be high levels of vibration – either from the platform that the PCB is installed in, or from handling. Rather than being able to design the PCB to handle a particular environment, it must often be able to cope with the full range of these conditions throughout its life.
As well as operating in a wide range of conditions, it's quite possible that the assembled unit could sit on a shelf for months, or even years, in any one of these environments, and then be expected to perform perfectly at a moment's notice, and continue performing for years to come.
The key aspect of MIL/Aero is, of course, reliability. Many systems will be life critical, whether it's keeping an aircraft in the air or ensuring that a missile hits its intended target (and doesn't detonate before or during launch!). This is quite different from consumer electronics, which will generally operate in a very benign environment and have a comparatively short life expectancy, with the consequence of failure being little more severe than inconvenience.
The environment for industrial electronics may be a little more demanding, with vibration and temperature perhaps coming into play, and a board failure could now result in financial loss (possibly quite significant loss), but even this doesn't compare with the long-term reliability requirements of the military and aerospace industry.
Why applications engineering is important
In days gone by, where high reliability was required, the circuit board would have been designed to keep the complexity to a minimum. High-reliability industries would have been reluctant to embrace new technologies until they had been well proven in the field.
These days, however, the demands for functionality mean that designers and engineers no longer have the luxury of keeping their designs simple, and sticking with technology that has been tried and tested over many years. In fact, the pace of change means that these designers are now sometimes compelled to be among the first to try new technologies, and become innovators rather than followers. With the increase in board technology and complexity comes an increased need to ensure that it is designed with manufacture in mind.
At Graphic, an applications engineering service is offered specifically to help designers produce the safest, most cost effective designs possible, while achieving their performance requirements.
This benefits the customer/designer by ensuring that both risks (in manufacture and in service) and cost are optimised. The two go very much together since there are times that to ensure the lowest risk, additional processes, and hence costs, are required. However, these costs are well worthwhile when weighed against the potential cost of the board failing in the field due to the increased risk involved with a compromised process.
It also benefits the fabricator by ensuring that the designs they receive are optimised, allowing greater efficiency through both the front end and manufacturing processes, and resulting in optimised yields. This in turn benefits the customer, by ensuring on-time delivery and cost control.
How it works
At Graphic, applications engineering is a free service with no commitment on the customer to place an order for the final design. It is based on two-way dialogue between the designer and Graphic at an early stage in the design process. This is key as it is all too easy for a design to be started and a board structure set which then turns out to be compromised, and unnecessary risks introduced simply because it would be too much work at a late stage in the design to go back and change it.
By engaging in this dialogue early on, the designer can be fully aware of the fabricator's manufacturing capability, and design the board accordingly. This goes beyond the relatively simple things like tracks, gaps, annular rings etc. (this is usually available on a fabricator's website); it extends to how these things work in combination with the overall proposed design, considering board type, material, via structure, power requirements and so forth.
By incorporating best practice right from the beginning there is no need to spend time correcting a design later on. This can sometimes mean significant changes, which can result in quite a headache with paperwork, cost and delays if the design has already been issued.
The Graphic service
One of the biggest aspects of applications engineering is advising on drawing and documentation specification. This is partly with the aim of ensuring that information is clear and concise with no ambiguity so as to minimise the opportunities for error and misunderstanding, but also to advise on the relevant quality standards that should be called up.
There has been something of a move away from the traditional MIL specifications towards IPC. This has in no way made the quality requirements any more straightforward, as most are on a par with MIL. In fact, in some ways it has made it more confusing as many people don't have a full understanding of the IPC specifications. It is easy to specify IPC on a drawing, but for this to be really meaningful the design has to have been based around IPC from the start.
With quality systems like AS/EN9100 and NADCAP, both of which Graphic works to, there is even greater need for the drawings to be correctly specified and all the requirements fully understood.
In conjunction with advising on the quality standards and requirements, the company also advises on the design rules required to ensure that those quality requirements are met. This can also be a difficult job since those that are fully aware of IPC are often happy to work to exactly what it says, without taking into account that IPC doesn't really allow for many of the more complex board technologies commonly in use in the military and aerospace industries these days.
For example, IPC gives land size requirements based on three different producibility levels, but doesn't differentiate between a simple through-hole multilayer and a multiple sub-assembly SBU HDI design. These more complex constructions have a significant impact on registration and producibility, and hence this has to be allowed for in the land sizes at the outset.
IPC correctly states that the more stringent producibility levels should only be used where necessary, but this is often overlooked with the tightest possible feature sizes being used throughout the board. To ensure optimum yields while saving cost and improving delivery performance (which is in everyone's interest) feature sizes should be optimised and increased where there is room to do so. Minimum feature sizes are just that – minimums. They should not be the standard.
Graphic can also advise on the materials to be used. This is partly driven by the customer's requirements, but the fabricator's experience should also be considered, where possible using materials that are available to the fabricator and which they have thorough knowledge of.
In theory, fabricators would be quite capable of using a material that the designer may have selected by researching on the web, but they may need to run process trials first – leading to longer lead time, poor yields due to inexperience with the material, and possibly having to pay more for that material than an equivalent that they do have knowledge of, simply because it is from a supplier that they don't normally deal with.
With the fairly recent trend towards higher speed materials this experience is perhaps even more important. There is now a wide range of high-speed materials on the market, and looking at the data sheet can only tell so much. A material that has very good electrical properties may not perform well from a reliability point of view when subjected to thermal stresses, particularly in more complex structures. Data sheets can give an indication of which materials may be better than others, but experience with the material is the only way to really know how it performs.
The most widely used aspect of applications engineering – and one of the most important – is providing constructions. This is important because different fabricators may have different preferences for construction based on their experience and capability. There can also be differences in the way impedance is calculated, and generally speaking the fabricator will calculate the impedance to give the most accurate results for their particular process. This may not tally with other calculators or other fabricator's calculations.
The construction is also important as it is very easy at this point to either build in unnecessary cost or unnecessary risk by making the construction too complicated or unsuited to a fabricator's preferred manufacturing method.
As well as being fundamental to a fabricator's ability to manufacture a given board, the construction will also have a significant impact on their ability to meet the various quality requirements; things like minimum dielectric separation are fairly obvious, whereas the impact on wrap plating and registration is not so obvious.
For these reasons input from the fabricator is vital at this point. As mentioned above, it is important to have the controlled impedance calculated, or at least checked, by the fabricator. Their calculations will be tailored to their processes to give the most accurate results.
Achieving the given impedance for a requirement basically comes down to the stack-up and the line widths. It is important to achieve the impedance with minimal compromise to either, as it is otherwise quite possible to engineer a situation where the impedance tolerances can't realistically be achieved, or yields can be reduced by compromised registration, dielectric separation or track/gap definition.
Panelisation is key to cost, but can also have an impact on manufacturability in the case of more complex constructions. It will also of course have an impact on the assembly of the boards. If the assembly is to be done by a contract electronics manufacturer (CEM) then there should be discussion with both the board fabricator and the CEM to ensure that all requirements are met without compromising either the manufacturability or the ease of assembly.
Historically cost was less of an issue for the MIL/Aero industry, but in the current climate it is becoming more and more important. As discussed previously, it is very easy to build unnecessary cost into a board, and applications engineering can help to optimise this. Sometimes an increase in cost is needed to reduce risks, and this needs to be weighed against the cost of failure, or possibly the knock-on cost of a more complex assembly process.
Having involvement in the design from an early stage is absolutely the best way to ensure success, but it is always possible for something to be overlooked, or design rules compromised due to a misunderstanding. If the data has been formally issued it can be a time consuming process to make changes if errors are picked up during the fabricator's front end tooling process, as well as of course introducing delays in the lead time.
To try and reduce this risk another service that applications engineering offers is a review of the completed data set prior to formal data release and order placement. Often this review will not be as thorough as the full DRC analysis that takes place during front end tooling, but it can help to pick up any key issues and allow these to be corrected much more easily.
If there are any issues with the way the data has been supplied, in terms of the way the features are created in the data, this can also be fed back. The way the data is presented, particularly in the case of plane data, can have a huge impact on the processing time at the fabricator. Therefore, this is another aspect of applications engineering that can give benefits all round by improving efficiency and lead times.
Proven benefits
Graphic Plc has been manufacturing a wide range of circuit boards for the military and aerospace industry for many years. Technology ranges from simple through-hole multilayer to high layer count, multiple sub-assembly HDI designs, incorporating features such as stacked copper filled micro-vias, buried resistance, heavy copper, internal and external heatsinks, high-speed and RF materials etc., and can be rigid, rigid-flex or flexible circuits.
With applications engineering, the company has been able to successfully bring these technologies to key military projects such as the Eurofighter Typhoon, F-35 Lightning Joint Strike Fighter and many others.
Credit(s)
Further reading:
High-performance acrylic conformal coating
29 April 2020, Vepac Electronics , Manufacturing / Production Technology, Hardware & Services
Electrolube's HPA high-performance acrylic conformal coating is specifically designed to meet the demanding requirements of applications such as the defence and aerospace industries. It is fast drying 
...
Read more...
---
High-performance acrylic conformal coating
29 May 2020, Vepac Electronics , Manufacturing / Production Technology, Hardware & Services
Electrolube's HPA high-performance acrylic conformal coating is specifically designed to meet the demanding requirements of applications such as the defence and aerospace industries. It is fast drying 
...
Read more...
---
New range of thermal gap fillers
29 May 2020, Vepac Electronics , Manufacturing / Production Technology, Hardware & Services
Global electro-chemicals manufacturer, Electrolube, has introduced a versatile new range of gap-filling products with excellent thermal performance. GF400 is a two-part, liquid silicone-based gap filler, 
...
Read more...
---
Company profile: SMTech
25 March 2020, SMTech , Manufacturing / Production Technology, Hardware & Services
It also provides a full turnkey solution, should its customers require this type of service. The company has a very modern manufacturing facility with high-speed SMT lines, automatic optical inspection, 
...
Read more...
---
RFiber adds specialist PCB manufacturer to its stable
25 March 2020, RFiber Solutions , Manufacturing / Production Technology, Hardware & Services
RFiber Solutions recently announced the addition of Transline Technologies Inc. (TTI) to its growing portfolio of electronics and RF/microwave suppliers. "The addition of TTI adds a competitive and very 
...
Read more...
---
Tip-heater cartridge soldering iron
25 March 2020, MyKay Tronics , Manufacturing / Production Technology, Hardware & Services
PACE Worldwide's new TD-100A ergonomic soldering iron maintains the comfort and feel of the original TD-100 handpiece yet contains many enhancements. The TD-100A's Cool Touch design features all-aluminium 
...
Read more...
---
BTU supports Hermes standard
25 March 2020, MyKay Tronics , Manufacturing / Production Technology, Hardware & Services
BTU International announced that it now supports the Hermes standard, officially referred to as IPC-HERMES-9852. Hermes links individual machines together with a direct form of horizontal communication. The 
...
Read more...
---
Soldering iron tester
25 March 2020, Vepac Electronics , Manufacturing / Production Technology, Hardware & Services
Hakko's FG-101B is a soldering iron tester for measurement of tip temperature, leak voltage, and tip to ground resistance, for daily maintenance of a soldering station. Control of tip temperature, leak 
...
Read more...
---
All good things come to an end
25 March 2020, Microtronix Manufacturing , Manufacturing / Production Technology, Hardware & Services
"Contract manufacturing is not for the fainthearted and my respected colleagues and competitors will attest to this." – Mike Goodyer.
Read more...
---
Water-based decoating of coating frames
25 March 2020, Electronic Industry Supplies , Manufacturing / Production Technology, Hardware & Services
Its unique formulation guarantees both a high level of worker safety and very strong cleaning performance with good material compatibility – both with cleaning systems and coating frames or tools. ATRON 
...
Read more...
---