printer friendly version
Chemists discover a way to solder semiconductors
18 March 2015
Electronics Technology
A technique has been developed by University of Chicago, Argonne National Laboratory and Illinois Institute of Technology researchers to solder semiconductors, a breakthrough which may revolutionise printed electronics and possibly make 3D printing of semiconductor chips possible, amongst other exciting applications in the field of electronics.
From computer chips to solar cells, semiconductors conduct electricity and make it possible to generate and control electrical current. However, they cannot simply be joined together since they are very sensitive to impurities and structural defects.
"If you put two pieces of semiconductor next to each other, each joint will be unique, and in most cases, will block transport of charges," explains research team leader and chemistry professor Dmitri Talapin. "You will not be able to make a reasonably good electronic circuit by simply taking different semiconductor pieces and pressing them against each other as you could do with metals."
The compounds Talapin and company have developed change all that. Made of cadmium, lead and bismuth, they can be applied as a liquid or paste to join two pieces of a semiconductor by heating them to several hundred degrees Celsius, which is mild by industry standards. After application, they decompose to form a seamless joint.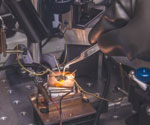 "Our paste or our liquid converts cleanly into a material that will be compositionally matched to the bonded parts, and that required development of new chemistry," Talapin says. "We had to design special molecules that fulfil this requirement so that they do not contaminate the material." The team set a new record for electron mobility in solution-processed semiconductors, a measure for how quickly electrons move through the materials. The new record is almost 10 times faster than the old one.
Semiconductor soldering is unlikely to have a major impact on today's mainstream process by which large silicon crystals are grown, then cut, carved and etched into the desired shapes. It could, however, lead to the development of less expensive, solution-processed semiconductors needed for entry into new markets. Among these markets are printable electronics, 3D printing, flat-panel display manufacturing, solar cells and thermoelectric heat-to electricity generators for the Internet of Things.
Further reading:
IoT communication without batteries
28 October 2020 , Electronics Technology
When we talk about IoT, we often gloss over the fact that all these interconnected things need batteries and electronics to carry out the job of collecting and processing data while they're communicating 
...
Read more...
---
Stable perovskite LEDs one step closer
25 March 2020 , Electronics Technology
Researchers at Sweden's Linköping University, working with colleagues in Great Britain, China and the Czech Republic, have developed a perovskite light-emitting diode (LED) with both high efficiency and 
...
Read more...
---
Infineon works with Qualcomm for 3D authentication
25 March 2020 , Electronics Technology
Infineon Technologies has collaborated with Qualcomm Technologies to develop a reference design for 3D authentication based on the Qualcomm Snapdragon 865 mobile platform. Infineon is thus extending its 
...
Read more...
---
Online training: Battery Safety and Protection Overview
23 October 2019 , Electronics Technology, Multimedia, Videos
So many of the portable devices, electronic equipment, and tools we use every day are powered with lithium-ion battery systems. But one challenge for engineers who design these lithium-ion-powered products 
...
Read more...
---
Using Wi-Fi to detect dangerous concealed objects
15 August 2018 , Electronics Technology
American university researchers have come up with a way of using Wi-Fi signals to detect weapons, bombs and explosive chemicals concealed in bags, backpacks or other luggage. The collaborative, peer-reviewed 
...
Read more...
---
Wits researchers make carbon nanotube discovery
13 June 2018 , Editor's Choice, Electronics Technology
Researchers at the University of the Witwatersrand (Wits) have found ways to control the spin transport in networks of the smallest electrical conductor known to man.
Read more...
---
Evolution of home technology from connected to proactive
16 May 2018 , Electronics Technology
The idea of 'home' has evolved greatly over the millennia. Over the last decades, technology has transformed homes into hubs of functionality – centres of entertainment, environmental management, work, 
...
Read more...
---
Products of the Year 2017
15 November 2017 , Electronics Technology
Tiny Bluetooth low energy module
Xilinx all programmable RFSoCs
PSoC 6 microcontrollers for IoT
PolarFire FPGAs from Microsemi
LTE Cat M1/NB1 multi mode module
Low-profile 2,4 GHz antenna
Multi-pixel 
...
Read more...
---
Wits researchers demonstrate quantum teleportation of light
15 November 2017 , News, Electronics Technology
Quantum communication over long distances is seen as the future of information security and has been demonstrated in free space and fibre with two-dimensional states, recently over distances exceeding 
...
Read more...
---
Tiny Bluetooth low energy module
15 November 2017, NuVision Electronics , Electronics Technology
Silicon Labs introduced what was the industry's smallest Bluetooth low energy system-in-package (SiP) module with a built-in chip antenna. Available in a tiny 6,5 x 6,5 mm package, the BGM12x Blue Gecko 
...
Read more...
---