printer friendly version
A giant leap for high-speed design
23 March 2016
News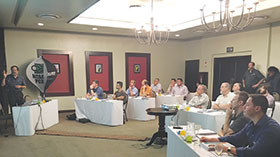 For someone who played a part in sending the first men to land on the moon, Lee Ritchey is remarkably down to earth, as I discovered during a casual but very interesting interview with him.
Ritchey's résumé spans more than four decades designing high-speed PCBs for supercomputers and high-performance Internet products. His schedule nowadays sees him trekking the globe providing training and consulting on signal integrity, PDS design and EMI control. He has also written two high-speed design books ('Right the first time,' volumes 1 and 2) as well as articles on high-performance PCB laminates.

Lee Ritchey
But what made this interview truly unique and exciting was the opportunity to shoot the breeze with one of the few people alive who worked on Apollo 11, the NASA project that landed Neil Armstrong and Buzz Aldrin on the moon on 20 July 1969. The company Ritchey worked for at the time developed the radios that communicated between the Kennedy Space Centre in Houston, Texas, and the equipment (called the Early Apollo Scientific Experiment Package, or EASEP) the astronauts unloaded to gather data from the lunar surface.
As an engineer speaking to another engineer, and conscious of the fact that I would be writing this report for Dataweek, I felt obliged to ask technical questions. As you'd expect from a man who's been around since the dawn of the IC era, he has remarkable insights on technologies that span the electronics spectrum.
Among the topics we discussed were the astounding evolution of IC integration and miniaturisation, their manufacturing techniques and yields; the leaps in processing and communication speeds; and the fact that we take it all for granted. As Ritchey pointed out, today's average pocket-sized smartphone packs more sophisticated wireless technology than the considerably larger and heavier radios that were carried by the Apollo spacecraft.
However, I must admit to being guilty of asking a disproportionate number of questions that betrayed my personal interest in the historical and scientific significance of the Apollo project.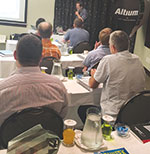 On 12 April 1961, Soviet cosmonaut Yuri Gagarin became the first person to fly in space, and in so doing landed a hammer blow to the USA's national psyche by taking the lead in the so-called 'Space Race' between the cold-warring nations. This so displeased US president John F. Kennedy that just six weeks later, in a speech to Congress, he made a now famous proclamation of his country's intent to stage a reverse in the galactic grudge match. "I believe that this nation should commit itself to achieving the goal, before this decade is out, of landing a man on the moon and returning him safely to the earth," he stated. In a later speech at the Manned Spacecraft Centre, he went on to say: "No nation which expects to be the leader of other nations can expect to stay behind in this race for space. ... We choose to go to the moon in this decade and do the other things, not because they are easy, but because they are hard."
With characteristic humility, Ritchey related to me the patriotic determination shared by everyone working on the project – even down to the scientists and engineers, who are often stereotyped as being cold and clinical by nature. By golly, they could not – would not – let down the Man in the White House, and they were going to show those Russians a thing or two. Which they did, with only a few months to spare before the 1960s were relegated to the pages of history.
I wish I could tell you that Ritchey flew out here just to spend some time chatting with me, but the real reason for his visit was to present seminars on high-speed design, and the man who deserves the credit for luring him to SA is Nechan Naicker, the managing director of EDA Technologies. The four-day courses, which incorporated an optional one-day Altium ­Designer 16 high-speed application session, were held in Pretoria and Cape Town during the first two weeks of March.
According to Naicker, attendance at the seminars was impressive in terms of not only numbers but also engineering talent. This was the latest in EDA Technologies' long-term commitment to providing training courses for the local electronic engineering sector, presented by domestic experts as well as overseas ­specialists.
South Africa may not hold the distinction of having won, or even participated in, the Space Race, but we can be proud of the fact that Ritchey, in his debrief, went so far as to say that ours was the best group of engineers he has ever trained.
Credit(s)
Further reading:
Hensoldt and CSIR sign radar development agreement
28 April 2021 , News
A new generation of tactical 3D surveillance radar systems is being developed for naval and land deployment, which will modernise one of Hensoldt's key radar product lines and further enhance its extensive 
...
Read more...
---
Smart Industry 4.0 enablement in security-critical applications
28 April 2021 , News
Data-driven manufacturing is revolutionising the industry, improving quality, productivity and agility, while also decreasing production costs and ordering lead-times. In sectors requiring a very high 
...
Read more...
---
From the editor's desk: Digital migration is finally happening – does anyone care?
31 March 2021, Technews Publishing , News
For those who have followed the saga of South Africa's (non) migration to digital terrestrial television (DTT), many phrases might come to mind. Shambles. Disaster. Corruption. Government ineptitude. 
...
Read more...
---
Electronics news digest
31 March 2021 , News
South Africa
South Africa's photonics industry is set to benefit from the state-of-the-art Photonics Prototyping Facility (PPF) that was unveiled at the Council for Scientific and Industrial Research 
...
Read more...
---
Component shortages and how to mitigate them
31 March 2021, RS Components (SA), Projects Concern Manufacturing, Production Logix, Altron Arrow , News
To find out just how severe the problem is right now, and the impact it is having, we consulted two South African CEMs and two component distributors for their insights and advice.
Read more...
---
RAD gateways deployed in local security solution
31 March 2021, Otto Wireless , News
RAD, an industry pioneer in Industrial IoT (IIoT) and edge computing solutions which appointed Otto Wireless Solutions as its South African distributor last year, has announced that an unnamed South African 
...
Read more...
---
Intelsat, XinaBox partner up for STEM advancement
31 March 2021 , News
Intelsat, operator of the world's largest integrated satellite and terrestrial network, is partnering with XinaBox (pronounced 'X in a Box') to deliver space-focused STEM (science, technology, engineering 
...
Read more...
---
Electrocomponents plc joins the ECIA
31 March 2021, RS Components (SA) , News
The Electronic Components Industry Association (ECIA) has welcomed Electrocomponents plc, a global omni-channel solutions partner for electronics, industrial and automation customers and suppliers, which 
...
Read more...
---
RS partners with Geekulcha to hack for a difference
28 April 2021 , News
The Annual Geekulcha Hackathon took place recently and saw more than 100 coders, developers and programmers challenge each other in an online contest. This anticipated event has become a highlight in 
...
Read more...
---
SABS drives transparency to eliminate technical barriers to trade
31 March 2021 , News
The South African Bureau of Standards (SABS), in collaboration with the World Trade Organization (WTO), hosted a virtual seminar in March on the WTO Technical Barriers to Trade (TBT) Agreement's Transparency 
...
Read more...
---