Someone once told me a business never stands still; it either grows or it shrinks. Despite my very best efforts to consolidate Microtronix in 2015 and 2016 it has almost unavoidably grown yet again. However, I would like to believe our growth has occurred in both directions: we have grown bigger and grown smaller at the same time.
In an effort to accommodate our growing large-scale clients, we have grown in size and capability but at the same time we have expanded a smaller factory to put more focus on our smaller clients entering the market, and bringing us smaller, lower-volume runs. I am often asked what the smallest run of PCBs is to fit into the Microtronix machine and my answer has remained the same over the past 10 years: our minimum quantity is 1, because without a single PCB order we can't make a board for you.
We have experienced growth in both directions simultaneously and it has been difficult, as growth always is. The challenges have been immense and I am often amazed by the grace the world seems to show you when times are tough. Both our suppliers and customers seem to have weathered the storm with us gracefully and hopefully in the next year or two, we will all reap the rewards of their loyalty and patience over the past eight months.
In 2014 Microtronix acquired a small precision type manufacturing plant in Pretoria called SMTech. At the end of 2015 we moved SMTech to new premises in Centurion and upgraded the facility to cater for small, high-tech manufacture with an emphasis on looking after our smaller clients.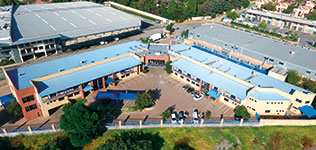 The SMTech name has stayed and so have most of the staff, with the idea that with this dedicated team in place we will give our smaller clients the personalised attention they need to get their businesses on the go as well as to concentrate on smaller-volume runs. This facility is equipped with a Mydata machine, two Samsungs and a full Yamaha line, giving our Pretoria team the tools they need to cater for small, accurate runs with fast turnaround times.
On the opposite end of the scale, Microtronix has seen a huge growth in its industrial plant where we currently produce set-top boxes (STB), TV boards and other large-scale manufacturing projects. In 2016 Microtronix acquired two more Universal lines, bringing our number of complete, fully automatic lines to 12, with a comfortable assembly rate of around 5 million placements a day.
Again the growth has been challenging. Finding the cash flow to set the new lines up and get them fully functional has not been easy, and of course keeping them fed with placements in our current economic climate – with the usual feast or famine trends – has been no easy task.
The new large-volume, large-scale manufacturing plant will start to move to the new premises in Strijdom Park in July and we hope to have the new plant fully functional by the end of August 2016. The new factory, headed up by our operation's director Shaun Rampursad and his team, will concentrate on the STB business and the assembly of TV boards and electricity meters, with the aim of being able to produce any product in volumes of 10 000 to 100 000 pieces per month. This will leave the rest of the Microtronix team to concentrate on our medium-sized but core clients, and continue our growth in this key area of our business.
In summary, our strategy is to offer our clients entry into the market with small to medium size runs (one being the minimum) and then to allow customers to grow within our group where there is seemingly no limit to the size or volume we can offer.
We have recently appointed two new key account managers to service and expedite our clients' orders, and painfully but very successfully implemented a SAP Business One system into Microtronix. We are confident that the new system will improve procurement planning and job tracking, taking Microtronix to the next level of service delivery. Thank you again to our loyal clients who have gone through this transition with us over the past few months (it has been painful).
I remain ever positive that the government will eventually sort out the DTT/ DTH migration and this project will actually have a positive effect on our industry, but for now I can only report a start-stop-mayhem-chaos and confusion scenario that to date has cost our industry dearly. I hope to report, together with my fellow factory owners, a more positive situation in the weeks and months to come, after the dust has settled and actual manufacturing for this project has begun.
For more information contact Mike Goodyer, Microtronix, +27 (0)11 792 5322, mike@microtronix.co.za, www.microtronix.co.za