printer friendly version
Plan your media strategy with Technews Publishing
23 October 2019
News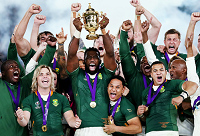 Dear Marketer,
Have you ever looked back on a year and wondered how you survived it? For the majority of South Africans, 2019 started benignly enough, cosily wrapped in the blanket of Ramaphoria that enveloped us all at the end of last year. By the beginning of February though, the blanket had worn thin, and in the months that followed, it offered little comfort against the chill of bad news sweeping the country.
It all culminated on Saturday 2 November in a headline to the effect that ratings agency Moody's had revised its assessment of South African government debt from stable to negative. But this time there was a glimmer of hope. The Springbok rugby team had made it all the way to the final of the World Cup, where they would face England later that day. The rest is history. Thanks to the power of sport, 57 million South Africans will end the year filled with pride in the belief that anything is possible if we stand #StrongerTogether.
As we start planning for next year, let's take this strong and positive attitude forward into a new decade of marketing challenges. At Technews Publishing, we're energised, ready and can't wait to tell you about our new vision and offerings. We'd like nothing better than to help you design a custom media strategy that enables you to look back on every year with this same sense of pride.
Click here to download the 2020 media profiles of your choice.
But before you do, please take note of these key points which apply to all our publications:
• Keep a keen eye on our successful traditional offerings, but also be alert to the new features/sectors in all our magazines, as well as some completely new platforms: an online supplement on Home Automation (including home security), Tech Jobs Network job portal, conferences, and breakfast seminars.
• Our integrated offering of monthly print issues, annuals, website, news briefs, direct mailers and conferences enable readers to access content in whatever form suits them at anytime. And marketers can promote their company through whichever platform suits their objective.
• Savvy business-minded readers and marketers understand the value of our targeted audiences with content that has been vetted by our experienced and qualified editors.
• Our circulation team carefully monitors all our deliveries and SAPO is currently stable. However, we have converted a significant number of our readers to delivery via courier to mitigate any possible future instability - 64% so far, and climbing.
• All our websites are responsive – meaning content and advertising formats work with whatever device the reader is using.
• Our online ads target readers of our news briefs and online publications only, so our advertisers know that they are being seen by the right people.
• We run our own ad server with strict click-fraud mitigation systems.
Contact us now so together we can design your 2020 media strategy.
For more information contact Malckey Tehini, +27 11 543 5800, malckey@technews.co.za
Credit(s)
Further reading:
From the editor's desk: Getting charged up for the new year
25 November 2019, Technews Publishing , News
The Springboks' Rugby World Cup triumph in Japan couldn't have come at a better time for South Africa, as the country was in desperate need of a jolt of positive energy going into the festive season. 
...
Read more...
---
Battery Technologies Conference 2019
25 November 2019 , News, Editor's Choice
Batteries are a critical enabler of the Fourth Industrial Revolution, powering technology in products from laptops and handheld devices to electric vehicles and renewable energy storage.
Read more...
---
Boom, doom and gloom, or something completely different?
25 November 2019, Technews Publishing , News, Editor's Choice
As the end of 2019 looms, it's time to look ahead to what next year might have in store, and reflect on the year gone by. And what a year it's been.
Read more...
---
Actum Group remains resilient and optimistic for 2020
25 November 2019, Actum Electronics , News
Running a profitable business in South Africa is not for the fainthearted. With the national treasury downgrading this year's growth forecast from 1,5% to 0,5%, and state-owned entities like Eskom negotiating 
...
Read more...
---
Additional renewable energy development zones proposed
25 November 2019 , News
The second phase of the Strategic Environmental Assessment (SEA) for wind and solar photovoltaic (PV) energy in South Africa proposes three additional Renewable Energy Development Zones (REDZs) for wind 
...
Read more...
---
Locally developed electronic circuit builder for students
25 November 2019, K Measure , News, Editor's Choice
K Measure, creator of the award-winning Seebox engineering education solution, has created a new innovation to enable quick and easy electronic circuit-building. The SeeBlocks electronic circuit creator 
...
Read more...
---
Clearing the Static:Topic 9: Time to audit your ESD environment
25 November 2019, Actum Electronics , News
Now that we are nearing the end of the year, it is a good time to audit your existing static control products and procedures. The first line of defence should be your antistatic floor, since this is the 
...
Read more...
---
Winning hackathon entry curbs cell tower battery theft
25 November 2019 , News
The fourth annual TADHackJHB was held at MTN's head office in Fairland, Johannesburg, on 12 and 13 October, with a cell tower protection app emerging as the winner. The theme for the 2019 global TADHack 
...
Read more...
---
Products of the Year 2019
25 November 2019 , News
SmartServer IoT by Adesto
BAW-based chips for comms infrastructure
Cellular modules for LPWA applications
SoCs and software for smart home and IIoT
Secure element for IoT authentication
MPU for embedded 
...
Read more...
---
Additive manufacturing developments powered by RAPDASA
25 November 2019 , News
Over the past two decades, South Africa has seen significant advancements in Additive Manufacturing (AM), otherwise known as 3D printing. As a key player in enabling and developing the fourth industrial 
...
Read more...
---