printer friendly version
LoRa technology explained
16 August 2017 Editor's Choice Telecoms, Datacoms, Wireless, IoT
Whether you are a hardware or software developer, engineering manager or just a keen follower of South African information and communication technology, you are bound to have come across a new wireless technology over the past year or two named LoRa.
This is one of the latest additions to the collection of Internet networking and mobile communication protocols that you may already be familiar with, such as cellular, Wi-Fi and Bluetooth.
Cellular, Wi-Fi and Bluetooth have become commonly known wireless technologies largely due to their applications being of a commercial nature. This technology is commonly accessed via computers, phones or tablets at irregular times with large amounts of data being accessed. Embedded sensors and other distributed Internet of Things (IoT) devices, on the other hand, only send small packets of data at regular intervals and are usually placed in remote areas which do not have access to traditional infrastructure or a convenient power source. This unique set of requirements, coupled with an increasing demand in IoT applications, has resulted in the emergence of several new wireless technologies – in this article we will focus on LoRa.
LoRa is an innovation by the Semtech Corporation that offers a combined performance focused towards long range (Long Range – LoRa) communication and low power consumption. Semtech offers a range of LoRa supported QFN transceiver ICs, some operating over all the regional ISM bands (EU 868, EU 433, US 915 and AS 430) and others over a select few. LoRa is a physical layer implementation which allows for a proprietary software layer to be implemented on top of the LoRa technology.
The LoRa Alliance is a non-profit association that was initiated by industry leaders with the intention of standardising Low Power Wide Area Networks (LPWAN) being deployed around the world. LoRaWAN is a protocol specification which has been developed in collaboration by the alliance members that is built on top of the LoRa technology.
The LoRaWAN network infrastructure consists of an Internet gateway 'concentrator' which collects the data transmitted from nodes deployed in the field and passes the data onto an application server. LoRa concentrators are more robust than the LoRa nodes in the sense that they are designed to handle multiple simultaneous data packets being sent to and from registered nodes.
Various module manufacturers around the world, such as IMST GmbH, offer a LoRaWAN or a proprietary software layer implementation on finished SMT LoRa modules. The two implementations are distinguished by a LoRaWAN certified logo and are primarily targeting public versus private LoRa network deployments.
The LoRa modulation is a spread spectrum scheme that is a derivative of Chirp Spread Spectrum modulation (CSS) and achieves the spreading within the signal bandwidth by generating a chirp signal that continuously varies in frequency. The configurable parameters within the LoRa modulation include the spreading factor (distribution of chirps within the bandwidth), modulation bandwidth (number of bits or symbols per second) and code rate (variable error correction scheme to improve robustness of the transmitted signal at the expense of redundancy).
Varying the spreading factor, modulation bandwidth and code rate parameters will result in a different network speed and range perform-ance. Two LoRa nodes will only be able to communicate with each other provided these parameters are identical, as they are used in the encoding and decoding of the transmitted signal.
LoRa operates within the licence-exempt spectrum, which in practice relates to no quality of service guarantee, as opposed to licensed operation whereby the network operator has paid a fee for exclusive access to the spectrum being used. A crucial local consideration to keep in mind is that due to the extensive capabilities supported by the Semtech transceivers, incorrect usage can certainly result in a device operating outside of the ICASA regulations.
A device operating in a licence-exempt spectrum is likely to experience issues related to interference as opposed to link budget limitations. A typical scenario might involve several co-located networks attempting to access the same frequency space simultaneously. There are a number of collision mitigation mechanisms that can be implemented, such as frequency agility (a characteristic built into LoRa modulation), LBT or transmitter duty cycle limits which are imposed but not regulated by ICASA.
The LoRaWAN stack incorporates additional parameters such as a node and network ID. These parameters are used to assist with communication between registered nodes and concentrators. LoRaWAN service providers primarily focus on maintaining a sufficient number of concentrators needed for the demand of nodes in an area and act as the regulators of the node and network IDs to minimise network interference.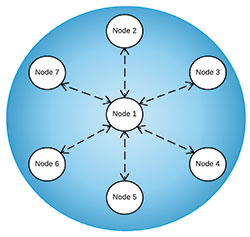 Figure 1. Typical LoRaWAN star network topology.
Typically LoRaWAN deployments will be in the form of a star network topology where the concentrators will act as a central coordinator for all network traffic – see Figure 1. The benefit of this type of network topology is minimisation of network traffic due to isolated nodes that do not communicate between each other. The potential risks of this deployment are based on the reliability of the central network coordinator.
Proprietary software that has been developed by module manufactures may or may not support some of the features built into the LoRaWAN stack. The nature of proprietary firmware means that it will likely differ from one manufacturer to another. AppconWireless, as an example, is a Shenzhen based proprietary LoRa module manufacturer which has developed its firmware to act in a mesh network topology such as the one illustrated in Figure 2. The advantage of mesh networks is their ability to 'self-heal' and reconfigure themselves in the event of a loss of connectivity to a node or group of nodes. The trade-off for the redundancy gained in this network topology is the increased network traffic that each node has to handle which relates to a less power efficient deployment.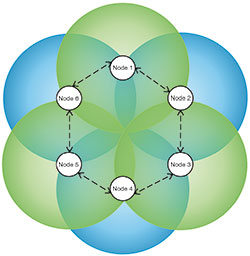 Figure 2. Mesh network topology.
The capabilities of LoRa are vast to say the least, and making the correct choice of which module is required can either lead a developer to achieving their objectives sooner than they could have ever imagined or it could put them into an unproductive, never-ending design cycle.
Developers are always faced with the question of using existing technology that they are familiar with or new technology that has improved performance. With a clear understanding of what the LoRa technology can offer, developers are well positioned to adopt LoRa into their designs to produce competitive, cutting edge solutions.
For more information contact Otto Wireless Solutions, +27 (0)11 791 1033, contact@otto.co.za, www.otto.co.za.
Credit(s)
Further reading:
AREI's plans for 2020
29 January 2020 , Editor's Choice, News
Erich Nast, chairman of AREI, discusses what the association's plans are to tackle the challenges and opportunities that lie ahead.
Read more...
---
Check out Dataweek's new-look website
29 January 2020, Technews Publishing , Editor's Choice, News
Our technical design elves have been locked away in our basement for months, improving the visual design and functionality of the Dataweek website.
Read more...
---
V2X: The future of vehicle communications
29 January 2020, Avnet South Africa , Editor's Choice, Telecoms, Datacoms, Wireless, IoT
A recent report by Juniper Research forecasts that more than 62 million vehicles will be capable of vehicle-to-vehicle communication by 2023; up from just over 1,1 million in 2019.
Read more...
---
High-performance IoT SoCs with dual processors
29 January 2020, RF Design , Telecoms, Datacoms, Wireless, IoT, Editor's Choice
Nordic Semiconductor's new nRF5340 high-end multiprotocol system-on-chip (SoC) is the first member of its next generation of nRF5 Series SoCs. The nRF5340 builds on Nordic's proven and globally adopted 
...
Read more...
---
Low-noise electronic circuitry enables low-intensity light detection
29 January 2020, Vepac Electronics , Editor's Choice, Power Electronics / Power Management
When it comes to low-intensity light detection, performance requirements often lead to selecting devices with greater sensitivity than common photodiodes or even charge coupled devices (CCDs).
Read more...
---
What differentiates EMS companies
EMP 2020 Electronics Manufacturing & Production Handbook, Omnigo , Editor's Choice, Manufacturing / Production Technology, Hardware & Services
One of the major factors that differentiate electronics manufacturers from each other is the quality of the product that they deliver to the client and the time frame that they deliver the product within.
Read more...
---
How to use spot mask for wave soldering and conformal coating
EMP 2020 Electronics Manufacturing & Production Handbook, Testerion , Editor's Choice, Manufacturing / Production Technology, Hardware & Services
Mask is applied over the open through-holes on a circuit board in the wave soldering process to make sure they stay open. This is necessary because without mask, any contact area on the bottom of the PCB will be fluxed and subsequently soldered.
Read more...
---
Next-gen UV cure conformal coatings increase performance and speed up production
EMP 2020 Electronics Manufacturing & Production Handbook, Vepac Electronics , Editor's Choice, Manufacturing / Production Technology, Hardware & Services
Electronic circuits are becoming ubiquitous in modern life. Everywhere one looks, more and more processes that were once isolated and manual in nature, are being automated and now connected as the Internet 
...
Read more...
---
Implementation of environmentally sound cleaning
EMP 2020 Electronics Manufacturing & Production Handbook, Quamba Technologies , Editor's Choice, Manufacturing / Production Technology, Hardware & Services
The number of cleaning machines to be acquired was estimated based on the substrate surface that would need to be cleaned in the course of one year, adding a safety margin of 30%.
Read more...
---
Process defect guide on QFN/LGA and bottom mounted components
EMP 2020 Electronics Manufacturing & Production Handbook , Editor's Choice, Manufacturing / Production Technology, Hardware & Services
A guide by Bob Willis of assembly defects that can occur with these components, which should help newcomers and expert users alike.
Read more...
---