printer friendly version
Fully integrated power management IC
1 December 2019 Power Electronics / Power Management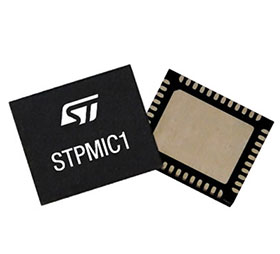 With features including four DC-DC buck converters, a boost DC-DC converter, and six low-dropout regulators (LDOs), the STMicroelectronics STPMIC1 power management IC (PMIC) satisfies the complex power demands of highly integrated application-processor based systems.
The chip is optimised as a companion PMIC for ST's new STM32MP1 heterogeneous multicore microprocessors, which target a broad range of applications by integrating single or dual Arm Cortex-A7 and Cortex-M4 cores, an optional 3D graphics processing unit, and rich digital and analog peripherals.
More than simply saving board space and BOM cost, compared to arranging the same number of power rails using discrete components, the STPMIC1 also provides power-rail monitoring and protection, handles power-up/down sequencing, and meets the ST32MP1 accuracy and settling-time specifications.
ST authorised partner Octavo Systems has utilised the STM32MP1 and STPMIC1 to create the OSD32MP1x family of microprocessor system-in-package (SiP) devices, which occupy a footprint up to 64% smaller than an equivalent system implemented with discrete components while also addressing engineering challenges such as power sequencing.
In addition to supplying power rails for the microprocessor unit (MPU) and external system components, the STPMIC1 also provides a DDR memory reference voltage, a 500 mA USB OTG power switch, and a general-purpose power switch. An I2C interface and additional pins allow the MPU to manage the PMIC.
The four buck converters in the PMIC are designed for fast transient response and precise output voltage control to handle a wide range of operating conditions. A pulse-frequency modulation mode boosts energy efficiency at low loads. During normal operation, pulse-width modulation (PWM) synchronisation minimises electromagnetic interference (EMI). The boost converter, with bypass-mode capability, can power up to two USB ports and ensures smooth regulation when operating from either a battery or low-cost 5 V AC-DC adapter.
Among the six LDO channels, one is featured for DDR3 termination and can operate in bypass mode for low-power DDR, while another provides automatic source detection to power a USB PHY. The remaining four LDOs are general-purpose outputs.
An evaluation board, STEVAL-PMIC1K1, is also available, which simplifies prototyping with the STPMIC1. The board is easy to use, with pushbuttons and digital I/Os for triggering the PMIC features, and header connectors for accessing the regulators and switches. A USB dongle is also included for configuring the device registers.
The STPMIC1 is in production now and available in a 5 mm x 6 mm x 0,8 mm WFQFN 44-lead package.
For more information contact EBV Electrolink, +27 21 402 1940, capetown@ebv.com, www.ebv.com
Credit(s)
Further reading:
Cosel expands microprocessor controlled power supplies offering
30 September 2020, Vepac Electronics , Power Electronics / Power Management
Cosel has announced the addition of a 3000 W AC/DC enclosed power supply for industrial and demanding semiconductors applications. Designed with advanced built-in digital microprocessor technology, the 
...
Read more...
---
Boost charger for 2-cell series lithium-ion battery
29 July 2020, NuVision Electronics , Power Electronics / Power Management
The MP2672 from Monolithic Power Systems is a highly integrated, flexible switch-mode battery charger IC for a lithium-ion battery with two cells in series, which is used in a wide range of portable applications. When 
...
Read more...
---
LED dimming signal interface controller
29 July 2020 , Power Electronics / Power Management
The AL8116, made by Diodes Incorporated, is a flexible dimming signal interface controller that can convert the three different inputs of dimmer types including 0-10 V d.c. linear dimming, 0 to 100% duty 
...
Read more...
---
USB Type-C charging controllers
29 July 2020, Avnet Silica , Power Electronics / Power Management
Designers can overcome the challenges of implementing USB-C Power Delivery (PD) with the MAX77958 USB-C PD controller and the MAX77962 28 W buck-boost charger from Maxim Integrated Products. As portable 
...
Read more...
---
Generating very low voltages with standard regulators
30 September 2020, Altron Arrow , Power Electronics / Power Management
Question:
   What is a good solution for generating a tiny DC supply voltage of a few hundred millivolts?      
Answer:
All that is needed is a clean additional positive voltage to hook up to the feedback 
...
Read more...
---
Easy UPS protects critical equipment
30 September 2020, Schneider Electric South Africa , Power Electronics / Power Management
Schneider Electric has announced the introduction of Easy UPS 3L, the newest part of the Easy UPS 3-phase Uninterruptible Power Supply (UPS) range, extending the medium range to 500 and 600 kVA (400 V) 
...
Read more...
---
Integrated speed controller for flat motors
30 September 2020, Horne Technologies , Power Electronics / Power Management
The BXT motor family, consisting of brushless DC-servomotors with especially short design, was expanded in all sizes with a diameter-compliant, integrated Speed Controller. With an additional attachment 
...
Read more...
---
Dual Buck and Boost-Buck controllers
30 September 2020, Hi-Q Electronics , Power Electronics / Power Management
Renesas has introduced the ISL78264 Dual Buck and ISL78263 Boost-Buck controllers, which draw the industry's lowest 6 µA quiescent current under light load and can achieve 96% power efficiency. The ISL78264 
...
Read more...
---
The pivotal role of supercapacitors in powering IoT
30 September 2020, Avnet Abacus , Editor's Choice, Power Electronics / Power Management
With tens of billions of IoT nodes now in the process of being deployed across the globe, there are concerns about how all this hardware can be powered in a practical and environmentally friendly manner.
Read more...
---
All-in-one DC UPS units
29 July 2020, Current Automation , Power Electronics / Power Management
Thanks to the range of all-in-one DC UPS units from ADEL System, it is possible to optimise power management for many applications. The available power is automatically allocated between load and battery; 
...
Read more...
---