printer friendly version
High-voltage precision op-amp
1 December 2019 Analogue, Mixed Signal, LSI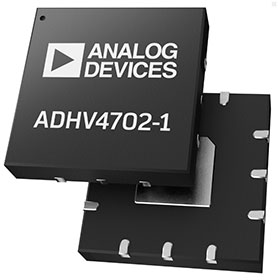 The ADHV4702-1 is a high-voltage (220 V), unity-gain, stable precision operational amplifier. The next generation of proprietary semiconductor processes and innovative architecture from Analog Devices enable it to operate from symmetrical dual supplies of ±110 V, asymmetrical dual supplies, or a single supply of 220 V.
The ADHV4702-1 has a 170 dB typical open-loop gain (AOL) and a 160 dB typical common-mode rejection ratio (CMRR). It also has a 2 µV/°C maximum input offset voltage drift and 8 nV/√Hz input voltage noise. The high DC precision of the ADHV4702-1 is complemented by its dynamic performance, with a small signal bandwidth of 10 MHz and a slew rate of 74 V/µs.
The device has an output current of 20 mA typical. In addition, its unique features such as adjustable supply current, slew boosting circuitry, and flexible exposed pad bias voltage make this part an ideal high-voltage solution for a wide range of applications.
It can be used in many different applications such as automated test equipment, life sciences, LIDAR, and healthcare. In automated test equipment applications, the device can be used for high-side current measurement and high-voltage precision supply generation. For life sciences, the ADHV4702-1 can be used to provide precision high voltage control for mass spectrometry systems. In LIDAR applications, it can be used to accurately control the APD bias voltage. In healthcare applications, the product can be used to tightly control the bias point of silicon photomultipliers.
The ADHV4702-1 is available in a 12-lead, 7 mm x 7 mm lead frame chip scale package (LFCSP) with an exposed pad compliant to IEC 61010-1 creepage and clearance standards. This package significantly reduces the solution size and simplifies system architectures by eliminating supporting components like DC-to-DC converters and floating supplies.
Credit(s)
Further reading:
Intel Agilex FPGAs deliver flexibility and agility for the data-centric world
26 May 2021, Altron Arrow , Editor's Choice, Programmable Logic
The Agilex FPGA fabric and innovative chiplet architecture delivers an extensible FPGA platform that scales across a wide range of device densities and brings key features and benefits to the table.
Read more...
---
Dual-channel digital isolator
26 May 2021, Future Electronics , Analogue, Mixed Signal, LSI
STMicroelectronics has begun volume production of the STISO621 dual-channel digital isolator, launching a new series of high-performance ICs for industrial applications and general optocoupler replacement.  
...
Read more...
---
Temperature and humidity sensors for cold chains
26 May 2021, Electrocomp , Analogue, Mixed Signal, LSI
New calibrated and ISO 17025-certified temperature, and humidity and temperature sensors have been announced by Sensirion.These sensors enable customers to achieve cost-efficient GDP (good distribution 
...
Read more...
---
Automotive dead reckoning module
26 May 2021, Altron Arrow , Telecoms, Datacoms, Wireless, IoT
STMicroelectronics boasts that its latest Teseo-VIC3DA module is an easy-to-use dead reckoning global navigation satellite system (GNSS) standalone module, embedding a TeseoIII single-die standalone positioning 
...
Read more...
---
Infrared sensor module for outdoor applications
26 May 2021, Altron Arrow , Opto-Electronics
Vishay recently introduced a new extended-temperature 'E' option for its TSSP77038 infrared (IR) sensor module in the Heimdall package. Designed to meet the special requirements of outdoor applications, 
...
Read more...
---
MEMS accelerometer for automotive
26 May 2021, RFiber Solutions , Analogue, Mixed Signal, LSI
The STMicroelectronics AIS2IH three-axis linear accelerometer brings enhanced resolution, temperature stability and mechanical robustness to non-safety automotive applications including anti-theft, telematics, 
...
Read more...
---
Automotive magnetic position sensor
26 May 2021, Future Electronics , Analogue, Mixed Signal, LSI
By offering accurate, contactless angle measurements in demanding automotive applications such as high-speed motors, the new AS5116 magnetic rotary position sensor from ams enables automotive manufacturers 
...
Read more...
---
Training videos for op-amp troubleshooting
26 May 2021 , Analogue, Mixed Signal, LSI
Texas Instruments (TI) has produced a sizeable collection of training materials for linear amplifier troubleshooting, including videos that highlight various techniques to assist with application problem-solving, 
...
Read more...
---
Isolation for SAR ADCs
26 May 2021, Altron Arrow , Analogue, Mixed Signal, LSI
Question:
How do I add isolation to my ADC without harming its performance?   
Answer:
For isolated high-performance ADCs, keep one eye on isolated clocks and a second on isolated power. SAR ADCs (successive 
...
Read more...
---
System-on-module for rapid IoT deployment
26 May 2021, Altron Arrow , Telecoms, Datacoms, Wireless, IoT
TT Electronics has introduced the new S-2Connect Creo SOM for rapid IoT deployment. The board is designed for engineers, programmers and developers who are charged with reducing R&D risk and fast-tracking 
...
Read more...
---