printer friendly version
From zero to 100 million placements a month in 25 years
18 July 2018
Manufacturing / Production Technology, Hardware & Services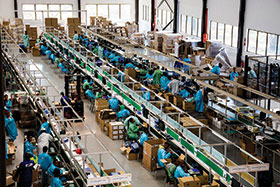 Microtronix was started in 1993 in a small factory on the third storey of a building in Fontainebleau. Our first asset was a small 300 mm Seho wave soldering machine and we had about seven staff members, our primary focus initially being the assembly of gaming machines and cashless card systems for casinos – cashless gaming being a relatively new concept in those days.
In 1996 we moved to our own premises up the road, still in Fontainebleau, and from there expanded our work to include the military sector and some new contract manufacturing clients. Our staff grew to about 20, many of whom are still with us today. During this time, we became the primary manufacturer for a company called Stella Vista who were a leading LED signage company in SA and had acquired a major contract for signs around the country as well as for the cricket World Cup at the time.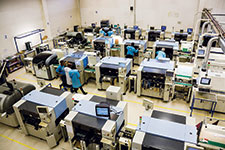 As a result of this contract Microtronix then made its third move, to the south of Johannesburg, together with Stella Vista where we learnt a lot about LEDs and LED technology. We stayed in the Turfontein area together with Stella Vista for a further five years, in what used to be similar to a Chinese sweat shop. The rent was cheap, the machines tightly squashed together and no air conditioning – finally in 2002 Microtronix moved back to Randburg (Strijdompark) into our current premises that was custom built for the purpose of electronics assembly.
Over the next 15 years the Microtronix 'family' grew its customer base, its staff and of course its fleet of machinery. We are proud to say that most of our staff who joined us along the way are still here today, as well as the majority of our customers – both have stayed with us through the good times and the bad.
In 2017 the company had way outgrown the existing premises despite overflowing into the mini factories behind our main building. In 2015 Microtronix took a bold step and acquired two old buildings down the road totalling 10 000 m2. 2016 was spent renovating and customising the new buildings and transforming the new facility into a modern state-of-the-art, highly efficient manufacturing facility.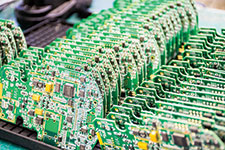 In October 2016, approximately a year later, half of the factory staff and all the high-speed Universal machines moved to the new building down the road with a view to play in the infamous set-top box (STB) tender for government. The new factory layout soon proved to be a great step and our efficiencies rose sharply and costs dropped to a point where we were surprisingly able to compete with Chinese prices head on head.
At this time, together with our tenacious empowerment partners, BUA Africa, and a Chinese technology partner, Skyworth, we were able to get a small share of the local STB market, non-government driven, and slowly and incrementally grew this market to a point where we now produce approximately 80 000 to 100 000 boxes per month. At the same time, existing customers such as TV board manufacturers, vehicle tracking and metering clients were able to enjoy the benefits of more efficient and lower-cost manufacturing.
In November 2017, Shaun Rampursad, the BUA Microtronix factory COO, proudly reported that for the first time ever the factory had reached a target of 100 million placements in a month. Since then Microtronix has acquired another high-speed Universal line and recently installed a Fuji six-module line that steadily runs just over 100 000 placements per hour.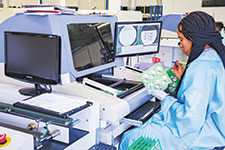 In May 2018 the MX group combined, produced just over 220 000 different PCBs and reached a new record of just over 180 million placements in that month. With just over 40 pick-and-place machines and 500 staff we really can offer the SA market world-class manufacturing on their doorstep.
Microtronix has over the years always adopted the attitude that we can look after all our customers no matter how big or small they are. We always knew that having separate facilities would be a mitigating factor when considering our clients' risk, and to this end within the group we have three separate facilities: the small prototype and specialised manufacturing factory, SM-Tech, based in Pretoria; the medium-sized factory, Microtronix Manufacturing, at our head office in Strijdompark, taking care of the majority of our medium sized customers; and finally as the plan fell into place, a very high-volume factory down the road, BUA Microtronix, enabling us to keep our large volume clients from migrating to China when the volumes seemed to warrant this.
On a final note, the current hot topic is the worldwide shortage of resistors and chip capacitors, and again on a light-hearted note, what we believed was going to be a huge liability may just turn into a great asset for the company and our clients, as Microtronix currently has a massive inventory of excess stock built up over the years.
During a recent upgrade of our stores, Microtronix has installed an X-ray component counting machine which enables us to count components on reels within a few seconds. A full list of available parts will be posted on our website in July for anyone to access during this period of component shortage.
Again, as always, a sincere thank you to our loyal staff and customers for sharing in this wonderful journey from zero to 100 million placements per month over 25 years.
Credit(s)
Further reading:
New range of thermal gap fillers
29 April 2020, Vepac Electronics , Manufacturing / Production Technology, Hardware & Services
Global electro-chemicals manufacturer, Electrolube, has introduced a versatile new range of gap-filling products with excellent thermal performance. GF400 is a two-part, liquid silicone-based gap filler, 
...
Read more...
---
Company profile: SMTech
25 March 2020, SMTech , Manufacturing / Production Technology, Hardware & Services
It also provides a full turnkey solution, should its customers require this type of service. The company has a very modern manufacturing facility with high-speed SMT lines, automatic optical inspection, 
...
Read more...
---
RFiber adds specialist PCB manufacturer to its stable
25 March 2020, RFiber Solutions , Manufacturing / Production Technology, Hardware & Services
RFiber Solutions recently announced the addition of Transline Technologies Inc. (TTI) to its growing portfolio of electronics and RF/microwave suppliers. "The addition of TTI adds a competitive and very 
...
Read more...
---
Tip-heater cartridge soldering iron
25 March 2020, MyKay Tronics , Manufacturing / Production Technology, Hardware & Services
PACE Worldwide's new TD-100A ergonomic soldering iron maintains the comfort and feel of the original TD-100 handpiece yet contains many enhancements. The TD-100A's Cool Touch design features all-aluminium 
...
Read more...
---
BTU supports Hermes standard
25 March 2020, MyKay Tronics , Manufacturing / Production Technology, Hardware & Services
BTU International announced that it now supports the Hermes standard, officially referred to as IPC-HERMES-9852. Hermes links individual machines together with a direct form of horizontal communication. The 
...
Read more...
---
Soldering iron tester
25 March 2020, Vepac Electronics , Manufacturing / Production Technology, Hardware & Services
Hakko's FG-101B is a soldering iron tester for measurement of tip temperature, leak voltage, and tip to ground resistance, for daily maintenance of a soldering station. Control of tip temperature, leak 
...
Read more...
---
All good things come to an end
25 March 2020, Microtronix Manufacturing , Manufacturing / Production Technology, Hardware & Services
"Contract manufacturing is not for the fainthearted and my respected colleagues and competitors will attest to this." – Mike Goodyer.
Read more...
---
Water-based decoating of coating frames
25 March 2020, Electronic Industry Supplies , Manufacturing / Production Technology, Hardware & Services
Its unique formulation guarantees both a high level of worker safety and very strong cleaning performance with good material compatibility – both with cleaning systems and coating frames or tools. ATRON 
...
Read more...
---
Intelligent storage management system
25 March 2020, Zetech , Manufacturing / Production Technology, Hardware & Services
Essegi designs its ISM Material Management Software solutions to eliminate human errors, to reduce storage space, to decrease setup time and to guarantee high quality, thanks to traceability and MSL control. Essegi's 
...
Read more...
---
Yamaha to feature latest surface-mount automation
26 February 2020, Truth Electronic Manufacturing , Manufacturing / Production Technology, Hardware & Services
Yamaha Motor Europe SMT Section will highlight its next-generation machine platform with the new YRM20 surface mounter for data-intensive intelligent manufacturing at SMTconnect 2020 in Nuremberg, due 
...
Read more...
---