Hiconnex Industrial has received a coveted stamp of approval from global connector specialist, HARTING Technology Group, to produce a selection of HARTING connectors at its premises in Centurion, Gauteng.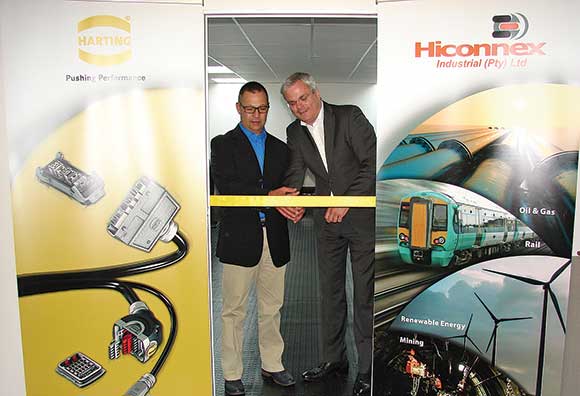 Chris Brand (pictured left), general manager of Hiconnex Industrial, and Bernd Fischer, HARTING Technology Group's general manager for corporate regional management, cut the ribbon on the new facility.
Hiconnex Industrial specialises in supplying cable and connector solutions for the general industrial, oil and gas, renewable energy, mining and rail industries, and this latest development services the latter in particular.
Operating out of a newly-developed facility in its existing premises, the connectors that Hiconnex Industrial has been authorised by HARTING to produce are destined for a new fleet of 600 modern commuter trains being built for South Africa's metro railway network. HARTING SA has secured a supply agreement with Gibela, a consortium between majority shareholder Alstom, Ubumbano Rail and New Africa Rail which has a contract to supply the trains to the Passenger Rail Agency of South Africa (PRASA). The fact that these connectors will now be made in South Africa aids the goal of maximising local content for the Gibela project.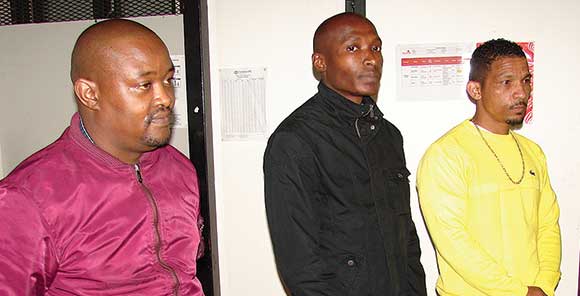 From left to right: Colly Majola, warehouse manager; Godfrey Mmoke, laser machine operator; Allister Francis, team leader and mechanical assembly.
The new facility was unveiled at a ribbon-cutting ceremony on the 1st of August by Hiconnex Industrial's general manager, Chris Brand, and the HARTING Technology Group's general manager for corporate regional management, Bernd Fischer. "This is the culmination of 18 months of work putting in place the equipment and processes necessary to produce connectors to HARTING's exacting quality standards," stated Brand. "During that time we have obtained our ISO 9001:2015 certification, and are in the process of obtaining ISO 14000 and 18001 as well."
Staffed by three members of the Hiconnex Industrial team, the facility receives the base parts for the connectors from an overseas HARTING production plant, and assembles and packages them ready for delivery.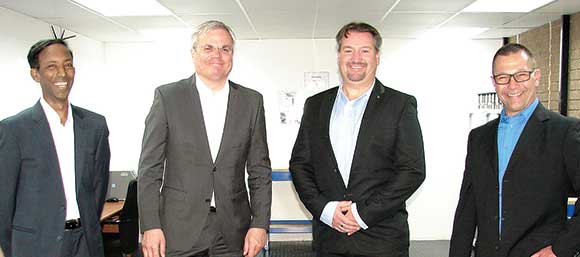 From left to right: Hitesh Pema, Hiconnex CEO; Bernd Fischer; Errol Mann, HARTING South Africa director; Chris Brand.
They are manually assembled using jigs custom designed and built by Manhattan Tools (based in Benoni on the East Rand of Gauteng) and marked using a newly purchased laser marking machine from CAB Technology. From there the connectors are visually inspected by two members of the team, before being individually sealed in air-tight plastic packaging.
"We have the capacity to produce all the HARTING connectors necessary for a train in just two days, so even once the Gibela project ramps up to full speed we will be more than capable of keeping up with the supply requirements.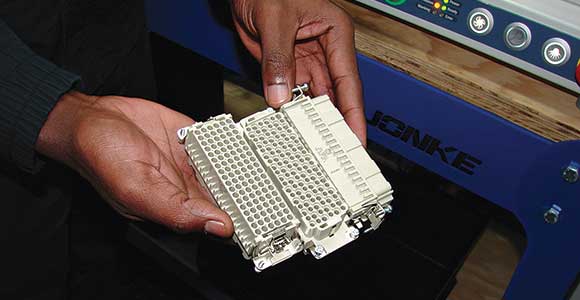 The finished connectors are certified to meet HARTING's renowned quality standards.
We can proudly say that being given the blessing of one of the world's leading connector manufacturers to make products on its behalf acknowledges the fact that we have created a facility that is truly world class," Brand concluded.
For more information contact HARTING South Africa, +27 11 575 0017, errol.mann@harting.com, www.harting.co.za; Hiconnex Industrial, +27 12 661 6779, chris@hiconnex-industrial.co.za, www.hiconnex-industrial.co.za