printer friendly version
EMS trends in 2018 and beyond
10 October 2018 Editor's Choice Manufacturing / Production Technology, Hardware & Services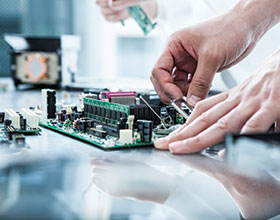 Over the past few years the pace of change has been picking up and many manufacturers have been turning to technology solutions more and more. With that said, many trends were identified for the electronics manufacturing industry in 2018 and beyond – from the IoT (Internet of Things), data driven intelligence and supply chain optimisation, to Industry 4.0 and automation.
The first nine months of the year have passed and it has become more apparent that industry 4.0 and automation have been the leading trends so far.
Industry 4.0 or smart manufacturing is where advanced manufacturing and information technology meet, and data is exchanged. Industry 4.0 includes cyber-physical systems, IoT, cloud computing and cognitive computing. It is all about connectivity and proactive integration. It is said that it can improve production processes, improve safety, better monitor, increase efficiency, collect data and provide an infrastructure secure enough to be used in security-sensitive industries.
Many firms are embracing this approach and are developing their own IoT platforms and hardware. Trial runs are being performed in manufacturing firms and adjustments made as the process continues. Other firms develop platforms specific to client requirements and monitor them on a continued basis. Industry 4.0 has paved the way for new advancements in manufacturing technology and has moved automation and digitisation into a new era. Production processes have been revolutionised.
Improved X-ray machines allow electronics manufacturing service (EMS) providers to ensure defects are detected beforehand, technical support can be provided to clients and quality, working products are released to the end user. New surface mount technology (SMT) equipment places components faster and more accurately. Selective soldering machines have also simplified the soldering process by closing the gap between hand and wave soldering, and lastly, newer version reflow machines ensure that profiles are accurate and more consistent.
For electronics manufacturers automation is important, especially when it comes to quality and quantity. Not only does it improve efficiency in manufacturing facilities but it leads to an increase in productivity, reduces lead times and also leads to better quality products being provided to the end user. Automation allows for better control and consistency throughout the production process, and also allows for greater safety when it comes to employees - especially where they are exposed to hazardous and other dangerous elements.
It is however important to keep your operational goals in mind when considering automation and even Industry 4.0. Optimisation of automation performance and the Industry 4.0 elements will need to be a top priority as this will influence productivity and efficiency. One will have to focus on monitoring the automation processes, diagnosing problems and resolving them to ensure optimal use of these platforms.
In the end these trends will need to help you achieve your company's goals in terms of reducing costs, increasing productivity, improving safety and expanding capabilities. Research will be key in determining the success of these trends when applied to your company, and also ensure that the correct automation processes and Industry 4.0 platforms are implemented.
The electronics manufacturing industry is evolving at a rapid pace with more companies leaning towards the full outsourcing of their products to full turnkey manufacturing services. More strategic partnerships are being formed, user interfaces are getting smarter and the demand for high-quality products is increasing daily. Industry 4.0 and automation might just be what is needed for EMSs to remain competitive.
We are quite intrigued to see what the remainder of 2018 will have in store for the electronics manufacturing industry and also what new trends and technological improvements will be unveiled, not only in terms of automation or Industry 4.0, but also new and unexplored fields.
For more information contact Christine Brindle, Omnigo, +27 12 803 8218, christinem@omnigo.co.za, www.omnigo.co.za
Credit(s)
Further reading:
Products of the year 2023
Editor's Choice News
A summary of products and technologies from 2023 that are currently shaping the electronic engineering industry.
Read more...
---
The dream of Edge AI
Altron Arrow Editor's Choice AI & ML
AI technology carries a great promise – the idea that machines can make decisions based on the world around them, processing information like a human might. But the promise of AI is currently only being fulfilled by big machines.
Read more...
---
Save space and improve efficiency with a 4-switch buck-boost controller
Altron Arrow Editor's Choice Telecoms, Datacoms, Wireless, IoT
A new generation of 4-switch buck-boost controllers enables power system design with very high efficiency and high power density by using inductor DC resistance (DCR) current-sensing techniques.
Read more...
---
Matter 1.2 adds new capabilities
NuVision Electronics Editor's Choice Telecoms, Datacoms, Wireless, IoT
This update introduces new device types and expands the reach of Matter into new markets, while also bringing other improvements that enhance interoperability and user experience.
Read more...
---
Personality Profile: Paul Eveleigh
Hiconnex Editor's Choice
With a strong and experienced team behind him, he can put into practice what he has learned during his career and ultimately grow the company towards its strategic objectives.
Read more...
---
FPGAs speed up intelligent edge designs
ASIC Design Services Editor's Choice DSP, Micros & Memory
Microchip Technology has added nine new technology- and application-specific solution stacks to its growing collection of mid-range FPGA and SoC support.
Read more...
---
Raspberry Pi 5 announced
RS Components SA Editor's Choice DSP, Micros & Memory
The R-Pi 5 comes with new features and is over twice as fast as its predecessor, the R-Pi 4, thanks to an upgrade to the main processor.
Read more...
---
Dead-reckoning GNSS module
Altron Arrow Editor's Choice Telecoms, Datacoms, Wireless, IoT
STMicroelectronics' Teseo-VIC3D module is an easy-to-use dead-reckoning global navigation satellite system (GNSS) standalone module, embedding TeseoIII single-die standalone positioning receiver IC.
Read more...
---
Quantum leap in battery technology
Editor's Choice Power Electronics / Power Management
A German start-up has developed a solid-state battery ready for series production with outstanding properties: no cobalt, ten times longer service life, and non-flammable electrolyte.
Read more...
---
Simplify your USB-C PD design using a standalone controller
Altron Arrow Editor's Choice
USB PD poses new power requirement challenges because of the variety of voltage and current combinations available to supply the wide range of power the USB PD standard must provide.
Read more...
---