printer friendly version
EMS trends in 2018 and beyond
10 October 2018 Editor's Choice Manufacturing / Production Technology, Hardware & Services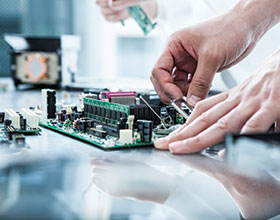 Over the past few years the pace of change has been picking up and many manufacturers have been turning to technology solutions more and more. With that said, many trends were identified for the electronics manufacturing industry in 2018 and beyond – from the IoT (Internet of Things), data driven intelligence and supply chain optimisation, to Industry 4.0 and automation.
The first nine months of the year have passed and it has become more apparent that industry 4.0 and automation have been the leading trends so far.
Industry 4.0 or smart manufacturing is where advanced manufacturing and information technology meet, and data is exchanged. Industry 4.0 includes cyber-physical systems, IoT, cloud computing and cognitive computing. It is all about connectivity and proactive integration. It is said that it can improve production processes, improve safety, better monitor, increase efficiency, collect data and provide an infrastructure secure enough to be used in security-sensitive industries.
Many firms are embracing this approach and are developing their own IoT platforms and hardware. Trial runs are being performed in manufacturing firms and adjustments made as the process continues. Other firms develop platforms specific to client requirements and monitor them on a continued basis. Industry 4.0 has paved the way for new advancements in manufacturing technology and has moved automation and digitisation into a new era. Production processes have been revolutionised.
Improved X-ray machines allow electronics manufacturing service (EMS) providers to ensure defects are detected beforehand, technical support can be provided to clients and quality, working products are released to the end user. New surface mount technology (SMT) equipment places components faster and more accurately. Selective soldering machines have also simplified the soldering process by closing the gap between hand and wave soldering, and lastly, newer version reflow machines ensure that profiles are accurate and more consistent.
For electronics manufacturers automation is important, especially when it comes to quality and quantity. Not only does it improve efficiency in manufacturing facilities but it leads to an increase in productivity, reduces lead times and also leads to better quality products being provided to the end user. Automation allows for better control and consistency throughout the production process, and also allows for greater safety when it comes to employees - especially where they are exposed to hazardous and other dangerous elements.
It is however important to keep your operational goals in mind when considering automation and even Industry 4.0. Optimisation of automation performance and the Industry 4.0 elements will need to be a top priority as this will influence productivity and efficiency. One will have to focus on monitoring the automation processes, diagnosing problems and resolving them to ensure optimal use of these platforms.
In the end these trends will need to help you achieve your company's goals in terms of reducing costs, increasing productivity, improving safety and expanding capabilities. Research will be key in determining the success of these trends when applied to your company, and also ensure that the correct automation processes and Industry 4.0 platforms are implemented.
The electronics manufacturing industry is evolving at a rapid pace with more companies leaning towards the full outsourcing of their products to full turnkey manufacturing services. More strategic partnerships are being formed, user interfaces are getting smarter and the demand for high-quality products is increasing daily. Industry 4.0 and automation might just be what is needed for EMSs to remain competitive.
We are quite intrigued to see what the remainder of 2018 will have in store for the electronics manufacturing industry and also what new trends and technological improvements will be unveiled, not only in terms of automation or Industry 4.0, but also new and unexplored fields.
For more information contact Christine Brindle, Omnigo, +27 12 803 8218, [email protected], www.omnigo.co.za
Credit(s)
Further reading:
Vicor releases technology predictions for 2022
Editor's Choice News
Predictions for 2022 in automotive, hyperscale computing and aerospace and defence will see innovation adapt to support electrification and drive growth.
Read more...
---
Helium mining – Popular hype or real business opportunity? – Part 2
Otto Wireless Solutions Editor's Choice Telecoms, Datacoms, Wireless, IoT
"I would say it is really easy to get into, but you need to be aware of the exchange rates and you need to have a solid and stable Internet network."
Read more...
---
How to extend the run-time of battery-powered equipment
Accutronics Editor's Choice Power Electronics / Power Management
For a given battery selection and application, there are several downstream design decisions that can have a drastic impact on how long the battery lasts.
Read more...
---
Three compact solutions for high step-down voltage ratios
Altron Arrow Editor's Choice Power Electronics / Power Management
System designers can be faced with the challenge of down-converting high DC input voltages to very low output voltages at high output current.
Read more...
---
ExecuGroup launches ExecuWeb, sponsors engineering talent
ExecuKit Editor's Choice News
Not content just to roll out a new platform for sourcing redundant and obsolete components, the company is also providing financial aid to an NWU student.
Read more...
---
Should you buy a software-defined radio or build your own?
RFiber Solutions Editor's Choice Telecoms, Datacoms, Wireless, IoT
As the market for software-defined radios grows, many engineering organisations are wrestling with the age-old question: build or buy?
Read more...
---
Helium mining – Popular hype or real business opportunity?
Otto Wireless Solutions Editor's Choice
"My gateway went dead when a clone device came online in Croatia, which is still on the Helium network and earning HNT at an alarming rate."
Read more...
---
The $180 billion market for location-based media and entertainment
Editor's Choice
For companies operating within these markets, it is important to view the opportunities as a series of milestones that will be reached over time.
Read more...
---
Is it getting hot in here?
Spectrum Concepts Editor's Choice
When considering thermal performance, Samtec factors in power density, device thermal resistance, total power entering the system, system airflow and system impedance.
Read more...
---
Personality profile: Hitesh Pema
Hiconnex Editor's Choice News
"I entered the military and aerospace field in 1996 when I was offered a position as a sales engineer at the specialist interconnect supplier, Hiconnex."
Read more...
---