printer friendly version
Beat the exchange rate blues with local manufacturing
10 October 2018 Editor's Choice Interconnection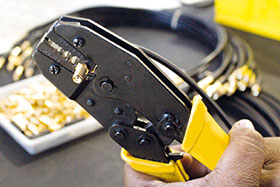 A key part of any purchaser's job is to ensure that their place of employment remains competitive at all times, which leads to negotiation with suppliers in order to drive down purchase prices. It is not uncommon for companies to be attracted to the relatively low cost of imported, complete cable assemblies because, on the face of it, this always presents itself as an area where cost savings can be achieved. Add to this the relatively high cost of RF cable assemblies and, if managed correctly, it would seem that massive cost savings can be achieved. But does this perception hold true during times of a weakening Rand, or indeed at all?

Chris Viveiros, sales and marketing director, Otto Wireless Solutions.
The answer to this conundrum is more complicated than merely a quick, cursory glance at a Dollar price multiplied by an exchange rate. Firstly, one thing which catches out many less experienced companies is the import duty of 15% applicable to imported RF cable assemblies. So all of the input costs to the completed assembly, being the raw materials (RF connectors, heatshrink and cable), plus the labour content are all effectively increased by this duty. Secondly there is the added freight. Unless one has the luxury of catering for a 12 week component lead-time, air freight is usually selected, and this adds significant cost to cable assemblies, easily a further 20-30% onto the cost price.
All of the above costs are of course 100% linked to the exchange rate, meaning that during a period of a weakening Rand, as we experienced over August/September this year, the landed cost of any imported products begins to spiral upwards very quickly.
As a comparison, the input costs for locally manufactured assemblies carry some stark differences. Firstly, the duty on the imported connectors is 5%, not 15% as is the case for a complete, imported assembly. The physical RF cable itself still carries a 15% duty, and the goods themselves still have to be transported to South Africa, but this is normally done in bulk, via sea freight, which yields a far lower landed cost price for the materials versus air freight. The labour content for the completed assembly is a local Rand input cost, unaffected by the exchange rate.
The complexity of the input costs can be summarised as follows: particularly when the Rand is weak, local pricing and relatively fast turnaround time are both hugely attractive to customers. This is why we continue to support the local market with locally manufactured cables. Not only do we feel strongly about preserving and growing local jobs, but when managed correctly, local manufacture can be a highly attractive source of supply for local companies.
Our operators are trained to IPC/WHMA-A-620, which is an international standard, ensuring that the quality of the work remains of a high standard regardless of the choice of connector (SMA, BNC, N-TPE, MCX, MMCX, SMA and U-FL being the common choices).
We make use of semi-automated coaxial strippers, which ensures that consistency is maintained across multiple batches of assemblies, irrespective of whether a client has elected to use RG58, RG174, RG316, LMR195, LMR200, LMR400 or even 1,13 mm coaxial cable.
In addition, as an ISO9001:2015 company, all our test and manufacturing equipment is calibrated regularly, ensuring that when customers require test certificates, these are provided with confidence in the accuracy of the information being presented.
Credit(s)
Further reading:
Why you don't take 'touch' for granted
30 September 2020 , Editor's Choice
The key criteria for choosing the right sensor control IC
         Touch has become an incredibly intuitive way for people to interact with high-tech devices. In just a few short years after the first 
...
Read more...
---
Women taking the lead in engineering
31 August 2020 , Editor's Choice, News
Alaris Antennas is an engineering company specialising in the design and production of (often) customised antennas for electronic warfare. This is not an industry that typically attracts women to steer 
...
Read more...
---
Smoke detection matters
30 September 2020, Altron Arrow , Editor's Choice, Analogue, Mixed Signal, LSI
Smoke detection regulations are critically important when the value proposition is as basic as human life itself.
Read more...
---
Personality profile: Mervyn Stocks
30 September 2020, Denver Technical Products , Editor's Choice
Mervyn Stocks, the founder and MD of Denver Technical Products, started his career as a learner technician, worked at some well-known companies in the industry before setting out on his own.
Read more...
---
Forbatt SA invests in South Africa
30 September 2020, Forbatt SA , Editor's Choice, News
Forbatt SA is set to offer an improved service to the industry by making sure it has the products and solutions the industry needs, as well as a new showroom.
Read more...
---
How 5G will influence autonomous driving systems
30 September 2020, Concilium Technologies , Editor's Choice, Telecoms, Datacoms, Wireless, IoT
Wireless communication technologies like 5G offer three major benefits: safer roads, more efficient traffic routing and more in-vehicle convenience.
Read more...
---
The pivotal role of supercapacitors in powering IoT
30 September 2020, Avnet Abacus , Editor's Choice, Power Electronics / Power Management
With tens of billions of IoT nodes now in the process of being deployed across the globe, there are concerns about how all this hardware can be powered in a practical and environmentally friendly manner.
Read more...
---
Company profile: Omron Electronics
30 September 2020, Omron Electronics , Editor's Choice, News
Omron Electronics can trace its history back to 1933 and the company has been represented in South Africa since the 1960s, promoting the vision of Enabling Innovation in Manufacturing through Automation.
Read more...
---
Easy mesh Wi-Fi solution
31 August 2020, Otto Wireless , Telecoms, Datacoms, Wireless, IoT
Running a smart environment on a Wi-Fi backbone requires a good Wi-Fi mesh system, with low latency, and reliable handover between Wi-Fi access points. The reality is that most smart systems are still 
...
Read more...
---
Range of GSM boosters
31 August 2020, Otto Wireless , Telecoms, Datacoms, Wireless, IoT
Imagine you purchase a fast car, and as you turn onto the highway, you find you need to enter it through a narrow gate, which leads to a sand track for you to drive on, alongside the highway. This is 
...
Read more...
---