printer friendly version
Check out Dataweek's new-look website
29 January 2020 Editor's Choice News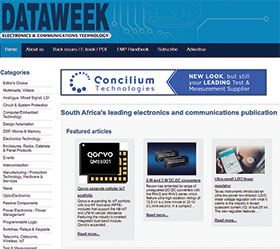 While it's all been business as usual in terms of the quality content we provide to our readers, behind the scenes our technical design elves have been locked away in our basement for months, improving the visual design and functionality of the Dataweek website.
If you're reading this online, you'll no doubt already be admiring the end result of all that hard work; if you're reading this in print, please visit www.dataweek.co.za to see why we're so proud of the overhaul.
In addition to looking more modern and being easier to navigate, it performs better as well. The designers streamlined things so that the site's responses are as fast as they can be over the Internet. This allows us to continue to deliver our premium content to any device through which users prefer to access it and from anywhere – no app required.
To cater for the ever-growing number of users accessing the site from mobile devices, the new responsive design will instantly adjust the page you're on to fit the screen you're using, whether you're on a smartphone, tablet, laptop or PC. This will ensure the crown jewel of the site, the content, is accessible and easy to read no matter when, where or how you're accessing it.
While the regular information and categories our thousands of visitors each month are accustomed to seeing are still there, the site now includes a new category for videos and other multimedia. The menu bar at the top also makes it easier to access Dataweek's annual handbooks as well as back issues – and to subscribe to the magazine and/or email news briefs.
One of the most popular and most frequently used components of www.dataweek.co.za, the search field, has also been turbocharged to provide more accurate results, faster than ever. Users simply type what they are looking for into the field, hit enter and all the past content published by Dataweek will be searched in seconds, with the newest articles appearing first in the results. One can further refine your search by searching within these results.
Simpler, faster and pleasing to the eye, the new Dataweek website is, more than ever, the home page for the South African electronics and communications technology market.
Credit(s)
Further reading:
From the editor's desk: Enough of 2020 already
31 August 2020, Technews Publishing , News
Forgive me, but I don't think I'm alone in being a bit all over the place mentally at the moment. So far, two of my colleagues have been diagnosed positive for COVID-19 and have fortunately recovered. 
...
Read more...
---
Women taking the lead in engineering
31 August 2020 , Editor's Choice, News
Alaris Antennas is an engineering company specialising in the design and production of (often) customised antennas for electronic warfare. This is not an industry that typically attracts women to steer 
...
Read more...
---
From the editor's desk: This too shall pass
29 July 2020, Technews Publishing , News
Things were tough enough for the South African electronics manufacturing industry before, but this year has thrown up unprecedented challenges that nobody could have foreseen and which are outside of 
...
Read more...
---
From the editor's desk: Are electromagnetic waves culpable in making us sick?
30 June 2020, Technews Publishing , News
When I started writing my column for this issue, I was determined to come up with a topic and a way to avoid mentioning the 'C' word. I came close – you will only find 'COVID-19' mentioned once or twice 
...
Read more...
---
From the editor's desk: Making and sending things to space
29 May 2020, Technews Publishing , News
In this issue, one of the topics we are featuring is the aerospace and military/defence sector. The feature includes an analysis of what it takes to successfully design and manufacture products in this 
...
Read more...
---
Electronics news digest
29 May 2020, Technews Publishing , News
South Africa
• Acting minister of communications and digital technologies, Jackson Mthembu, joined the world in observing World Telecommunication and Information Society Day (WTISD). Proclaimed by the 
...
Read more...
---
Events
29 April 2020, Technews Publishing , Events
Unsurprisingly, most electronics industry events around the world have either been postponed, cancelled outright, or changed to a virtual model due to the ongoing COVID-19 crisis. Given the continued 
...
Read more...
---
From the editor's desk: A new era – after mourning comes rebuilding
29 April 2020, Technews Publishing , News
When I sit down to write these columns once a month, even if the topic I decide to write about is not all sunshine and roses, I always try and look for a silver lining. I'm simply not able to do that 
...
Read more...
---
What place is there for electronics in horticulture/agriculture?
29 April 2020, Technews Publishing, OSRAM Opto Semiconductor SA, Altron Arrow , Editor's Choice
Dataweek takes a look at what place there is for electronics in horticulture and agriculture, what roles they are serving and what their uptake is in the South African market.
Read more...
---
In memoriam: Vivienne Caroline Dorrington - 19 June 1958 – 21 April 2020
29 April 2020, Technews Publishing , News
It is with great sadness that we announce the death of our CEO, Vivienne Dorrington, after a long and brave battle with cancer. Like her father, Ray Beaumont, who founded Technews Publishing in 1985, 
...
Read more...
---